Always Ultra Thin, Size 4, Overnight Pads With Wings, Unscented, 28 Count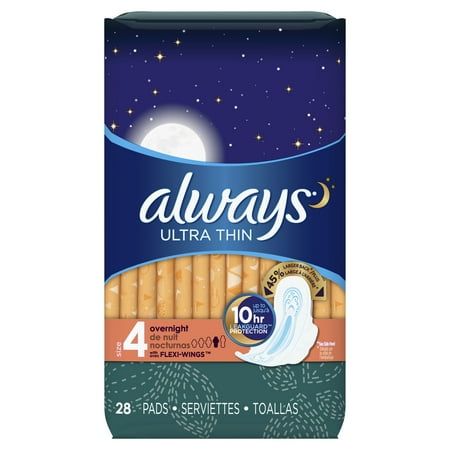 MSRP :

$8.79





Sale :

$5.47

Sold & shipped by Walmart
Product Description

Additional Information

Reviews
Product Description
Always Ultra Thin Overnight Pads with Flexi-Wings offer up to eight hours of LeakGuard Protection and feature Flexi-Wings that flex as you move, helping them to stay put and protect against leaks. The LeakGuard Core pulls fluid deep into the core and away from the edges for clean, dry protection.
Additional Information
Always Ultra Thin, Size 4, Overnight Pads With Wings, Unscented, 28 Count:
Are you sure you're getting the right fit? The wrong fit can lead to leaks. Step up in size to help stop leaks
Now Always MY FIT helps you get the best protection by tailoring your pad to fit your flow AND panty size. Use the sizing chart in the images to find your fit
Provides 45% larger back to help stop leaks at night* (*Vs. Always Ultra Regular With Wings)
LeakGuard Core absorbs in seconds for up to 10 hours of protection
Always Ultra Thin, Size 4, Overnight Pads With Flexi-Wings have a flexible design for our best nighttime protection
Stock up on feminine pads now and save time later
Reviews
Stopstickingpleez
Wings are overly sticky
I have used always products for as long as I've been buying my own pads, so at least 15 years. I've always been happy with them, but have noticed over the last few years that the adhesive has become sticky to a fault. I appreciate that the wings stay in place, but I am getting so tired of trying to yank the sticky residue off my underwear. I've noticed that I'm not the only one having this problem, so maybe it's time to go back to the old adhesive.
Sweepea720
Too Short!!
One would expect these to be as long and wide as the the thicker pad, but it isn't. It's disappointing and misleading. The saddest part is these shorter ones shift and bunch up. Will not buy these again.
WstCstCtyGrl
What have you done???
I have used Always for two and a half decades! During that time I bought the exact same pad Always Extra Long with wings. I never had issues...ever! Then suddenly the adhesive started sticking to my underwear and tearing the pad and then the shift to "MyFit" came. I wouldn't have thought you changed anything about the pad itself - but you had to have because immediately I started leaking with EVERY pad!!! Regardless of how frequently I changed it! I had to double up 2 pads! Thinking perhaps the size changed I went up to a 4 then a 5. It made no difference. First off you have made a longer pad but put the wings in a terrible location and made them smaller then the 3 wings so they are useless and actually on multiple occasions have lead to my having a leak via the wing! In fact my last period that happened everyday of my 6 day cycle. And the way the 5s are folded in their envelope cause the end to get bent, which even after a person smooths/stretches it out before applying to their underwear leads to the back end bunching...which surprise surprise - causes leaks. I now have to have period pansies that I accept will be ruined because regardless of size used, how frequently I change them, or how light my flow is I have multiple leaks each month! Where has the quality gone? Where has the performance gone? Where has the consistency gone? Heck where has the innovation gone??? I mean come on in almost 30 years the biggest innovation you have had with pads is changing the use of regular, long, super long, regular overnight and super long overnight to 1,2,3,4,5????
hdcruz
best in the market
The flow sometimes varies for me, but I have never a problem or worry. I sleep with absolute assurance of no leakage. I love it and have been using it for many years!
ResQ
Up to 10 hours of protection? HAHAHAHAHA! Right.
Up to 10 hours of protection? HAHAHAHAHAHAHAA! Oh, wait, I have to go change the pad. ok, back. HAAAAHAHAHAHAH! Whoops, I leaked, gotta go change again. Ok, back -- HAAAHAHHAHAHAHA!!! No, seriously -- the absorbency SUCKS. Coverage is ok, if you flip it around backwards (and, hey, maybe that's just me, every woman is built a little different), but 10 hours of protection? Only if you aren't having a period! Comfortable, yes, very. Flexibility? ....its cloth and cotton and plastic, of course its 'flexible'. But I get maybe 2 hours of protection out of the thing on a heavy DAY, and I don't DARE trust it at night. It absorbs better than the 'regular' thickness pads, I will give it that, less initial run-off, but still it overloads FAST and then you've got a problem. Thank the gods for long, black shirts. Make a more reasonable claim of protection and I'd support it more, but 10 hours? Really, truly, a JOKE. I'll give you 5 on a 'regular' day. Maybe.