Always Ultra Thin Slender Pads With Wings, Unscented, 36 Count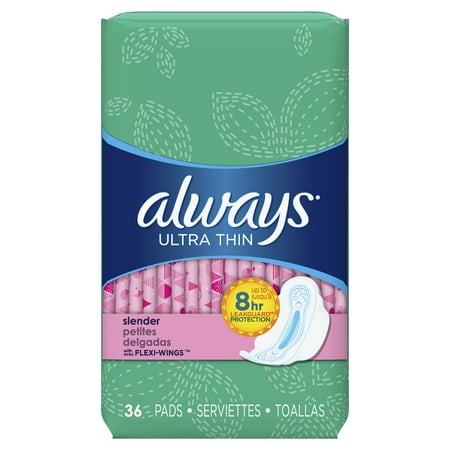 MSRP :

$8.82





Sale :

$8.82

Sold & shipped by Pharmapacks
Product Description

Additional Information

Reviews
Product Description
Always Ultra Thin Slender Pads with Flexi-Wings offer up to eight hours of LeakGuard Protection and feature Flexi-Wings that flex as you move, helping them to stay put and protect against leaks. The LeakGuard Core pulls fluid deep into the core and away from the edges for clean, dry protection.
Additional Information
Always Ultra Thin Slender Pads With Wings, Unscented, 36 Count:
Are you sure you're getting the right fit? The wrong fit can lead to leaks. Step up in size to help stop leaks
Now Always MY FIT helps you get the best protection by tailoring your pad to fit your flow AND panty size. Use the sizing chart in the images to find your fit
LeakGuard Core absorbs in seconds
Always Ultra Thin Slender Pads With Flexi-Wings for light flow
Soft cover absorbs quickly and gives you a long-lasting clean-and-dry feeling
Stock up on feminine pads now and save time later
Reviews
Shirley87
Disappointed!
I've used Always brand of feminine products for a long time now. Recently, I've noticed that the adhesive for the pad to stick on has been lacking. The pad doesn't stay in place and you just end up with a leak and ruined panties! I've even tried buying new packs and upon opening them, same thing! The adhesive is very little if not nonexistent! SO DISAPPOINTED!
Hennadiya1
This product is amazing!
This product has way better wings than the always infinity flex foam. This product is also comfortable!
Ajenae33
Horrible !!!
After an hour and a half at work my pad had leaked through into my scrubs. As a nurse I'm up walking all day and I don't have too many lunch breaks let alone bathroom breaks. I depend on my pad to be absorbent enough to last a few hours but after not even 2 hours I felt my scrub bottom wet from the pad leaking. The label states up to 9 hours leakage protection but that's a false claim.
CBossier
Always, we are breaking up!
So I enjoy (ha!) moderate periods. I have used Always for about 23 years. Went with the ultra thin with wings because who wants a phonebook between their legs? Anyways, I am on a plane returning from overseas having just changed my pad 4 hours ago if that. We stop somewhere along the way and I go to take care of business only to find I have bled through my jeans. The third front and back of this pad are dry as a bone. Fast forward a month, infinity pad at work... same deal. Month after that, the radiant pads, TWICE in a row. Switch to a competitor brand, no problems for like 5 months. Anyways, I run out of that brand and figure my period is light enough today for an Always pad. Guess who is washing blood out of their pants again today with half a pad pristine... Tossing the rest of these sorry excuses for pads! I had originally wanted to address the slow absorbency with the company but as I could not find a contact us link I'm airing my complaints here.
Ali78
Unbelievable comfort and protection!
These are the best pads I have found out there! If you are a slender size and can't stand the bulk of other pads and find that wings tend to cause bunching, give these a try. They are super absorbent and flexible, and I love that they are unscented. I honestly barely know I am wearing them!