Always Maxi, Size 1, Regular Pads With Wings, Unscented, 36 Count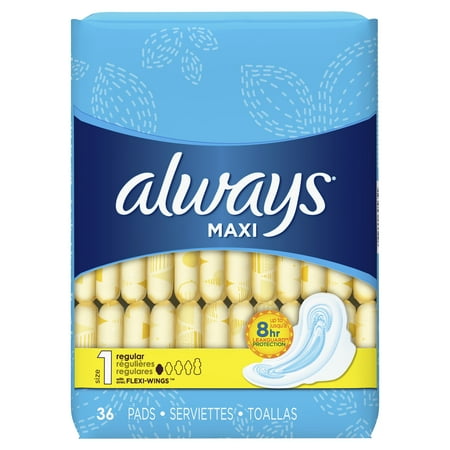 MSRP :

$10.14





Sale :

$5.47

Sold & shipped by Walmart
Product Description

Additional Information

Reviews
Product Description
Always Maxi Regular Pads with Flexi-Wings are designed to fit your curves and feature Flexi-Wings that flex as you move, helping them to stay put and protect against leaks. The LeakGuard Core pulls fluid deep into the core and away from the edges for clean dry, protection.
Additional Information
Always Maxi, Size 1, Regular Pads With Wings, Unscented, 36 Count:
Are you sure you're getting the right fit? The wrong fit can lead to leaks. Step up in size to help stop leaks
Now Always MY FIT helps you get the best protection by tailoring your pad to fit your flow AND panty size. Use the sizing chart in the images to find your fit
Deep channels pull fluid into the core, away from the edges, to help stop leaks
LeakGuard Core absorbs in seconds for up to 8 hours of protection
Always Maxi, Size 1, Regular Pads With Flexi-Wings have a flexible design to protect comfortably and move with you
Stock up on feminine pads now and save time later
Reviews
sadpaduser
Decline in quality
I have been an Always brand user for nearly 20 years and have never had issues with your products leaking until recently. The last three batches that I've bought have had a definite decline in quality. I had to double check the package to make sure I didn't accidentally buy an off-brand pad. It seems like there's less cotton in the pads and the cotton itself seems to lose shape and shift around inside the plastic extremely easily, causing leaks if I don't change the pad every 2 hours. I was hoping it was just a fluke or a bad batch, but after three different packages over the last few months, it seems like this is just the new normal for these pads. If the pads are being stuffed less full to save a buck, I'm sure I'm not the only one to notice. Is it really worth it in the long run to cut costs on a product that many women rely on to live their day to day lives? I've already decided to move on from this brand and find another that can do the job that these used to be able to do.
CurlySimone
Best Pad Experience EVER...
I hadn't used pads since I was a teenager because after experimenting with tampons I realized how fresher and non-messy they were, however I decided to take a break from using tampons and picked up Always Maxi Super Long Pads from my local drugstore. These pads keep me so dry and because they capture everything, I don't have leakage or accidents like I did with other Maxi Pad brands. I did try a few other brands that were a little cheaper, but I definitely got what I paid for. They scrunched up and provided minimal protection. I will continue using Always Maxi Pads. Their adhesive sticker sticks on underwear better than any other brand, and although they may not be as soft as some other brands, it doesn't matter to me because protection is more important to me than comfort. Always may be the most expensive brand out there, but they are definitely worth it. Bye Bye Tampons and hello to my new relationship with Always Maxi Pads until menopause knocks on my door.
HappyPeriod
Love these! So comfortable and protective!
I had to recently give up my beloved tampons for pads. In a quest to find my new reliable products I tried a ton of these. I had tried these pads many years ago, but didn't love them then. Well, in a desperate late night shopping trip, I picked these up again. I LOVE them! I just went to pick up another package so I never run out! While I will probably never wear them in the workplace, as they are too bulky for under my dresses, I love them for home, and getting things done in my personal life. My heavy flow tends to pick up when I am busy cleaning the house, or chasing after my little nephews, and these pads kept me so protected. No leaks, no wet feeling and no worrying that I need to check my pad every 10 mins. I had a girlfriend over last weekend he tragically leaked through her pads and raided my bathroom. She was also so fed up with bad pads and tried these, despite not being a "maxi" person...neither was I! But sometimes, you have to just recognize the thing that protects you the best, and go with it! LOVE THESE!!!
KMF0953
My go-to pads
I LOVE these pads. I only wish I could find them more places. I like a short pad with wings, and these are them. Anything else makes me feel like I'm wearing a diaper. That being said, I think some of the negative reviewers should try a size or two up, because I never have a problem with these pads.
Sissy
What Happened to the Aways I use to know
I have been wearing these for years and the quality of this pad has really diminished. Seems like every time they change the wrapper, the quality of the pad is down graded. This last pack I bought the wings were not straight and only one side of the wing would stick, while the other side would bunch up and not give any protection for leaks. The new pad is much thinner, smaller, and more narrow, which I don't like. I need extra protection in the middle, as to I stand all day at work. I use to always depend on Always, but not any more. I am disappointed in the update.