Tide HE Turbo Clean Liquid Laundry Detergent, Original, 96 Loads 150 fl oz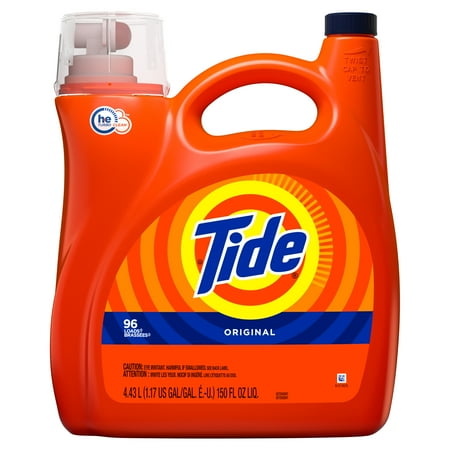 Sale :

$17.94

Sold & shipped by Walmart
Product Description

Additional Information

Reviews
Product Description
Tide 2x Ultra is 2X concentrated to give twice the stain-fighting power in every drop. So you get the same number of loads in a smaller, more convenient bottle. Plus, this formula removes stains better than before. One small cap gets your clothes beyond clean, it gets them Ultra clean.
Additional Information
Tide HE Turbo Clean Liquid Laundry Detergent, Original, 96 Loads 150 fl oz:
America's #1 detergent*, now even better (*Based on sales, Nielsen laundry detergent category)
10x the cleaning power** (**Stain Removal of 1 dose vs. 10X doses of the leading liquid bargain brand)
Cleans deeper and smells fresh
Cleans, freshens, whitens, brightens
Measure with cap. For medium loads, fill to bar 1. For large loads, fill to bar 3. For HE full loads, fill to bar 5. Add clothes, pour into dispenser, start washer.
Reviews
LovngSnow
Tide is the best.
I bought this without realizing that it's for HE machines--mine is an old Kenmore top-loader with agitator. I called Tide customer service and was told that there is the same cleaning power per measure (1/2 oz per load) but I won't see the suds I normally would see with regular Tide. To me, this is a plus, as I know that the chemicals that cause suds are not good for the environment. I'm now very glad I bought the HE and I will continue to do so! I used to go through so many steps to get my family's clothes clean: soaking, using Borax, scrubbing, using various pre-wash treatments... I was proud of how I could finesse the laundry and have everything come out so clean even though I used bargain detergents. Then my sister said, "You know, Mom used Tide for a reason." Next time I needed to buy laundry detergent, I got Tide and it made my life a lot easier. No more soaking, Borax, scrubbing, pre-treatment products.... Now I just use Tide--for the past 11 years--and everything is wonderfully clean.
Trace43
don't like the new scent
We have used Tide Original for the last 18 years.. Disgusting new smell. It is not from washing machine. We will have to find new product. Too bad.
greeneyes
REMOVE ACTIVE-LIFT
I have been using Tide Liquid for years and have been very happy with it until the Acti-Lift was added to it. The detergent now makes my laundry smell terrible- a very strong, bitter odor. It also made my white towels turn gray. My family and friends have also complained about the same problem, especially the awful smell. Tide, you keep insisting that the " scent has not changed" and tell us to use Tide free and gentle. I do not want no smell. I want a nice smell. I see other reviewers wrote in about the same problem with the Acti-Lift ( especially those who use Tide with Downey). Tide, please listen to your customers and give them what they want. I HATE the smell of the Acti-Lift and have switched to a new detergent. You must be losing many other customers because of this problem. Tide is like an American tradition and you have ruined a product we have loved for years. I am sorry to say I will never use Tide again unless the Acti-Lift is taken out and the old formula is back again.
Buddy
REMOVE ACTIVE-LIFT
just as stated. We use tide all the time and this made my wife very happy
Jacqueline H
Go Tide
Excellent product.