Dawn Ultra Dishwashing Liquid, Orange, 21.6 Fl Oz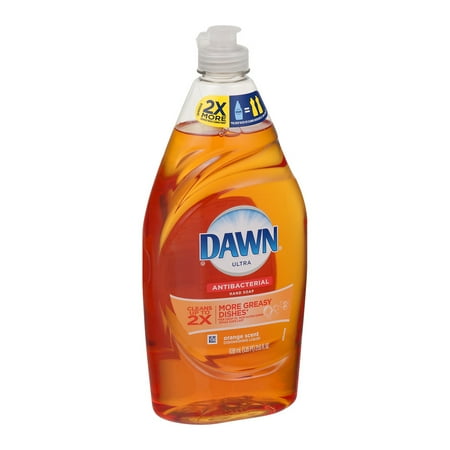 MSRP :

$10.2





Sale :

$7.4

Sold & shipped by Walmart
Product Description

Additional Information

Reviews
Product Description
The Dawn Ultra Concentrated Orange Scent Antibacterial Hand Soap, 21.6 FL OZ, has the power to fight tough grease and get dishes squeaky-clean. Unlike most soaps, this liquid dishwashing soap helps fight germs on hands when it's used as a hand soap. Dawn ultra dishwashing liquid is kosher.
Additional Information
Dawn Ultra Antibacterial Dishwashing Orange 21.6oz
Reviews
scarlet020100
The Best
I've been using Dawn for years, and it's the best dish detergent out there. I've tried store brand look-a-likes and other major brands, and they just don't do the job on grease - with Dawn, you only have to fill the sink once to handle all your dishes, pots and pans. But that's not all - I have discovered that Dawn works for general household cleaning, too - and better than many other brands that are made for removing dirt. I use Dawn on my floors; in the bathroom, the walls, kitchen counters and cabinets, etc etc and for cleaning just about anything outdoors like vinyl siding, plastic planters, even the car! I just make up a bucket with a solution of Dawn and water, and use old rags. Easier than dealing with sprays, actually, and works so well. The fact that it is antibacterial is definitely a plus. In the kitchen I just use what's in the sink after doing the dishes because it's still good for cleaning!! I now reach for my bottle of Dawn for almost any cleaning job! [This review was collected as part of a promotion.]
JKT1832
A good overpriced dishsoap
I will buy this only when on sale and I have a coupon. I would NEVER buy this full price that would be INSANE. I am not made of money and I have a family that I have to buy for and dish soap is one of the many areas I can save money. Every penny counts. But on the quality of Dawn, sure it's as good as any other. No complaints what so ever. Good suds, long lasting. Good scent.
James2903
The indredients in this has been cut way back
This is the 2nd bottle of this brand of dawn, that I have purchased with less that stellar results. It proclaims on the label to have active suds. It should say lack there of suds. We have used this product for years, and it has always been amazing and totally worth the purchase. I have to saw the last two bottles purchased, you have to use a 1/4 of the bottle to try to get an significant amount of suds, and during the dishwashing process, you have to keep adding product to try and keep any amount of suds. This is so bad it would be very little difference if I had purchased joy or some of the other competition. Sad really, it is looking like the ingredients is being cut back on, since these two bottles could not have possibly have came out of the same lot since it was such a long time between purchase. Very disappointed, seems the manufactures of dawn is starting to go cheap now on the ingredients, but not on the price, we are not getting what we are paying for. [This review was collected as part of a promotion.]
WorriedDawnFan
Need more Dawn Ultra Antibacterial Apple Blossom Scent than normal Dawn Ultra
This variety of dawn simply does not produce as many suds, nor clean greasy dishes nearly as well as the 'blue' Dawn Ultra we've always bought. My wife asked for this because she thought she'd like the scent. But immediately noticed that it did not work as well, and therefore she'd have to add much more to the sink to get the dishes done. As such, I've seen the bottle empty FAR faster than any of our previous bottles (and this is a larger bottle - 56 oz). We are going back to the blue Dawn Ultra - with hope that it's formula has not be watered down - and hoping that it's only a problem with the formula of this antibacterial dawn. BTW, I've noticed that this is not a thick as our previous bottles of Dawn Ultra. I use it to clean my hands after working on greasy engines. This requires more on my hands to cut the grease than previous bottles of dawn. We do not recommend this product. And have some trepidation that Dawn is no longer making their product as concentrated as in the past. We hope that is not the case! [This review was collected as part of a promotion.]
ladybuginear
Dawn dish washing soap...the BEST
I LOVE Dawn dish washing liquid for many reasons; 1) Antibacterial 2) The only product to fight kitchen grease on dishes, pots and pans. 3) Gentle on hands. 4) Can be used to treat oil or grease stains on clothes. 5) A GOOD value for the $.