Dawn Ultra Dishwashing Liquid Dish Soap, Original Scent, 21.6 oz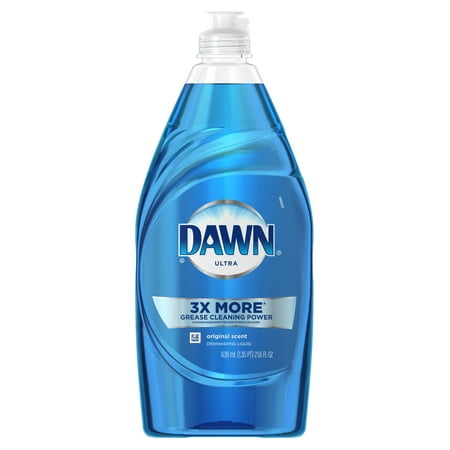 MSRP :

$3.23





Sale :

$2.44

Sold & shipped by Walmart
Product Description

Additional Information

Reviews
Product Description
Ultra Dawn has the power you need to fight tough grease and get the squeaky-clean dishes you're looking for.
Additional Information
Dawn Ultra Dishwashing Liquid Dish Soap, Original Scent, 21.6 oz
Contains 3X more grease-cleaning power (cleaning ingredients per drop vs. the leading competitor's non-concentrated brand)
Concentrated formula helps you get through more dishes with less dishwashing liquid
Original Scent
Dawn Ultra Dishwashing Liquid Dish Soap, Original
Reviews
Adeel812692442
Dawn Dish Soap and it's many uses.
Sadly, due to the fact that my neighbors had a dog with fleas who would come over the house constantly, we came to find that we also had fleas in our home. These fleas were tearing myself, my 2 two children, (3 and 5 years old) apart and my daughter even had a couple bites (2 months old). I was freaking out, not sure what to do. I decided to try to put some dawn dish soap (8 tablespoons) and mixed it with 6 oz of warm water and put it into a cookie tray. I put a bright light that causes warmth to draw the fleas towards the light, over top of the flat cookie tray. In just 3 days, every single flea was in the tray. Next, for the larvae, I vacuumed a few times to get them out and about, and once again, the trap was able to catch every flea as soon as they were out and biting. I only got 8 new bites, while my children got 0 new bites. I could not have been happier. Along with this, the product does a better job than any other dish soap. It cuts through grease, it is amazing at it's job while not leaving your hands dry like other products. The only reservation I have, is it's pricing as it is quite expensive without the use coupons. Other than that, it would be receiving 5 stars from me, and as such, is still a 4.5 for me. Keep it up Proctor and Gamble! You guys go above and beyond for your customers constantly and it is just refreshing to say the least.
Adeel812692442
Number one at cleaning
I love Dawn. This is my number one cleaning product. I don't own a dishwasher, so Dawn is the only way I clean my dishes. I have 8 ounce bottles which I keep at my kitchen sink and in my laundry room. Whenever my husband get stains on his clothes I just put Dawn on them and wash them the next day. I don't even buy stain remover's for my clothes anymore. I use Dawn . Dawn mixed with water in a bucket and I clean my windows on the outside of my house. I rinsed them with the garden hose and they are sparkling clean. I buy Dawn in the 90 ounce bottle . It's not only economical but the Best Buy of the week. We are Dawn house.
Karrie Ann
Dawn dishsoap
This is the only dishsoap I will buy! It's tough enough to clean even the worst dirty dishes, yet gentle enough to use on my dog after she has been sprayed by a skunk! lol
Pam812473291
Best grease cutter
Cleans better than any other dish soap I have tried.
Mike77
Good dish soap, but cap leaks
Good dish soap as always. Unfortunately the translucent white cap does not seal well, resulting in the exterior of the bottle getting covered in a thin film of slippery soap after a few uses. Having to wipe down the bottle, clean out the cap, and wipe up the surrounding area is a pain.