Dawn Ultra Dishwashing Liquid Dish Soap, Original Scent, 21.6 oz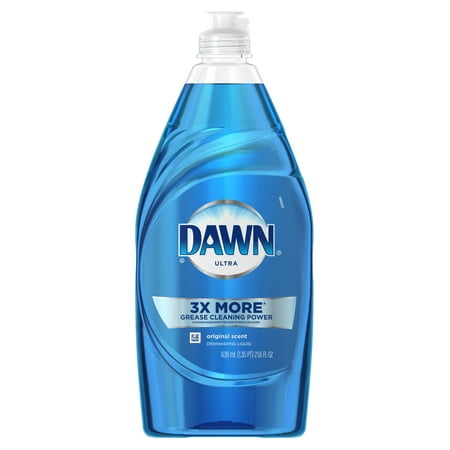 MSRP :

$3.23





Sale :

$2.44

Sold & shipped by Walmart
Product Description

Additional Information

Reviews
Product Description
Ultra Dawn has the power you need to fight tough grease and get the squeaky-clean dishes you're looking for.
Additional Information
Dawn Ultra Dishwashing Liquid Dish Soap, Original Scent, 21.6 oz
Contains 3X more grease-cleaning power (cleaning ingredients per drop vs. the leading competitor's non-concentrated brand)
Concentrated formula helps you get through more dishes with less dishwashing liquid
Original Scent
Dawn Ultra Dishwashing Liquid Dish Soap, Original
Reviews
mamalou
No longer love Dawn.
I have used Dawn dish liquid for years. I would frequently recommend it because of the way it cut grease. I can no longer do that because it has not been cutting grease for several years now. I asked several friends who used it if they felt it no longer did the job and they agreed. I had written my opinion at that time and noticed that there were many other people who expressed the very same sentiments about the product. I felt the reviews that still raved about it either had some of the old product or they were paid for their review. I cannot believe that a product that leaves a greasy film you can see and feel can possibly be doing a good job removing HEAVY oil and grease from wildlife. Even the bottle cap is not a good design. No matter how carefully it is poured and closed the bottle is always slick with soap that has leaked. Sometimes I can get enough suds just rinsing the bottle off. If I could find a product that cleaned like Dawn used to clean I would never buy Dawn again.. [This review was collected as part of a promotion.]
Patrm99
Laminate Floor Cleaner
My grandkids leave a trail of spilled food food & candy crumbs etc. on my new laminate floor every time they come to visit. I have tried several laminate floor cleaners, but they leave a flim on my floor or it doesn't look as clean as I like. Today, after the sprayers on 2 different cleaners broke. I was determined not buy anything else to clean the floor. I've used the Dawn Power Dissolver on tough food stains for my pots & pans and to clean my oven with great success, so I decided to take a chance and use my Dawn non concentrate dish detergent for the floors. I used a damp microfiber mop and just poured a small amount of the detergent directly on the mop and rubbed it into the mop head. It cleaned the floors perfectly!, removing the ground in bits of food that didn't come off with the vacuum. I used another microfiber mophead to dry each section as I went along. When finished my floors had a nice shine and a clean smell plus no film!! Now, I'll only use Dawn to clean my laminate floors.
Florence808109399
Nothing else compares!
I love all the Dawn products. I won't purchase anything else. After having dinner one evening at my daughter's house a few years ago, I helped her with the dishes but was surprised to find out that she didn't use Dawn. The next day I returned to her house with a couple of bottles of Dawn for her and she loved the product. She uses it for several of things as well. She now is a Dawn user as well. We simply love Dawn and the many ways you can use it!
katselks
Worth every penny!
I have never used Dawn dishwashing liquid before but it was on sale at the local drug store. I don't often do dishes by hand since I have a dishwasher and only used it a few times for minor dishwashing. Candied yams is a dish that we serve at all of our holiday meals and because the pan is a beast to get clean afterwards, I usually do them in a disposable aluminum pan. What I used this year was a high quality disposable pan, so I thought I would try to clean it and see what I had left. I soaked the pan overnight in regular Dawn dishwashing soapy water. Holy cow! In the morning, I just poured out the water and the pan was nearly clean all by itself! I have since gone on to clean the greasy cupboards, microwave and walls in my kitchen; even using it full strength on the greasy vent. There is no rubbing or scrubbing! It cuts the grease extremely well. I now have a new dishwashing liquid AND a new house cleaning product. You have a new customer for life! Thanks so much for making this incredible product!
Natasha
The Best Product - Dawn
Dawn Liquid soap is my go to for all things clean! Not only is it used for cleaning dishes but paired with baking soda and/or peroxide it works miracles on the toughest stains or oil! From cleaning my carpet to bathing my pet, due to its multiple uses I have saved tons of money and it's the only liquid soap I buy. Dawn is not hard on my hands and nails like the other competitor products. Dawn does not expose my family to harsh chemicals.Thank you for creating such an amazing product! [This review was collected as part of a promotion.]