Dreft Stage 1: Newborn Liquid Laundry Detergent, 64 Loads, 100 fl oz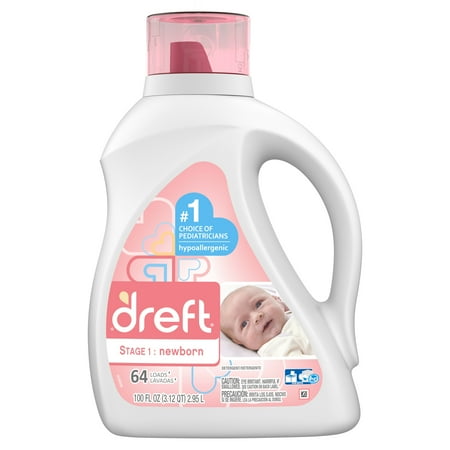 MSRP :

$15.98





Sale :

$15.97

Sold & shipped by Walmart
Product Description

Additional Information

Reviews
Product Description
The Dreft High Efficiency Laundry Detergent (100 fl oz) is specially formulated for the unique needs of babies. Its gentle formula cleans thoroughly and is tough on stains. It leaves a soft baby-powder fresh scent after every wash. It is recommended by Pampers and is the number one choice of pediatricians. This baby laundry detergent offers 64 loads and works well with high efficiency machines. It is available in both HE and non-HE formulas.
Additional Information

Dreft Stage 1: Newborn Liquid Laundry Detergent, 100 fl oz Plastic Jug:

Specially formulated for newborn baby's delicate skin
#1 choice of pediatricians
Trusted by moms for over 80 years
Hypoallergenic
No phosphates
Tough on stains while remaining gentle on baby's sensitive skin
Safe for use in all types of washers, even HE models
Original fresh scent
Bottle made from at least 25% post-consumer recycled plastic
Dreft laundry detergent, stage 1
Net weight: 100 fl oz
Reviews
Sarahb0423
Good product!
I've actually never used dreft before so I was excited to finally try it. When I first opened it I immediately noticed the smell of the detergent. It smelled really really good, like baby products do. And I actually had the perfect test shirt for this detergent. My daughter who isn't a newborn anymore...had gotten red jam on her brand new shirt. So into the washing machine it went with the dreft! While putting the clothes into the dryer I looked at the jam stained shirt and unfortunately the stain was still there but not as noticeable as before. After the clothes dryed completely the shirt was still the same. So overall I was a little disappointed the stain wasn't completely gone but I also figured it wouldn't be gone since it's a tough stain. But I was happy to see that the clothes were soft and smelled great. I've tried a few other brands and they never left the clothes feeling soft. Overall not a bad product I would purchase this if my daughter was a newborn. [This review was collected as part of a promotion.]
thismommyslife
Love the smell of Dreft!
I tried the Dreft Stage:1 for newborns. Here are a few things I would like to tell you about it. -It is able to be used in both regular washers and HE washers. -I always hang dry my little ones clothes and the clothes were still soft. -Also although I am not quite sure if my 6 month old has sensitive skin yet or not, I did not notice any issues with that. -As soon as I opened the Dreft I could smell the scent, which is amazing. Even after hang drying the clothes, I could still smell the scent from the detergent. Still smelled great. If however you are one who does not like scented things, this may not be for you, but if you like scented things, you will LOVE the smell of Dreft! - I gave it 4 stars ONLY because I did NOT get to test it out on stains, but I can say that an OLD stain that was in a white burp cloth was still there. --------------In ending, I did like the Dreft detergent. [This review was collected as part of a promotion.]
SillieLilMillie
Dreft Stage 1 laundry detergent
I absolutely love Dreft because not only is it strong enough to remove the spit up stains around the neck/collar of my baby's clothes but it is gentle enough for my baby's delicate skin. Before buying Dreft, I tried a name brand dye and fragrance free detergent and it was too harsh for my baby, who was born early. My doctor advised me to just use water but the water didn't remove the stains. I asked him if I could use Dreft and to my surprise he said, "Yes, we actually recommend parents use Dreft for their baby's clothes for the first year." After trying it, I'll never use anything else but Dreft to wash my baby's clothes again. Added benefits, it's not super expensive and it works well in my high efficiency washing machine. I absolutely love it! [This review was collected as part of a promotion.]
maliks2212
Happy baby equals happy mama!
Being a first time mom, I want what is best for my baby. I tried what I thought was the best detergent and it ended up causing my baby to break out. I wanted something that I know will make his clothes clean but also be safe for his skin. I received a free sample of Dreft and thought of giving it a try. What caught my eye from the very beginning was the fact that the product claimed to be hypoallergenic. I opened the detergent packet and was instantly mesmerized by the soothing smell. It smelled fresh, clean, and powdery like a baby! After the first wash my son's clothes instantly felt so much softer and smelled amazing and he didn't break out! This product is perfect for keeping my baby's clothes clean and soft for his comfort and safe for his sensitive skin. [This review was collected as part of a promotion.]
akeith0038
Dreft Newborn
With having my first baby in August, myself and my significant other, thought and thought and had many conversations over the conversational subject of whether or whether not to choose to use special detergent formulated for babies. But after giving it a honest try! I love it so much, it makes all his clothes so clean and with the amazing scent of a baby. I defenitly won't be using anything else in his infant years. 5 out of 5 starts for this awesome formulated detergent that's not only safe for babies but so gentle. Not to mention they how so many products since trying the detergent that has been brought to my attention. That I have now purchchased and love [This review was collected as part of a promotion.]