Pampers Sensitive Baby Wipes Refills, 7 packs of 48 (448 count)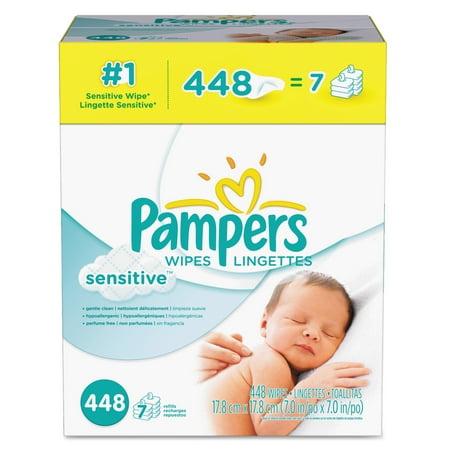 MSRP :

$33.91





Sale :

$11.64

Sold & shipped by Walmart
Product Description

Additional Information

Reviews
Product Description
Show your baby some gentle loving care with Pampers Sensitive Baby Wipes. They come with a comfortable Softgrip Texture that will thoroughly clean while reducing irritation to sensitive skin. They are clinically proven mild, dermatologist-tested, hypoallergenic and perfume-free to provide the gentlest touch for your little one. Changing your baby can be one of the most loving moments of the day when you use Pampers Sensitive wipes refills. They are 20 percent thicker compared to regular Pampers wipes, so they will feel softer against your little one's skin. This set of baby wipes refills comes with a total of 448 sheets in seven resealable packets. Each pack of 64 sheets can be easily tossed in a purse or diaper bag to make traveling easier. They will help to restore the natural pH of the skin to keep it calmer and healthier. You'll keep your baby happier and more comfortable when you use these gentle and soft Pampers Sensitive Baby Wipes.
Additional Information

Wipes for sensitive skin with Softgrip Texture:
Clinically proven mild
Sensitive skin wipes are hypoallergenic
Dermatologist tested
Perfume-free
Non-irritating
#1 sensitive wipe*
Features a soft-grip texture for a softer more gentle clean
Available in 7 packs of 64 for a total of 448 wipes
Reviews
Unknown Customer
OTHER BRANDS CANNOT COMPARE!!!;
I'm a mother of four children and with three out of four having sensitive skin, I saw the Pampers Sensitive wipes and got excited. Anyone--other then a mother--would find that last statement a bit disturbing but truth be told, a mother who has to watch her children wince in pain every diaper change because their skin on their butts is red and raw knows the appreciation of a sensitive wipe that holds true to it's promises. I was a bit upset that the wipe did not have a scent because one of the negatives of diaper changing is having to deal with the nasty smells. Wipes can take that negative away but when you HAVE to choose the sensitive brands, there is no scent and that's something you forfeit so your children are pain-free. The one downside to these wipes is that they get really fuzzy at times. I've noticed little pieces of fuzz on my children, on my skin too. It's just kind of an annoyance but overall, I would buy these wipes over any other brand or any other type of wipes period--hands down!
Unknown Customer
TwoMommy
So, I'm a big bargain shopper. When it comes to my baby's booties though, I have no problem paying for a quality product. Still, it's got to be quality and convenient (the reason I'm a disposable diaper Mommy unlike my totally green sister who can actually go through with full cloth diapering...ew:). Anyway, here's the thing, I've tried other brands. Another name brand in particular. Their prices are slightly more affordable, but here is where I become a solid Pampers product Momma. Pampers sensitive wipes are so handy and convenient. You can buy a gigantanormous box filled with thousands of the little wipes and still carry around a reasonable sized pouch. This is what sells me every time! My husband just tried to replenish our wipe stock with another brand that offers their products in large bags which you have to collect out and transfer to another product or case in order to conveniently use. So not handy. In Ms. Brown's words, "Ain't nobody got time for that!" I'm a Pampers Princess and so are my little angels. :D
pepe853
Tried them ALL...!! Best of bunch!
Baby was born with sensitive skin issues that require special oils. We tried every wipe to find the best for her delicate skin. We found that the differences in baby wipes are MANY! Some are difficult to separate and you end up with a "glop" of extra wipes in place of one or two. NOT GOOD! Then there are the wipes that actually irritate baby. REALLY NOT GOOD! SOOOO, after using regular Pampers wipes with success, we tried Pampers sensitive skin wipes. They have been GREAT!....Also they are useful for adult refreshing and makeup removal.
2MsMom
Tried them ALL...!! Best of bunch!
My son has sensitive skin and it works for him with no issues. Also I love the fact that these wipes aren't paper thin.
NganSin
Works really well, better than Huggies
I bought huggies brand and bought this pamper wipes because i had a 1.50 off coupon . my baby's bootie became red because of huggies and i switch to pampers and my baby's bootie stop hurting Pampers are the best