Cascade ActionPacs Dishwasher Detergent, Fresh Scent, 85 count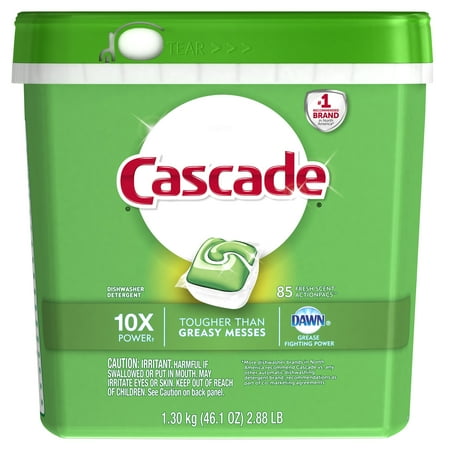 MSRP :

$15.46





Sale :

$13.97

Sold & shipped by Walmart
Product Description

Additional Information

Reviews
Product Description
Additional Information
Cascade ActionPacs Dishwasher Detergent, Fresh Scent, 85 count:
Cascade ActionPacs power away greasy residue for sparkling dishes
ActionPacs dishwashing detergent with the grease-fighting power of Dawn
Rinse aid action rinses away residues and leaves brilliant shine
ActionPacs dish detergent offers easy dosing
Dish detergent available in a variety of scents and sizes
#1 Recommended Brand in North America* *More dishwasher brands in North America recommend Cascade vs. any other automatic dishwashing detergent brand, recommendations as part of co-marketing agreements
Reviews
Tracy D
good buy
good buy, nice packaging for under the sink
charlene s
I would buy this product again if the price is right.
Very pleased.
Dreammaker22
It's a Great Product
I just love these Packets. I don't think that this can be improved at all. These Lavender and Passion Fruit Packets are the best things that ever came out for dishwashers.. I see many people on these reviews are saying that these Scented Packets are leaving a smelly and soapy residue on their glassware & plastic ware. . Well, I hate to tell them, but that smell and residue is NOT FROM THESE PACKETS, THAT SMELL AND RESIDUE IS FROM THEIR WATER. I put plastic ware in the dishwasher all the time & NOT ONCE did I ever smell anything funny or see a residue on my China, silverware or plastic ware or Glassy Glasses. In fact my Glasses SPARKLE so much that I look at them before I put them back into the cupboard and they just sparkle & shine and you can see right through them , they're so Beautiful to look at. So that's my take on these Scented Packets & I am still going to purchase my Scented Packets like I always have. I just hope they don't stop making these scented packets in these fragrances. Thank You Cascade
JustJenn
Cascade Total Clean 7x with Dawn
We use the Platinum packs because it gets the dishes amazingly clean and our dishwasher looks GREAT!!! Were at our local bulk box store, you know the one with membership, and they did not have any of the platinum packs, so I settled for the Cascade Total Clean 7x power with Dawn. There are 105 packs in this bad boy. Well, after using it a few times I am about ready to throw the 100 remaining packs out the window. This stuff is not worth a flip. It leaves residue all over the dishes, some sort of white powdery stuff, and the washer is looking like it came from a junk heap, hard water drips all down the inside of the door, food particles all over the inside (and ours has a food "grinder" part to get rid of that whole cake you just had to put in your dishwasher. Our washer does not have the heat drying and I am so happy for that, the residue is hard to get off and I would hate to try getting the dishes clean if it was baked on. Don't recommend this product at all.
Edward F
Great company
Great item even better customer service.