Head and Shoulders Dry Scalp Care with Almond Oil Conditioner 23.0 fl oz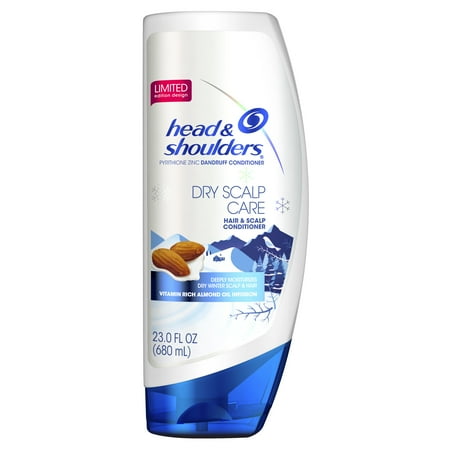 MSRP :

$14.15





Sale :

$7.82

Sold & shipped by Walmart
Product Description

Additional Information

Reviews
Product Description
Tackle dry scalp (1) and leave your hair soft, beautiful and manageable with a conditioner specially designed to treat dry scalp. Head & Shoulders Dry Scalp Care with Almond Oil conditioner's dual-action formula cares for the scalp to help relieve dryness (1) while locking in the dandruff-fighting power. Also try Dry Scalp Care Shampoo and 2 Minute Moisturizer Scalp & Hair Treatment. Why choose Head & Shoulders? Great anti-dandruff products should do more than fight flakes. Head & Shoulders not only removes flakes but also protects your scalp from dandruff (2) and moisturizes your hair. That's why Head & Shoulders is the #1 Dermatologist recommended dandruff brand and World's #1 shampoo (4). Our products are tough on dandruff but gentle on hair so you can use them every day. Try the full line of Head & Shoulders products: From dry scalp to itchy scalp, dry hair to oily hair, and from a crisp green apple scent to handsome Old Spice freshness, Head & Shoulders has a version that's right for you. Explore our full line of shampoos, 2in1s, conditioners, and hair and scalp treatments. 1. Caused by dandruff 2. Visible flakes, with regular use 4. P&G calculation based on Nielsen sales information July 2016-June 2017
Additional Information
Head and Shoulders Dry Scalp Care with Almond Oil Conditioner 23.0 fl oz:Head & Shoulders Dry Scalp Care with Almond Oil anti-dandruff conditioner works to moisturize your scalp* and hair all day long (*by treating dandruff)#1 dermatologist recommended dandruff brandFormula with almond oil helps relieve dry scalp and itch (1)pH balanced and gentle enough for everyday use, even on color or chemically treated hairTry with Head & Shoulders anti-dandruff shampoo - World's #1 Shampoo* (*P&G calculation based on Nielsen sales information July 2016-June 2017)
Reviews
Cilla
Bigger size
Why doesn't conditioner come in the 32.1 oz with pump???? I like shampoo with pump and would like the same in conditioner. I love the product. Works for me
Brandon
Great product!
This stuff is gold but so hard to find. Smells great, makes your hair soft, and moisturizes your scalp.
brandoncavitt1777
Works wonders!
My wife and I both used the conditioner as part of the 3 step dandruff treatment. For myself, it helped to rid my scalp of being dry. While the shampoo did it's part as well, the conditioner helped to soften my hair/scalp and make my hair less "brittle", which helped it to not itch so much. For my wife, she has long, thick, dandruffed hair, so she absolutely loved this conditioner. Combined with the shampoo, it got rid of 90+% of her dandruff and flakes. The pro to this conditioner is that it smells absolutely AMAZING! There's nothing like it! The con to this conditioner is that it has the same texture as a really thick, creamy lotion which gives you the illusion that you'll never get it fully rinsed out of your hair. For people with really long hair, such as my wife, this can get irritating. OVerall though, it is definitely a product that provides exactly the results it says it will! [This review was collected as part of a promotion.]
celestina216
GREAT PRODUCT! LEFT MY HAIR SILKY SMOOOOTH
I can't speak for you, but the skin on my head is always in a delicate balance. This conditioner with the matching shampoo is my 9-5. If I go one day without showering, dandruff(oily). If I go a couple days on a different shampoo, dandruff(dry). I use this pair six days a week, and then whatever my wife uses on the seveth. Remember a shampoo/conditioner is good at cleaning out everything but itself. So use a chemically different product every once and a while. As far as silky and smooth, I notice a difference when I first switch to this one from the regular head and shoulders. Now though I don't notice much of a difference, maybe because I am use to it, or maybe the smoothness was just because I had switched products. Overall, for anyone with dandruff issues use this product. If you know the difference between oily and dry dandruff then you probably have a dandruff problem. Lastly, only as helpful information when my dandruff flairs up, or after a camping trip, etc. I use Neutrogen T-gel, The stuff stops dandruff in 1-2 uses, but it is too harsh for daily use. Good luck and enjoy life. [This review was collected as part of a promotion.]
unbreakbroken13
Perfect companion...
I received this product for free from Head & Shoulders to use and review. Prior to use, I was using an all natural dandruff shampoo that did not have zinc as an active ingredient. It wasn't doing much for me and the smell was not pleasant. Plus, that particular brand didn't even have a conditioner to use with the shampoo. The very 1st time I tried the Head & Shoulders shampoo/conditioner, I noticed an immense improvement. I have only been using the product for about a week (shampooing/conditioning every other day) and my scalp is pretty much totally clear of dandruff. My scalp was in horrible condition prior to use but within just a couple shampoos and conditioning, my dandruff was on the run. Not only does this product resolve dandruff issues but it also smells amazing and leaves your hair very soft and silky. I typically prefer to use natural/organic products as much as possible but I will make an exception for this product because it is amazing and actually works! The conditioner is the perfect companion to the shampoo. I highly recommend this product to anyone suffering with dandruff. Thank you Head & Shoulders! [This review was collected as part of a promotion.]