Always Xtra Protection Daily Liners, Regular, 100 Count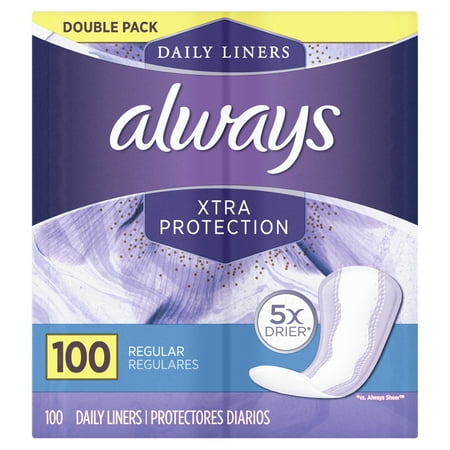 Sale :

$5.47

Sold & shipped by Walmart
Product Description

Additional Information

Reviews
Product Description
Feel comfortable and dry while living your active, on-the-go lifestyle with Always Xtra Protection Regular Daily Liners Unscented 100 Count. They each provide up to 10 hours of protection, are ideal for an everyday clean feeling and can be used for slight urine loss or light flow days. Each of the feminine liners is equipped with an inner layer that guides fluid quickly to the core to keep you dry. They have a soft outer cover that allows for comfortable wear and edge-to-edge adhesive that keeps them from moving or bunching. The Always daily liners are unwrapped, unscented and come in a regular-sized length.
Additional Information
Always Xtra Protection Daily Liners, Regular, 100 Count:
Our best absorbing liners protect with LeakGuard Core + RapidDry to help keep you 5X drier (vs. Always Sheer)
For a shower-fresh feeling all day, every day
Absorbs leaks and odors in seconds
Edge-2-Edge Adhesive helps keep the liner in place
Always liners has products that help you get the level of protection that's right for you
Reviews
Happycustomer44
Best I have used!!
I love your product, it is the only liner that keeps me dry and odorless. I have tried a lot of liners and these are by far the best.
Tlisicki
Not as absorbent
I got these because I thought great. They'll be comfortable which they were, and very absorbent. That wasn't the case for me. It ended up leaking onto my underwear even with the pantyliner, and even though it was comfortable I need something i can depend on. It didn't dry for a long time. Thankfully that was just a few out of the entire package, but still I thought the entire package was going to be defective. Always is a great brand, but if you have extra heavy discharge like me, you may want to look for extra heavy before just purchasing the pantyliners. I didn't notice it was regular before purchasing it. I learned my lesson the hard way. Please don't make the same mistake I did. Read the entire package before purchasing. I just noticed they offer extra heavy protection. I'll be sure to look into that next time. That's why I did 4 out of 5. These would've been perfect if I had a normal flow. (TMI, I know but i want to help other girls who may be considering these pantyliners and have the same situation as I do)
LillesnTulips
Not as absorbent
I used to use another brand of pantiliners. They made changes to their pantiliners, and now I have started to use these. These actually stick to my panties and stay there. Plus they're more absorbent than most other brands.
Debra D
Perfect!
I buy these for my 83 yo mom who has urinary leakage. These liners are thin, comfortable yet very absorbent. She won't use anything else!
everydaygirl
Love, but hate new wrapper!
Love the product, especially for just everyday wear but the new individual wrappers are horrible. I used to wonder why they didn't come individually wrapped as it would be easier to carry one in a purse pocket if needed but now I see why not; or if you could make these 'travel' ones and bring back the way they were before?!? It's nice to have these for travel and to carry one on hand but they ruin the effectiveness of the pantiliners. The edges often get wrinkled from the wrapping and makes it difficult to stick to the edges of underwear (sorry if this is TMI but I think honest feedback would be best appreciated) and sometimes even come up throughout the day sticking in some not so fun places! The effectiveness of the pantiliner is ruined by the wrapping for everyday use and although convenient to have for travel, I would love if you offered both, please and thank you :)