Tide Original Scent Liquid Laundry Detergent, 64 Loads, 100 Oz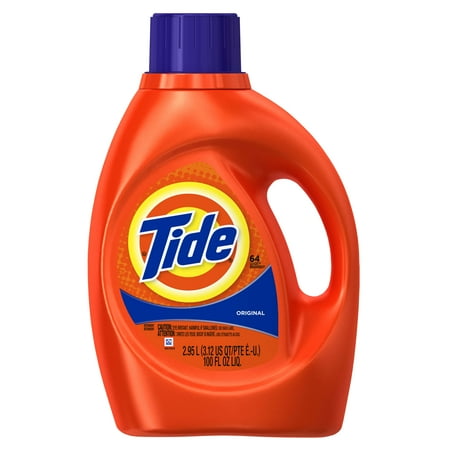 MSRP :

$25.28





Sale :

$11.97

Sold & shipped by Walmart
Product Description

Additional Information

Reviews
Product Description
Ultra Tide Liquid Laundry Detergent is specifically designed for your high-efficiency washing machine. The advanced formula is safe to use on almost all colors and fabrics. This low-sudsing laundry detergent is also highly concentrated, so you can use less with each load and know that you are getting a great value when purchasing this product. This laundry detergent formula breaks up dirt in three different phases: polymer that helps break up and release dry stains, a cleaning enzyme to deep clean clothing fibers and a whiteness booster to add more sparkle to your clothes. The 100 fl oz bottle of Tide high-efficiency laundry detergent is eco friendly thanks to the fact that it is phosphate-free, totally biodegradable, safe for use with septic systems and comes in a recyclable plastic package.
Additional Information

Tide Original Scent Liquid Laundry Detergent, Choose Your Size:
Available in various sizes: 40 fl oz (25 loads), 75 fl oz (48 loads), 100 fl oz (64 loads) or 150 fl oz (96 loads)
Tide with Acti-Lift helps remove many dry stains as if they were fresh
Contains more cleaning ingredients, less water
Safe for septic systems
Tide laundry detergent has 6x the cleaning power of regular detergents
Tide liquid laundry detergent performs well in all temperatures
Original scent; infused with aloe and floral notes
Molded-in handle for convenient use and easy transporting
Measurements etched in top
Reviews
AngS
Not satisfied
Pods would not dissolve fully no matter how large the load or what setting my washing machine was placed on and stained my clothes with blue dye and the plastic melted to my clothing.
MegL
Trusted for over 50 years
I've used Tide my entire life. There's nothing better.
greeneyes
REMOVE ACTIVE-LIFT
I have been using Tide Liquid for years and have been very happy with it until the Acti-Lift was added to it. The detergent now makes my laundry smell terrible- a very strong, bitter odor. It also made my white towels turn gray. My family and friends have also complained about the same problem, especially the awful smell. Tide, you keep insisting that the " scent has not changed" and tell us to use Tide free and gentle. I do not want no smell. I want a nice smell. I see other reviewers wrote in about the same problem with the Acti-Lift ( especially those who use Tide with Downey). Tide, please listen to your customers and give them what they want. I HATE the smell of the Acti-Lift and have switched to a new detergent. You must be losing many other customers because of this problem. Tide is like an American tradition and you have ruined a product we have loved for years. I am sorry to say I will never use Tide again unless the Acti-Lift is taken out and the old formula is back again.
jaynefromal
Blue and pink stained laundry
We rented a beach house for vacation and prior to leaving, we started a load of laundry with a TIde Pod in the house's top-loader washer. We were contacted by the owner afterwards that the white sheets had blue stains that wouldn't come out. We couldn't figure out how an entirely white load could get stained with blue but fortunately the owner was very nice and refunded the whole damage deposit. Mystery solved this week when we used Tide pods in our front-loader and found the seal coated in blue slime on 2 consecutive loads. We have been using TIde Pods for about 2-3 months and this is first time we've seen any blue stains. However, we have had unexplained bleached out spots on our dark T-shirts since using the Pods. I like the pre-measured concept (esp with front-loaders prone to smelling if using too much detergent) but current version of Tide Pods are unacceptable for home use. I'm going back to liquid Tide HE and P&G needs to take Tide Pods back to the product development lab.
Trakie1
They work well for me.
I first tried these when I ran out of detergent and on a quick trip this was all the store had available for front-loading/HE. So, I thought I would give it a try. I didn't expect any different results than my regular Tide w/ Bleach HE, but when I put away the clothes, I noticed that they looked nicer. They really were cleaner and brighter - even some of our older and more dingy clothes came out looking much newer. So, I have stuck with the pods through over 100 loads. I have not had any issues with the pods not dissolving, like others have had. However, I am somewhat careful about placing the pod. I put it in AFTER I load the clothes, and right in the area where the water first pours in. Of course, I also have a hubby and kids helping - who knows where they put it! For us, the pods have worked really well, and we are very pleased. If there was only a way to incorporate fabric softener, it would be 5 stars. A scent-free version would be nice, although I don't terribly mind the scents available.