Gain Plus Aroma Boost Liquid Laundry Detergent, Original, 64 Loads, 100 fl oz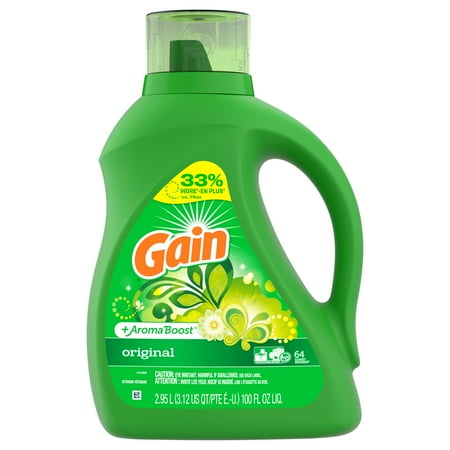 Sale :

$9.94

Sold & shipped by Walmart
Product Description

Additional Information

Reviews
Product Description
Gain Liquid Detergent Original with FreshLock is designed to keep freshness in your clothes even after two weeks. The Gain Detergent 64 Loads, 100 fl oz, comes in the original scent that combines overtones of orange, lemon and blossoms with a modern fruity, green twist with undertones of white floral jasmine with a hint of woody amber. This liquid laundry detergent can be used with Gain Liquid Fabric Softener or Gain Dryer Sheets (sold separately), for a matching scent.
Additional Information
Gain + Aroma Boost Liquid Laundry Detergent, Original, 64 Loads, 100 fl oz
Laundry detergent for an amazing scent experience
Lifts away dirt and locks in scent to keep your laundry smelling great, even after 2 weeks
Compatible with HE and standard washing machines
Brilliant cleaning performance
Gain + Aroma Boost Laundry Detergent gives you 7 weeks of freshness from wash until wear
1 cap of Gain liquid laundry detergent = 1 bottle of the leading baking soda detergent (In-wear freshness of 1 large dose of Gain vs. 50-oz bottle of leading baking soda detergent/scent)
Reviews
Yetta
i love it .
I have allergies to a lot of different products. Gain liquid is the only detergent I use, it does not break me out. The plus is it smells good also.
countryliving96
Great detergent
I love the extra boost of smell, so far so good. I definitely buy this again.
Annettez58
7659933004
I love Gain laundry detergent. With my allergies this is the best detergent I have found.. Love it love it. Awesome product.
MissGainScent
Scent very weak
Back in the mid 1980's I drove over the road truck. One of our customers was P&G in Pineville, Louisiana. I used to walk behind the trailer I was picking up to make sure it is loaded and also to put a seal on it. I was amazed by the cool fresh scent that was coming from some of the trailers. I liked the scent so much I went back inside of the plant and asked what product was creating that scent. I was told it was Gain. I asked my wife to try it but she used another brand. Then a couple of years ago my wife changed from the other brand because it did not clean as well as Gain (liquid) and she said she liked the scent. But I do not feel Gain has as much scent as it did back in the 1980's. Maybe the Gain powder still has the old scent. Product does clean like it should, but I never know how much Gain or any brand of laundry detergents to put into our top loading washer. I tried the feel how slick you fingers are after dipping my finger in the wash water.
Gingerkittykitty
Smells great and cleans wonderfully
Gain has been my favorite detergent for a long time, and I usually am not brand loyal. But the smell is AMAZING and it really does the job on the wash.