Secret Spring Breeze Invisible Solid Antiperspirant and Deodorant 2.6 oz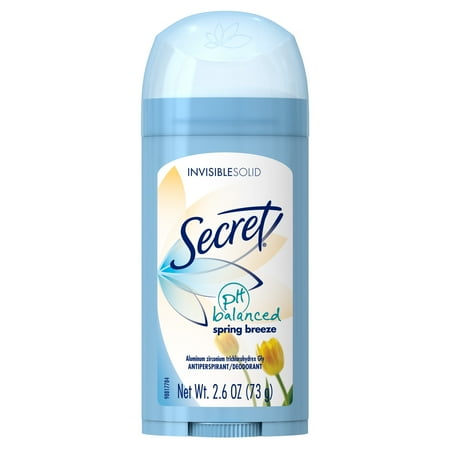 Sale :

$2.47

Sold & shipped by Walmart
Product Description

Additional Information

Reviews
Product Description
Stay true with Secret. You can always be confident with the original. With pH-balanced protection to work with your body's natural chemistry, Secret Antiperspirant and Deodorant helps you stay confident during the day. Trust the odor- and sweat-fighting protection of Secret.
Additional Information
Secret Spring Breeze Invisible Solid Antiperspirant and Deodorant 2.6 oz: Invisible Solid goes on dry and stays dry Helps stop odor before it starts Reliable 24-hour odor and sweat protection pH-balanced protection to work with your body's natural chemistry Spring Breeze is the soft scent of a spring morning Secret Invisible Solid Antiperspirant and Deodorant, Spring Breeze Scent, Single Pack, 2.6 Oz.
Reviews
MommaKey
Smelling like a rose
Secret always delivers with the best deodorant that works even when you feel like you are sweating. the invisible coverage doesn't stain clothes and keeps you smelling pretty even after a workout or busy day. Fresh springy scents make me smile and leave me confident I'm covered. #contest
GingerGal
Unscented is not unscented
I bought Secret Invisible Solid pH Balanced UNSCENTED, with the idea that I would be avoiding a perfumey smell that would bother me. I was wrong. It does list "fragrance" with an asterisk (*) to "masking fragrance" (presumably to keep the product from smelling medicinal or chemically, or something). This fragrance is strong enough to be bothersome. Anytime I lift an arm, it is all I smell. How is this "unscented" when it is so perfumed? I hate to think of how strong any of the scented varieties are! It also has not acted as an antiperspirant for me at all. If all I had wanted was a deodorant, I'd have stuck with my regular brand, but I needed a no-sweat product for a high-class event (I'll be wearing silk, so sweating is not an option). This is NOT that product. I'm glad I tested it out before the event so that I still have time to find something that is what I am looking for. On the plus side: It does go on smooth, no sticky residue, no white gunk.
Anti perspirant
Hypo allergenic
Great smell for sensitive skin like mine... Only certain deoderants are strong enough this one in particular
tlynnfav
Softly Scented -NO residue
I have used Secret deodorant since I was a teen and never disappointed. The Secret Spring Breeze Invisible Solid is a nice softly scented antiperspirant and deodorant that works well. I don't perspire a lot so I can't tell you how well it works for perspiration but its a great deodorant. I am accustomed to using a deodorant and would feel naked without one on so I like a milder one that does not stain my clothes which by the way are most always BLACK , this does not leave a residue. I gave it 4 stars because I had a hard time getting the cap off, the first time I had to pull up on it so hard it slipped and cut my finger on the sharp edge of the cap. I now leave the cap on loose so I don't have to pull it off, they need to redesign the cap. The Secret itself is great and I use it daily .
Jbean
Why cant I find the Citrus blossom scent
I loved the Citrus Blossom scent, it is my all time favorite, unfortunately it doesnt seem to be available anywhere. Have you stopped making it? Why the shortage? Please bring it back