Charmin Ultra Strong Toilet Paper 12 Mega Rolls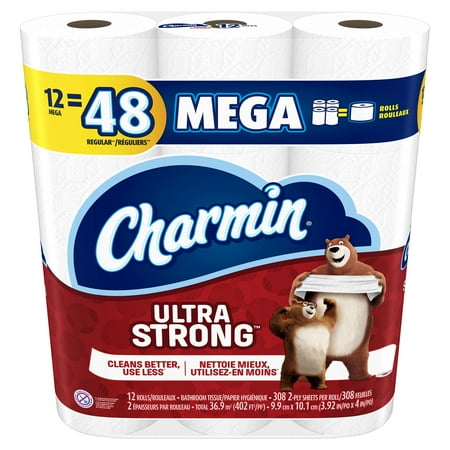 MSRP :

$151.55





Sale :

$12.47

Sold & shipped by Walmart
Product Description

Additional Information

Reviews
Product Description
Use less with Charmin Ultra Strong Bathroom Tissue! Charmin Ultra Strong two-ply bath tissue is 4x stronger (vs. the leading bargain brand) when wet. Which means you can be confident your family is getting clean, while still using less. How much less? Charmin Ultra Strong cleans so well you can use up to 4x less (vs. the leading bargain brand). Enjoy the go with septic-safe Charmin Ultra Strong toilet paper.
Additional Information
Charmin Ultra Strong Toilet Paper, 12 Mega Rolls:
Pack contains 12 Rolls (308 sheets per roll) of Charmin Ultra Strong Toilet Paper
1 Charmin Mega Roll = 4 Regular Rolls based on number of sheets in Charmin Regular Roll bath tissue
Charmin's strongest 2-ply toilet paper
Design inspired by washcloth-like cleaning and strength
4X stronger when wet vs. the leading USA 1-ply bargain brand
Clog-safe and septic-safe
Roto-Rooter approved
We all go to the bathroom, those who go with Charmin Ultra Strong toilet paper really Enjoy the Go!
Reviews
Connie
Charmin Ultra Strong
I love it, it is strong and soft at the same time
tpregrets
Don't like the new texture
I've always bought Charmin Ultra Strong but the last batch I got had a new textured dots imprint and honestly it's terrible. Comparing to a previous roll of the Ultra Strong it's thinner, I can see my fingers through it, it feels rougher, and it shreds and falls apart like nobody's business. If I rub a sheet between my fingers, instantly the two plys separate. Not so with the old roll, which feels much more plush and is very strong and more difficult to tear. Also using it is a nightmare. Wetness seeps through so you have to use more sheets and it pills and tears EVERY TIME and just make a huge mess. I will no longer buy this toilet paper, it's unusable. No longer "ultra strong" it's thin and weak and performs like a much cheaper toilet paper.
Alan
Roll size is TOO LARGE
We are sorely disappointed to note that the only SIZES you now offer are Mega and Super Mega. We've be very happy with Charmin Ultra Strong for more than 15 years and have found the Double-Plus size is the largest roll that fits into vintage built-in roll holders. If other companies make a similar (double-plus) size we'll have to avoid Charmin!
Jemangels
Great value, but the rolls are too big
I use the ultra strong. The paper is both strong and soft. But, I find the rolls too big and awkward for my dispenser and ease of use.
cjpressley62
Strongest toilet paper I've encountered
I went into this campaign apprehensive but I was pleasantly suprised. When you take it out of the plastic you can tell just by holding it that it seems like there's more to what you see. It feels different, but in a good way. It's soft, put also feels super thick. It makes you believe that it could stand up to anything. I wasn't sure how this would perform. Sometimes things aren't up to the hype, but this was for sure. It was comfortable and super strong. This sounds weird but I always am nervous that my finger will go through to toilet paper when I'm using it and there's no way this will happen with this product. I even went a step further and tried to wipe up toothpaste my son got all over the sink. To my surprise it didn't even rip! So if you're wondering if you should try this, my answer is YES! It is not the cheapest toilet paper on the market, but it's also not the most expensive. I would spend that extra bit just to use this strong kind. Best toilet paper I have tried to date! [This review was collected as part of a promotion.]