Charmin Ultra Strong Toilet Paper 12 Mega Rolls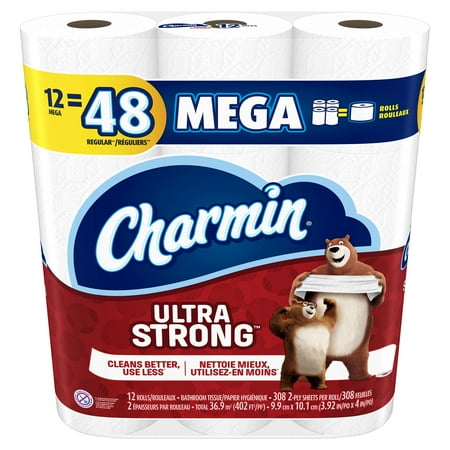 MSRP :

$151.55





Sale :

$12.47

Sold & shipped by Walmart
Product Description

Additional Information

Reviews
Product Description
Use less with Charmin Ultra Strong Bathroom Tissue! Charmin Ultra Strong two-ply bath tissue is 4x stronger (vs. the leading bargain brand) when wet. Which means you can be confident your family is getting clean, while still using less. How much less? Charmin Ultra Strong cleans so well you can use up to 4x less (vs. the leading bargain brand). Enjoy the go with septic-safe Charmin Ultra Strong toilet paper.
Additional Information
Charmin Ultra Strong Toilet Paper, 12 Mega Rolls:
Pack contains 12 Rolls (308 sheets per roll) of Charmin Ultra Strong Toilet Paper
1 Charmin Mega Roll = 4 Regular Rolls based on number of sheets in Charmin Regular Roll bath tissue
Charmin's strongest 2-ply toilet paper
Design inspired by washcloth-like cleaning and strength
4X stronger when wet vs. the leading USA 1-ply bargain brand
Clog-safe and septic-safe
Roto-Rooter approved
We all go to the bathroom, those who go with Charmin Ultra Strong toilet paper really Enjoy the Go!
Reviews
Connie
Charmin Ultra Strong
I love it, it is strong and soft at the same time
cjpressley62
Strongest toilet paper I've encountered
I went into this campaign apprehensive but I was pleasantly suprised. When you take it out of the plastic you can tell just by holding it that it seems like there's more to what you see. It feels different, but in a good way. It's soft, put also feels super thick. It makes you believe that it could stand up to anything. I wasn't sure how this would perform. Sometimes things aren't up to the hype, but this was for sure. It was comfortable and super strong. This sounds weird but I always am nervous that my finger will go through to toilet paper when I'm using it and there's no way this will happen with this product. I even went a step further and tried to wipe up toothpaste my son got all over the sink. To my surprise it didn't even rip! So if you're wondering if you should try this, my answer is YES! It is not the cheapest toilet paper on the market, but it's also not the most expensive. I would spend that extra bit just to use this strong kind. Best toilet paper I have tried to date! [This review was collected as part of a promotion.]
PWebber
The TP talk...
Toilet paper, well there is a conversation starter...I have to say first off all we buy TP by the bulk and it is not something that anyone wants to cheap out on. You want the good stuff! Not the stuff that feels like sandpaper that you have to use in malls or that is so thin it tears before you even get the square off to try to get some off the roll (you know what I'm talking about.) Anyway, for my household trying a new toilet paper is almost a frightening ordeal, you never know right. Charmin is a good reputable brand so we went for it. Here is what we got - for one the rolls are TINY and loosely rolled so each roll lasted only about 3 days in my home. Not acceptable for us, I would have to tell you I don't have enough room to store the amount of this stuff I would need to keep a stock. And although it is strong, it is not real soft for the importance of its job. We tried it but sorry Charmin this one fell a little short (haha!) We will be sticking with our old TP for our happy bums. [This review was collected as part of a promotion.]
whatdajarvis
Nice and Soft
Coming from a family that has always gotten the cheapest (and usually roughest) toilet paper, the Charmin Ultra Strong was a nice change! What I Liked: -The toilet paper was very soft! Felt like I was wiping with a cloud! -As the name implies it was indeed very strong. The strength did not let me down. Not one time, did the paper tear. This was one of my favorite parts. -Didn't need much per wipe! I've been used to using a lot of paper per wipe due to the thin nature of toilet paper, but with Charmin Ultra Strong it was the opposite! No longer did I need to use nearly as much. What I see as cons: -For me the toilet paper seemed less absorbent than what I was used to. -Price is a big concern to me when shopping, so the higher price of Charmin tends to turn me away. Overall using the Charmin Ultra Strong was a good experience. Although, the price is higher than I would like, having to use less paper and having more comfort may just bring me to their brand next time I am in the store. [This review was collected as part of a promotion.]
beeker712
Charmin Ultra Strong
Usually my wife buys store brand toilet paper since it is cheapest, so I was happy to be able to try something new. Overall I honestly wasn't too overly impressed with the differences in the Charmin Ultra Strong and my regular store brand toilet paper. Yes the Charmin Ultra Strong was much softer, but that sometimes made it more "slippery" in certain wiping situations. And that is NOT desired. But it was also much stronger than cheaper toilet paper, which was certainly a positive point. I also didn't seem to notice much of a difference in the amount of paper used or the life of the toilet paper roll if you will. Maybe it is because everyone is used to using a certain amount, and did not adjust their usage habits as I did. My wife had stated she noticed she could use less, but she didn't always remember that fact till after she already had her usual handful ready to go. I would definitely recommend Charmin Ultra Strong to people, but I am not sure it is totally worth the price. [This review was collected as part of a promotion.]