Always Ultra Thin, Size 4, Overnight Pads With Wings, Scented, 24 Count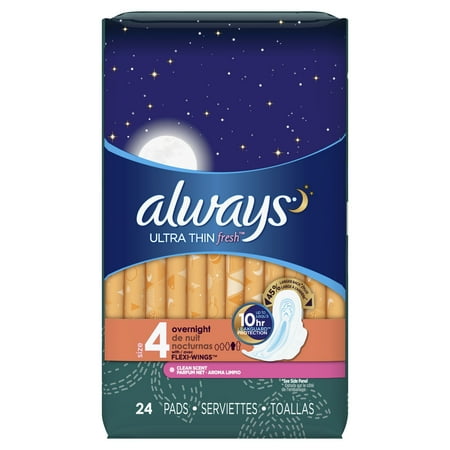 MSRP :

$46.39





Sale :

$5.47

Sold & shipped by Walmart
Product Description

Additional Information

Reviews
Product Description
Always Ultra Thin Overnight Pads with Flexi-Wings offer up to eight hours of LeakGuard Protection and feature Flexi-Wings that flex as you move, helping them to stay put and protect against leaks. The LeakGuard Core pulls fluid deep into the core and away from the edges for clean, dry protection.
Additional Information
Always Ultra Thin, Size 4, Overnight Pads With Wings, Unscented, 28 Count:
Are you sure you're getting the right fit? The wrong fit can lead to leaks. Step up in size to help stop leaks
Now Always MY FIT helps you get the best protection by tailoring your pad to fit your flow AND panty size. Use the sizing chart in the images to find your fit
Provides 45% larger back to help stop leaks at night* (*Vs. Always Ultra Regular With Wings)
LeakGuard Core absorbs in seconds for up to 10 hours of protection
Always Ultra Thin, Size 4, Overnight Pads With Flexi-Wings have a flexible design for our best nighttime protection
Stock up on feminine pads now and save time later
Reviews
LaundryDay
You'll ALWAYS stain yourself!
These pads used to be good, I'm not sure what happened. Now when I use these, I am guaranteed to stain myself. I've ruined plenty of sheets, shorts, and pairs of underwear thanks to these pads. I like the size and the absorbency, but the wings are made from the same material as the inner pad which causes the leaks. If you happen to buy these, I recommend that you change every 2 hours. I don't have a particularly heavy flow but they seem to leak around the 3rd hour, which is very inconvenient when I'm working. 10 hours? Forget it. To top it all off, the adhesive sticks to your underwear like no tomorrow and leaves pieces from the pad which are very hard to pick off. I won't be buying these again after I run out of my current package.
AmyH
Love these
I wear these and love them! During the day I wear Infinity (amazing!), but at night I want to have that secure feeling and protection of no leaks, so I wear these. Love that they are a little larger in the back, so when I am sleeping no issues there. Definitely feel bulkier compared to Infinity, but I am ok with that. I put it right before bed and no trouble sleeping. Never been woken up by my pad slipping out of position. Stickiness is great and the wings catch anything that might make a mess.
Sammit
Good for a normal flow
I bled through two of these pads being used at one time plus a super plus tampon, within an hour. I am seeking dct care, but I need to know the amount of fluid the pad maxes out at. I can not find that information. I wish i could say the product worked for me, but i does not, but Always is a great trustable beand.
OlviaE
This product is Exelent
I have urinary and fecal incontinence do to myelomeningosele condition. I tried everything in the market until I find Always ultra thin, Always purple as I call it, the best for me, no rash, inch, or burn, super absorvancy. I have to use it 24 hrs a day. Thank you P&G
OlviaE
This product is Exelent
I have urinary and fecal incontinence do to myelomeningosele condition. I tried everything in the market until I find Always ultra thin, Always purple as I call it, the best for me, no rash, inch, or burn, super absorvancy. I have to use it 24 hrs a day. Thank you P&G