Always Thin Daily Liners, 120 Count, Unscented, Wrapped, Regular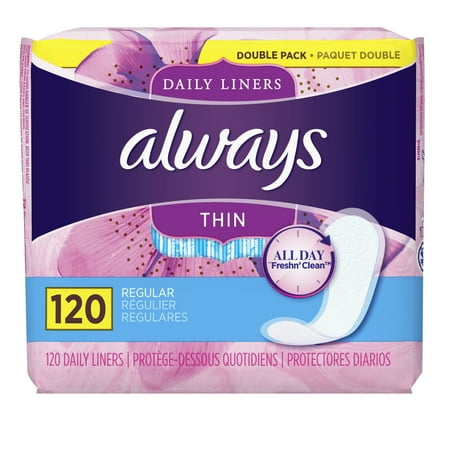 MSRP :

$6.57





Sale :

$5.47

Sold & shipped by Walmart
Product Description

Additional Information

Reviews
Product Description
Get a fresh start all day, every day with Always Thin Daily Regular Liners. Always Thin Pantiliners are incredibly thin and comfortable, designed to feel like fresh underwear so you can wear them every day. A breathable layer helps keep you dry, while Edge-2-Edge Adhesive helps keep it in place all day long. For a comfortable, fresh feeling every day of the month, try Always Thin Daily Liners for women.
Additional Information
Always Thin Daily Liners, 120 Count, Unscented, Wrapped, Regular: Always Thin Daily Liners are thin and absorbent for discreet, everyday freshnessFor a shower-fresh feeling all day, every dayAlways Thin Daily Pantiliners have a breathable layer that helps keep you dryEdge-2-Edge Adhesive helps keep the liner in placeIndividually wrapped so you can take it anywhereAlways liners has products that help you get the level of protection that's right for you
Reviews
Dissappointed
No More Unscented?
I used to wear these everyday, but now they no longer make Unscented. They only make Freshn'Clean Scent. Why did you stop making Unscented? Please bring back Unscented. (Please note: I gave this one star because I am dissappointed that they don't make unscented anymore, but the review wouldn't go through with one star. I tried a few times. But look what happens when I give it five stars!)
Rebecca83
These used to be my favorite
I have been using Always since I first had a period. I've been using these liners for around 10 years. All of a sudden the last two packages (since the wrapper design changed) have had leaks! I don't know what changed, but these never leaked before. Now all of a sudden I get leaks right through the middle of the pad!! How embarrassing to have blood on my khaki pants at work!! It seems like there is a small absorbent pad in the center of it and the rest of it is made of paper tape. They also don't stick as well as they used to. This is a shame, as these are the most comfortable liners I have ever used, but I can't buy another package knowing it might leak.
Maddie
Do not like.
After wearing them for even an hour, they put off a bad smell. Other panty liners do not do this. And I don't have an unpleasant smell when not wearing one at all.
jasminegirl
Are 'always dailies-sheer' Always Comfortable?
I received these bad boys in the mail yesterday & deemed them easiest to try first. The packaging was pretty and it's easy to open the plastic cover holding the liner. Upon initial inspection, I realized this liner isn't like one I've used before & here's some details about why. Sticky Application: When you begin to peel away the liner from the plastic you realize that the ENTIRE liner is sticky on one side. (Not just that little adhesive strip in the middle that is supposed to cling for dear life onto your panty while you do all that has to be done over the course of a day.) Meaning that one side is completely adhesive to it sticks to your panty completely. So where you move, the panty moves and so does the liner with it. Amazing, right? Right! 'No Feel' Test: The box boasts that it has a 'no feel protection' & that it is 'so seamless you may forget you're wearing it'. They were right. Once my panty was pulled up it was barely even there. Long Review Short, that 'All Day Fresh' feeling is now a thing for me! [This review was collected as part of a promotion.]
jasminegirl
Are 'always dailies-sheer' Always Comfortable?
I received these bad boys in the mail yesterday & deemed them easiest to try first. The packaging was pretty and it's easy to open the plastic cover holding the liner. Upon initial inspection, I realized this liner isn't like one I've used before & here's some details about why. Sticky Application: When you begin to peel away the liner from the plastic you realize that the ENTIRE liner is sticky on one side. (Not just that little adhesive strip in the middle that is supposed to cling for dear life onto your panty while you do all that has to be done over the course of a day.) Meaning that one side is completely adhesive to it sticks to your panty completely. So where you move, the panty moves and so does the liner with it. Amazing, right? Right! 'No Feel' Test: The box boasts that it has a 'no feel protection' & that it is 'so seamless you may forget you're wearing it'. They were right. Once my panty was pulled up it was barely even there. Long Review Short, that 'All Day Fresh' feeling is now a thing for me! [This review was collected as part of a promotion.]