Downy Ultra Liquid Fabric Softener, April Fresh, 129 Oz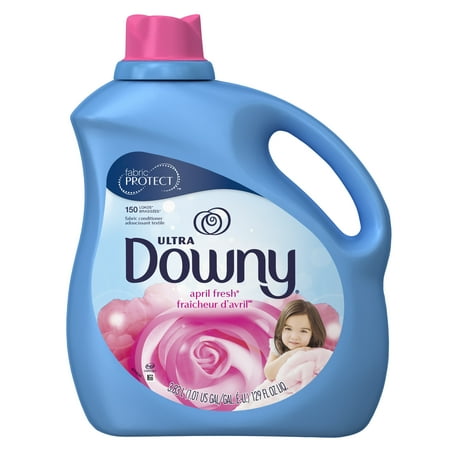 Sale :

$9.94

Sold & shipped by Walmart
Product Description

Additional Information

Reviews
Product Description
Feel more connected with Ultra Downy April Fresh with Silk Touch Liquid Fabric Softener, the sun-kissed floral scent that's been in homes for generations. Ultra Downy is Downy's leading fabric softener, formulated to keep clothes exceptionally soft, fresh, and static-free.
Additional Information

Downy April Fresh Liquid Fabric Conditioner (Fabric Softener):
Conditions to help prevent stretching, fading and fuzz
Leaves long-lasting freshness
Softens fabrics & fights static
Reduces more wrinkles than detergent alone
Compatible with high-efficiency washing machines
Pair with Downy dryer sheets for even more static protection and scent
150 loads
April fresh scent
Reviews
Amy
Used to be good!?!?!
I don't know what you did to the original formula. Downy used to work great and smell nice. Now it gets all clumpy and clogs up the dispenser (which I clean frequently). You blame the thickening on temperature extremes. They must have happened during shipment to the grocery store. This never used to happen before, I would bet that you changed the formula to save money. Hard to believe that temperature is to blame, we have lived in the same climate for 50 years. I can't use this stuff and would like a refund.
llkmiz
Seems to do what they claim
Downy has quite a few claims regarding the benefits: Softens, freshens, reduces wrinkles, reduces fuzz and pills, prevents static, keeps colors bright. On some it is hard to tell if makes a substantial difference but it seems to work. I washed a sweater recently that previously came back from the cleaners a touch faded and a little pilly. The next time I washed it myself and used Downy. It looked good after the wash. I was afraid it would further fade or pill more but it did not and if anything looked a little better. In general, the reduced static and fresh scent are very noticeable benefits. While hard to tell if there are less wrinkles, and reduced fuzz and pills, I am not noticing wrinkles and fuzz/pilling problems so it is difficult to argue that it does not work. For the more obvious benefits alone it is worth it. A little goes a long was as opposed to some of the cheaper fabric softeners out there and if you get some of the other benefits over time it is an added bonus. [This review was collected as part of a promotion.]
k661944
Long lasting product!
Just got my fabric fresher today in the mail. Which was perfect timing since today was wash day and I had one more load of laundry to do and the toughest one yet. Pillows. I have the unfortunate luck to have my significant other to be a total sweatball at night meaning come morning time the pillowcase and all is soaked and of course reeks of sweat. I always need to have some sort of deodorizing agent to combat the smell. I always have to put a scoop of baking soda kind and a scoop of liquor detergent. Right away I noticed the powerful smell of the Downy. Wow. Definitely more powerful than the other fabric softener I buy. I put it in with the load of pillows and left it out on the line to air dry after it was done. Definitely smell great on the line as well. Can't wait to see if the smell lasts because for me that truly the test... It s been a week and the pillows still smell great. Definitely a product to keep in my pantry! Lasted a lot longer and stronger than my usual brand. [This review was collected as part of a promotion.]
dummipants
Downy - A Simple Classic
Whenever I think of liquid fabric softener, I always think of that iconic blue bottle of Downy. It's exactly what you'd expect a top-of-the-line fabric softener to be - a product that gets my clothes conditioned while making everything smell amazing (including my house!). To be specific, I used the 34-ounce size of Ultra Downy April Fresh. I like that it's concentrated and that I didn't have to pour a lot to get its full benefits. As a disclaimer, I know that some people might be sensitive to fragrance, and I wouldn't recommend this product to them. Other than that, this product is a great addition for anyone who uses liquid fabric softener, and I'd tell them to buy it without hesitation. When I'm reviewing products, I always like to include the backs of the bottles, just so people can see the usage directions and get the feeling you'd get if you were to walk into the store and pick up the bottle to examine it (because the front label IS pretty, but it's not very informative to a discerning consumer, like me). [This review was collected as part of a promotion.]
Sinnamon5577
Tackled mountain of laundry!
Being a family of five we have a lot of laundry! My husband is in the military which means uniforms, workout clothes and casual clothes not to mention my kids play sports. Nobody wants scratchy fabric on their skin, so I like to use fabric softener. I have never tried Downy fabric softener before...I know I know...you are shocked! I always worry about putting fabric softener in my HD machine, it sometimes leaves a residue in the machine. I tried Downy fabric softener and I was extremely impressed! It did not leave a residue in my machine. It made my clothes smell wonderful and left them feeling soft as silk! My family, especially my picky tween, loved how their clothes smelled and felt on their skin. My clothes seemed to keep their shape and not become stretched out or misshapen by the fabric softener. If you are looking for great smelling and feeling clothes, Downy fabric softener will not disappoint! [This review was collected as part of a promotion.]