Downy Ultra Liquid Fabric Conditioner (Fabric Softener), April Fresh, 150 Loads 129 fl oz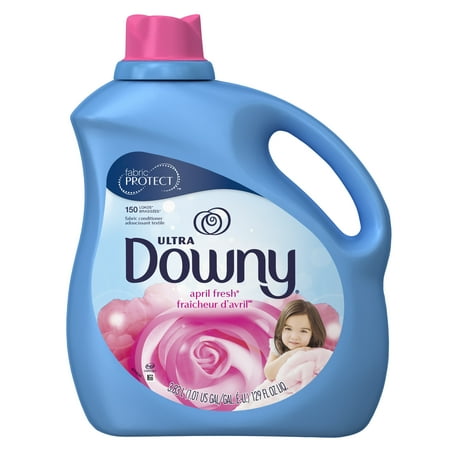 Sale :

$9.94

Sold & shipped by Walmart
Product Description

Additional Information

Reviews
Product Description
Feel more connected with Ultra Downy April Fresh with Silk Touch Liquid Fabric Softener, the sun-kissed floral scent that's been in homes for generations. Ultra Downy is Downy's leading fabric softener, formulated to keep clothes exceptionally soft, fresh, and static-free.
Additional Information
Downy Ultra Liquid Fabric Conditioner (Fabric Softener), April Fresh, 150 Loads 129 fl oz:
Conditions to help prevent stretching, fading, and fuzz
Leaves long-lasting freshness
Softens fabrics
Reduces more wrinkles than detergent alone
Compatible with HE machines
Reviews
Melifer
Great scent!
I've been using Downy April Fresh for a couple weeks now. I'm impressed. The clothes are super soft and the scent is amazing! When I first opened the box, containing the Downy, the scent wafted out before I even removed the bottle. With it being that strong, I expected my head to start pounding. However, it was such a pleasant scent, and though strong, not over powering. My daughter was helping me. Her first words were, "It smells like flowers!" I kind of agree, but yet it's more outdoorsy than flowery. My husband and sons have no issue having their clothes smelling of this Downy. They won't use anything that smells if flowers. A couple days ago my youngest daughter was standing next to me. I noticed how nice she smelled, but had forgotten about the Downy. I just had a baby 2 weeks ago and my older daughter have been helping with the laundry. I asked one of my older daughters what that scent was. She told me she was using the Downy. I am so impressed, I will be buying this again! [This review was collected as part of a promotion.]
Robs423
Gym clothes smell great!
I knew that the real test for this product would be to see how it works on my gym clothes. I was not disappointed. I work out 4-5 days a week, and I rotate between two t-shirts and two pairs of pants. I have used these clothes for over a year and a half, and I began to notice that even after washing (and using a different fabric softener), that my clothes were starting to retain that sweaty, stinky smell. I was just about ready to trash them when I decided to try the Downy April Fresh Liquid Fabric Enhancer. The scent in the bottle is not overpowering, and I didn't need to use as much as I suspected. My stinky old gym clothes now smell fresh, and dare I say, NEW! I'm very pleased! The scent after washing is even lighter than in the bottle, and to me, it smells fresh. Another thing I noticed is that there seemed to be less lint in the lint trap, which is definitely a good thing. My only complaint (and it's minor) is that the fill lines inside the cap are a bit difficult to see. [This review was collected as part of a promotion.]
jrivers89
Quality Fabric Softening Product
I'm not one to usually use fabric softener but being recently married my wife decided we should start. I gotta say that after using Downy I'm not gonna go back to just straight detergent again. I got a lot of old clothes, I don't change much, still got shirts and shorts from my early college years, so I didn't notice much of a brightening on the colors, but the advertised static reducer and softening was clear. Didn't even need dryer sheets when we dried them. Towels were nice and fluffy, even old ones that we've had years and almost feel like sandpaper felt better with this. And it worked wonders on our sheets that now feel like we just got them. As I said, didn't really notice a color brightening effect but mostly cause I got old clothes as it is and don't wear many bright colors, but overall it worked great. Only negative I would say is I didn't really notice a reduction in wrinkles as it states it does. But that's a negligible factor and the only reason it didn't get a full five stars. [This review was collected as part of a promotion.]
llkmiz
Seems to do what they claim
Downy has quite a few claims regarding the benefits: Softens, freshens, reduces wrinkles, reduces fuzz and pills, prevents static, keeps colors bright. On some it is hard to tell if makes a substantial difference but it seems to work. I washed a sweater recently that previously came back from the cleaners a touch faded and a little pilly. The next time I washed it myself and used Downy. It looked good after the wash. I was afraid it would further fade or pill more but it did not and if anything looked a little better. In general, the reduced static and fresh scent are very noticeable benefits. While hard to tell if there are less wrinkles, and reduced fuzz and pills, I am not noticing wrinkles and fuzz/pilling problems so it is difficult to argue that it does not work. For the more obvious benefits alone it is worth it. A little goes a long was as opposed to some of the cheaper fabric softeners out there and if you get some of the other benefits over time it is an added bonus. [This review was collected as part of a promotion.]
k661944
Long lasting product!
Just got my fabric fresher today in the mail. Which was perfect timing since today was wash day and I had one more load of laundry to do and the toughest one yet. Pillows. I have the unfortunate luck to have my significant other to be a total sweatball at night meaning come morning time the pillowcase and all is soaked and of course reeks of sweat. I always need to have some sort of deodorizing agent to combat the smell. I always have to put a scoop of baking soda kind and a scoop of liquor detergent. Right away I noticed the powerful smell of the Downy. Wow. Definitely more powerful than the other fabric softener I buy. I put it in with the load of pillows and left it out on the line to air dry after it was done. Definitely smell great on the line as well. Can't wait to see if the smell lasts because for me that truly the test... It s been a week and the pillows still smell great. Definitely a product to keep in my pantry! Lasted a lot longer and stronger than my usual brand. [This review was collected as part of a promotion.]