Secret Clinical Strength Antiperspirant and Deodorant for Women Soft Solid, Light & Fresh 1.6 oz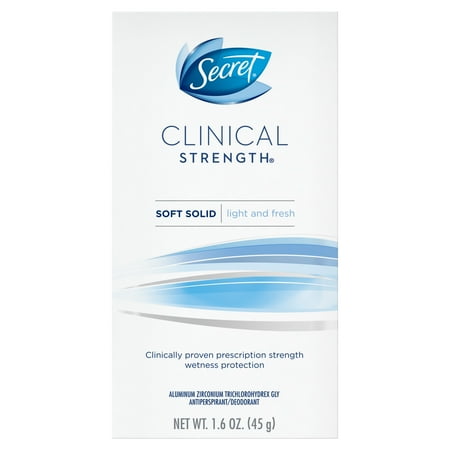 MSRP :

$35.99





Sale :

$5.98

Sold & shipped by Walmart
Product Description

Additional Information

Reviews
Product Description
Prescription-strength wetness protection! Did you know heat, activity, and stress can all cause you to sweat and that stress sweat smells worse than other kinds of sweat? Stress sweat comes from a different gland--causing more bacteria and more odor. Secret Clinical Strength gives you 4X* protection from stress sweat. It absorbs odor while releasing scent to keep you smelling clean and feeling dry. Plus, it's doctor-recommended and was the #1 awarded antiperspirant/deodorant among beauty magazines.** Enjoy all-day coverage with Secret Clinical Strength Antiperspirant/Deodorant--incredible protection, no matter what the day may bring. (*Vs. the wetness protection required of an ordinary antiperspirant. **For 2008(en)2010.)
Additional Information
Secret Clinical Strength Antiperspirant and Deodorant for Women Soft Solid, Light & Fresh 1.6 oz:
#1 Clinical Strength Antiperspirant
Keep stress sweat in check with 4X the stress sweat protection* (*Vs. the protection required of an ordinary antiperspirant)
1 application, 0 reapplication, sweat protection for 48 hours
Sweat Protection Designed For Your Body's Changes
Secret Clinical Strength is the #1 selling clinical antiperspirant brand
Enjoy that fresh-out-of-the-shower smell all day with Light & Fresh scent
Secret Clinical Strength Soft Solid Antiperspirant and Deodorant, Light & Fresh scent
Reviews
NicholeH
Love my Secret!
When I first tried this deodorant, I was expecting a solid, because the product is called Secret Clinical Strength soft SOLID. However, the consistency is more like a cream., There is nothing solid about it. I've always stayed away from gel deodorants. I don't like the wet, squishy feeling they leave under my arms. Though I didn't mind this "soft solid" consistency. It didn't stay wet or squishy like gel does, and it dried quickly. I also really like the way this product smells! It has a very light, fresh scent that is very appealing to me. As for the odor & wetness protection, I think it did go above & beyond a "regular" strength deodorant. I take a medication that makes me sweat, so I need a bit more protection than the average person. I definitely feel like Secret Clinical Strength Light & Fresh Soft Solid stood up to the challenge! I would absolutely recommend this product, & will be purchasing it again! #contest
Rose33090
My Favorite Secret
Secret Clinical Strength Light and Fresh is my all time favorite Secret formula. It is not sticky on the skin but keeps me from feeling any underarm wetness at all. It has a light scent that makes me feel fresh all day and night. I personally prefer the solids and this leaves no white residue, double plus. I have tried lots of other deodorants, but Secret is the one I always go back to. It truly is like it's the only antiperspirant/deodorant that understands what women want and need. #contest
vtjess423
Great smelling Deodorant that Works!
Secret Clinical Strength Light and Fresh is my favorite of all the Secret Clinical Strength scents. It smells exactly as its described "light and fresh." I've always had trouble finding a deodorant that works all day and leaves me feeling fresh, clean and still smelling good. Secret Clinical strength is the only deodorant that works for me. I still feel and smell fresh as the end of the day using Secret Clinical Strength! #contest #SecretAtWalmart @influenster
JenF
Used this for years, nothing compares
I love, love, LOVE this Secret Clinical Strength deodorant! I have used it for years, often straying, but always coming back. It's scent is light and clean, not overwhelming at all. It works well for my crazy 12-hour shifts as a nurse, when. I'm running from one patient to the next. I don't smell and my underarms are dry at the end of a shift, which for me, is a good test. If you haven't tried this deodorant, what are you waiting for?
AshleyNicole
I've used this for years and absolutely love it!
I have used so many brands before but after using this one the first time in high school I never changed brands. The only thing I have tried was the gel, solid to this soft one (my favorite!) I use this every night and then in the morning for about 2 weeks straight. After the 2 weeks I SWEAR you can miss a day or 2 and you still won't smell bad at all! I couldn't believe it so I had my mom do the same thing and she had the same results. We only use this one. So now that it's been years I can use it every other day or even a day or 2 (if I just forget) and I won't smell, at all. I have had 3 shoulder surgeries so you tend to not be able to wash easily under there but thank gosh for this brand because I never got stinky during it. If you worked out hard core and sweat up a storm then yeah you will need to shower (duh) but a everyday normal day then your totally fine! It does get on black clothes if you put the deodorant on and then a top/dress but I just take a damp washcloth and it comes right off, unlike other brands! So I LOVE that about this!! Im writing this review to enter a contest but 100% believe this is the best deodorant out there right now! #contest.