Tide Original Scent HE Turbo Clean Liquid Laundry Detergent, 64 loads, 2.95 L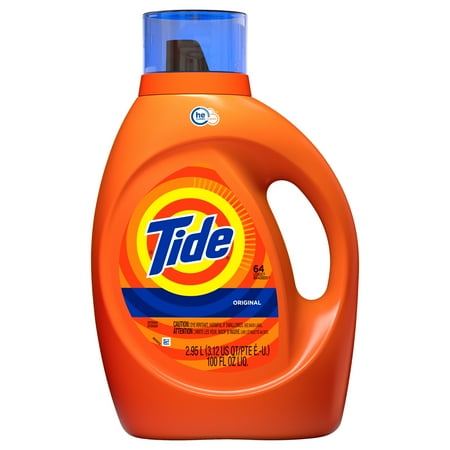 Sale :

$11.97

Sold & shipped by Walmart
Product Description

Additional Information

Reviews
Product Description
2X Ultra Tide Liquid Laundry Detergent is specifically designed for your high-efficiency washing machine. The advanced formula is safe to use on almost all colors and fabrics. This low-sudsing laundry detergent is also highly concentrated, so you can use less with each load and know that you are getting a great value when purchasing this product. This laundry detergent features the Acti-Lift formula that breaks up dirt in three different phases: polymer that helps break up and release dry stains, a cleaning enzyme to deep clean clothing fibers and a whiteness booster to add more sparkle to your clothes. The 100 fl oz bottle of Tide high-efficiency laundry detergent is eco friendly thanks to the fact that it is phosphate-free, totally biodegradable, safe for use with septic systems and comes in a recyclable plastic package.
Additional Information
Tide Original Scent HE Turbo Clean Liquid Laundry Detergent, 64 loads, 2.95 L
Amazing Tide clean from America's #1 selling detergent.
This liquid laundry detergent is the Tide you love, now with 40% more stain & odor removal power per drop. *vs. previous formula
With a more concentrated formula, you get more cleaning agents and less water in every drop. *vs. previous formula
Infused with the Original Scent you love
Reviews
sirstyleming
the shipping were poor and mess
The liquid spread out everywhere. Not sure the product is broken or not. Worst shopping experience I have.
Trace43
don't like the new scent
We have used Tide Original for the last 18 years.. Disgusting new smell. It is not from washing machine. We will have to find new product. Too bad.
greeneyes
REMOVE ACTIVE-LIFT
I have been using Tide Liquid for years and have been very happy with it until the Acti-Lift was added to it. The detergent now makes my laundry smell terrible- a very strong, bitter odor. It also made my white towels turn gray. My family and friends have also complained about the same problem, especially the awful smell. Tide, you keep insisting that the " scent has not changed" and tell us to use Tide free and gentle. I do not want no smell. I want a nice smell. I see other reviewers wrote in about the same problem with the Acti-Lift ( especially those who use Tide with Downey). Tide, please listen to your customers and give them what they want. I HATE the smell of the Acti-Lift and have switched to a new detergent. You must be losing many other customers because of this problem. Tide is like an American tradition and you have ruined a product we have loved for years. I am sorry to say I will never use Tide again unless the Acti-Lift is taken out and the old formula is back again.
annjot
New Formula Stinks!!- Undo or lose customers
New formula = Bad smell! Before the formula changed I would have given Tide 5 stars but now I would give it 0 if it were an option. Awful smell!
Jonnie27
smell has changed
Bleachy smell. Did u add bleach to enhance cleaning? Don't like the smell and will have to shop around after using tide he original for many years