Tide Free and Gentle High Efficiency Liquid Laundry Detergent - 100 oz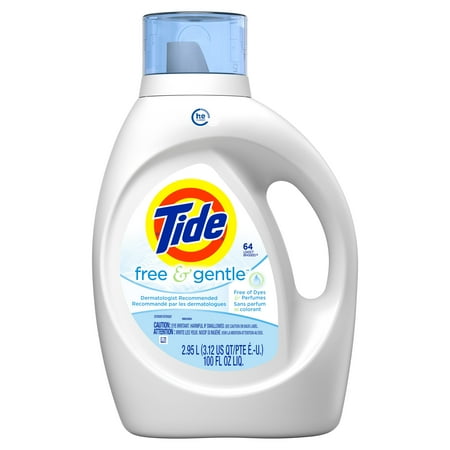 MSRP :

$22.07





Sale :

$11.97

Sold & shipped by Walmart
Product Description

Additional Information

Reviews
Product Description
Tide Free and Gentle Laundry Detergent is specially formulated for sensitive skin and contains no dyes or perfumes. Dermatologist-tested Tide Free and Gentle High Efficiency Laundry Detergent is designed for use in high efficiency machines. Each container of this Tide HE Laundry Detergent contains enough to wash approximately 96 loads of laundry.
Additional Information
Tide Free & Gentle, HE Turbo Clean, Liquid Laundry Detergent, 96 Loads 150 fl oz:
Deeper clean that is gentle on skin vs. leading national competitor Free detergent
Dermatologist Recommended
Free of Dyes and Perfumes
Hypoallergenic
Measure with scoop. For he full loads, fill to bar 5. Start washer, add detergent, then add clothes.
Reviews
Stanky
UPC : 037000088851 - Tide Free and Gentle High Efficiency Liquid Laundry Detergent - 100 oz - PickPanda.com
Daughter has sensitive skin, but... clothes came out with a weird smell? Would not recommend and took product back. Nothing worse than dirty clothes.
Stanky
No Smell!! Just SOFT clothes!!
So before I even used this laundry soap, I was skeptical about it being truly scent free. I sniffed the bottle and it had a light chemical detergent smell that definitely smelled like Tide but not? I could tell it was definitely trying to be scent free as best it could. I honestly expected a light smell after my clothes were done because the scent was just enough to know it was Tide. I enjoyed the fact the soap is totally clear. That's just super cool and reinforces the fact of it being dye free. So my laundry load was all darks, primarily blacks and one dark navy. I was curious to see how this would work on dark clothes. To my surprise, my clothes were really soft, like a fabric softener had been used (although not!) and there was NO SMELL WHATSOEVER!! I feel like my clothes aren't so heavy and dry more quickly. I'm very impressed. I didn't think it was going to work at all and my skin would be irritated still from the scent. Thanks Tide! Amazing product!! [This review was collected as part of a promotion.]
Trigenmoe
Not as expected from tide
It does clean but it does not remove deodorant smell.
Chiapet123
Tide free detergent
If you are looking for a new alternative detergent without dyes and artificial scents, Tide Free is a great option. I've used Tide for many years because I find that it get my clothes cleaner. I've typically associated dye and scent free detergents for families with babies and little children since they have more sensitivities to dyes and chemical fragrance. As I have started to look more into cleaning using natural products, this was a no brained. Why shouldn't we use these types of products when we are adults if they are good for babies? Without artificial scents and dyes in the detergent means we don't have to expose ourselves to it on a daily basis. Tide free cleaned our laundry just as well as regular Tide but without the added stuff . It also doesn't have funny/odd scent that you would find in many products that are free from dye and scents. Overall, it does a great job of cleaning my laundry without the bad stuff. Would definitely recommend. [This review was collected as part of a promotion.]
Joeaira
New Tide Lover!
Ok. First of all i fell in love with this detergent. I ussualy use other brands that are dye and perfume free because I always get a strange allergy on my skin plus I have a small child. So i have to be honest i was a little skeptical about this product, had tried the regular Tide detergent before and it drove me crazy with the itching and again it was to harsh for my skin. But I decided to give it a try since the store was out of stock for the other brand that I regularly buy. It totally blew me away, I have purple hair (yes!, Barney the dinosaur purple) and I had on a white shirt, for some strange reason my hair dyed the shirt collar purple!! so I decided to see if the detergent was good enough to remove the stain. And you know what!! When it came out of the washing machine it looking brighter and the stain was completely gone!!!!!!! With the other brand I had to prewash whites to get the same result. Also used it to clean my son's clothing and they have never been so clean! Best of all its totally clear and odorless. [This review was collected as part of a promotion.]