Head and Shoulders Classic Clean 2-in-1 Anti-Dandruff Shampoo + Conditioner 13.5 fl oz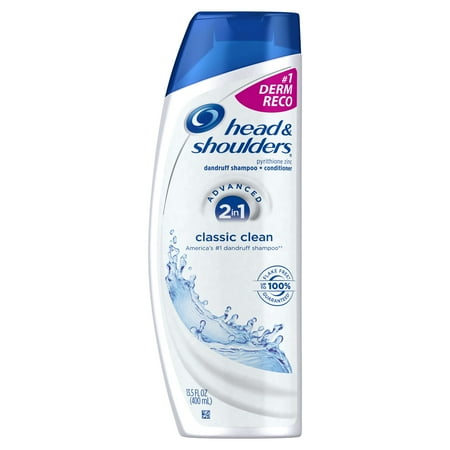 MSRP :

$5.99





Sale :

$5.38

Sold & shipped by Walmart
Product Description

Additional Information

Reviews
Product Description
Head & Shoulders Classic Clean 2in1 Dandruff Shampoo + Conditioner fights dandruff with a unique hydrazinc formula that moisturizes dry scalp, calms itchy scalp, and keeps hair looking great. Why choose Head & Shoulders? If you're still seeing flakes with your current product, try the dandruff treatment dermatologists recommend most--Head & Shoulders. The clinically-proven formula fights flakes better than typical anti-dandruff shampoos. Head and Shoulders has been proven effective in over 200 clinical tests, making it the most tested and most trusted dandruff shampoo in the world. A great dandruff shampoo should do more than fight flakes. Because healthy hair is important, Head & Shoulders infuses every shampoo with essential beauty shampoo elements, like rich moisturizers and fantastic fragrances. Their products are always tough on dandruff, but gentle on hair. That's why Head & Shoulders is the #1 selling dandruff shampoo in the world.
Additional Information
Head and Shoulders Classic Clean 2-in-1 Anti-Dandruff Shampoo + Conditioner 13.5 fl oz:
Head & Shoulders Classic Clean 2-in-1 anti-dandruff shampoo + conditioner fights flakes and provides balanced conditioning
#1 dermatologist recommended dandruff brand
Clinically proven. Up to 100% flake free* (*Visible flakes, with regular use)
Anti-dandruff shampoo + conditioner with Head & Shoulders classic fragrance
pH balanced and gentle enough for everyday use, even on color or chemically treated hair
3Action formula cleans, protects and moisturizes
World's #1 Shampoo* (*P&G calculation based on Nielsen sales information July 2016-June 2017)
Reviews
jburge09
I love it
I love this shampoo...not only does it help out with my dry scalp, it leaves me hair smelling greeeat!
Nonbonboo
Good Product
Takes care of an itchy scalp. My only complaint was that the top on the bottle was cracked. Not too happy about that. Overall, works great.
masscash
one of there great products
this product works wonders for people with this problem it corrects the problem has long has you use it right .........no more shoulder wipes......lol
1TrueBeliver
one of there great products
just have to say your GreenApple sh/co. really did the job for me. Dr's couldnt do enything over last 15 or 20 years. I tried everything. even your product. which dident work then. Not only did My scalp & forhead itch & flake. But to top it all off even my eyebrows had flakes. I thought may be after a few washes of greenapple advanced formula I might see some of the flakes slowly disapiaer. But to my amazement, it only took the frist wash. Before I was able to see a drastic improvement. by the seacond wash ALL my problums seem to be gone. Until I ran out and had to use some outher kind of shampoo/con. until I got paid again. I'll tell you onething. I dont share my shampoo/condishner with anyone, any more. as a matter of fact they can use that other stuff. U really made a beliver out of me. THANK you so much....
Deru
Love Head and Shoulders
I was quite pleased that the conditioner left my hair soft and flake free. I also love te scent.