Dawn Ultra Platinum Erasing Dish Foam, Fresh Rapids, 30.9 fl oz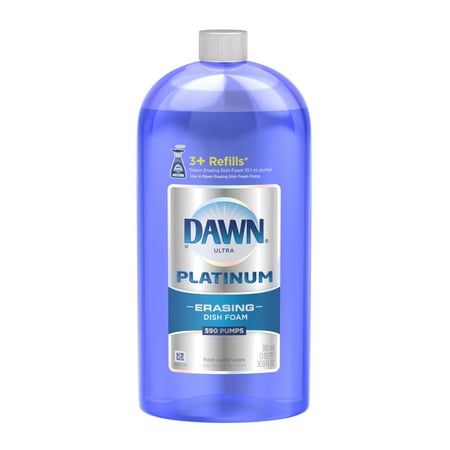 MSRP :

$6.75





Sale :

$5.64

Sold & shipped by Walmart
Product Description

Additional Information

Reviews
Product Description
Pump up the clean with Dawnᅡᆴ Platinum foaming dish soap! Featuring a breakthrough technology that turns liquid formula into powerful foam, Dawn Platinum Erasing Dish Foam can change the way you do your dishes. No need to add water, just apply one pump directly to a damp sponge and the dishes are done. Try it and see for yourself how one bottle of Dawn Platinum Erasing Dish Foam absorbs the grease of three (vs. non-ultra Joyᅡᆴ).ᅡᅠ
Additional Information
Dawn Ultra Platinum Erasing Dish Foam, Fresh Rapids, 30.9 fl oz
No need to fill the sink with waterapply one pump to a damp sponge and wash dishes until they're done
One pump cleans a sink full of dishes, pots and pans. (Based on average load of dishes)
One bottle 590 pumps
Long lasting suds
Money Saving Refill, use in Dawn Platinum Erasing Dishwashing Foam Pump
Reviews
Berthalucille
Very Useful
This product has brought peace and harmony to my kitchen. My husband likes to put soap in a sponge and then wash the dishes, this causes a bacteria buildup in the sponge and it stinks. We would argue about cleaning the sponges whenever this occurred but the husband was stubborn after all he would loudly proclaim his mother 'never' did it. Well his mother is not the leading authority on housework. Anyway this product is specifically formulated to 'slow' the bacterial growth so the sponge stays cleaner and sweet smelling longer. At night I can sneak the sponge into the dishwasher for cleaning and the husband is 'never' the wiser... It's hard to find this product in the stores, it was popular in big box hardware stores but since moving to Las Vegas last year I cannot find it at all. It's been a difficult find but I was rather surprised when Walmart had it! Also this product is very cost effective because it's the refill you must already had the pump bottle, which creates the 'foam'...
yesVA
Dawn Dishwashing Foam Refill
This is GREAT - why buy a new pump every time when you can refill the bottle??? Walmart used to carry this product in their stores - now you can only find it online. Target does NOT have it and will NOT order it! Now for the funny - you are not supposed to send stuff like this through the US Postal Service - remember the litany of questions they ask you when you try to mail a package??? Sooo, I input my order for this liquid, a Conair hairdryer AND some sweats at Walmart.com - they said they were sorry could NOT send to my PO Box. OK, I gave them my physical address and got my sweats delivered by FedEx to my door in three days!! About 10 days later my Conair hair dryer AND a beeeeeg box containing two bottles of Dawn Dishwashing Foam Refill showed up at my Post Office!!! I am amazed they weren't both returned as undeliverable because they were addressed to my physical address, not my PO Box. But, good old USPS re-addressed them and held them for me to pick up!!!!! Wackydo......
fitdancer
Great dishwashing detergent, great price
I stopped washing dished by filling a sink with water and dish detergent decades ago, preferring a dab of detergent on a sponge, so when Dawn introduced its foaming dispenser, I was delighted. I could leave a small dispenser near the sink and one press of the button gave me all the detergent I needed for the job. The problem was that the cost per bottle was much higher than the traditional kind of detergent. I tried to make my own foaming detergent by diluting regular Dawn, but I was never quite successful. Then I found Dawn Foam Refill bottles online. I have not compared the cost of the refill bottles to the regular Dawn, but I know it is much closer than replacing the foam dispenser each time. By buying the refill bottles, I am getting the convenience I like with the better affordability. The Dawn Foam seems to work as well as regular Dawn in cutting grease. In addition to dishes and heavily soiled pans that won't go in the dish washer , I use it to clean my stove top after heavy use, and anything that my regular spray cleaner doesn't clean.
David
Most Revolutionary Product!
Every few years an innovative product comes along that in my opinion changes the way we do things and makes our life easier. One of those products that I recently discovered is Dawn Direct Foam. For years I have had a diswasher, but I just moved to a great building near the ocean that does not so I dreaded having to wash dishes again. By coincidence, I was in Target and saw the Direct Foam with a pump--I always hated squeezing the bottle and taking the time to make my own foam. This product is incredible--it saves time, saves money, makes less mess, easier clean-up, and makes what is a chore that I hated the most, kind of fun. I want to thank those that developed this product and brought it to market. It is just not another repackaged old dishwashing soap--it is a revolutionary product that I predict will change the face of how we clean and do dishes in the future. Wonder if it is possible to manufacture a pump body wash liquid soap that foams too that is not harsh on the skin? Thanks!
FrugalFarmWife
This is amazing savings!
I just love this direct foam product. I'm incredibly frugal...well...cheap. I rarely by name brand, but I had a coupon and this was on sale to boot so I picked it up. I was going through an average of 1 bottle of dish soap every 10 days, regardless of brand or "ultra" etc....I don't have a dishwasher. I purchased the first bottle and a refill at the same time mostly b/c i got them for a great deal. I've gotta say I love this stuff! The initial bottle lasted me over a month! I've only refilled it once so far! I'm very happy with the long lasting suds! It's so nice to change sponges before another bottle of soap!! I use one pump (maybe another 1/4 pump) for a sink full of dishes...if I have something that needs to soak, I pop one pump into the pot and add hot water...when I get back everything wipes off great! I've really never been so excited about dish soap...I just love the savings this one provides...and sparkley dishes right down to the last dish!! Enjoy! (Sign up for the coupons!!)