Oral-B Glide Pro-Health Deep Clean Dental Floss, Cool Mint, 40 M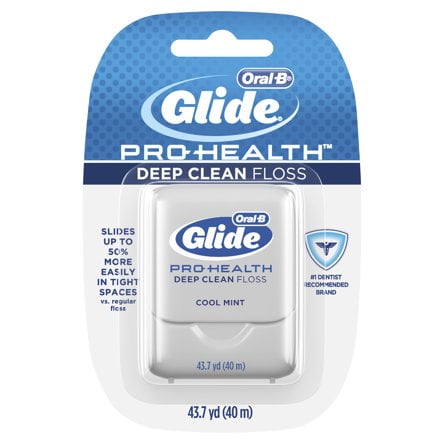 MSRP :

$4.26





Sale :

$3.37

Sold & shipped by Walmart
Product Description

Additional Information

Reviews
Product Description
Oral-B Glide Pro-Heath Deep Clean Floss helps remove plaque between teeth and below the gum line with a cool burst of clean feeling. The silky-smooth, shred resistant texture slides up to 50% more easily in tight spaces vs. regular floss. Satisfaction Guaranteed, or your money back. For guarantee, call 1-877-769-8791 within 60 days of purchase with UPC and receipt.
Additional Information
Oral-B Glide Pro-Health Deep Clean Dental Floss, Cool Mint, 40 M, Pack of 3:
Up to 90% more micro textured surface area than Glide Original
Slides up to 50% more easily vs. regular floss
Helps prevent gingivitis as part of a complete dental plan
Provides a cool blast of clean feeling every time you floss
Silky smooth texture slides easily between teeth
Contains a light coating of natural wax for improved grip
#1 Dentist Recommended Brand
Reviews
truthtrans
Great floss that "glides" between teeth....
This is my favorite floss....well, the Oral-B Glide brand is. I bought the Deep Clean kind this time but can't really tell any difference between this one and the regular kind. Either way, the floss "glides" between my teeth quite easily. I usually use one section of floss for each quadrant of my mouth....for instance...top right, top left, bottom right and then bottom left. That way I'm not spreading any plaque or bacteria that might be on the floss from flossing between my teeth. The only negative I've notice about this product is that it can shred once in a while when you are trying to tear a piece off via the metal thingamabob. (that's the technical term for it...lol)
carol127
Lately, the floss seems to be breaking
I've always liked Glide floss, but it seems like the floss breaks easily. Wondering if anyone else has experienced this.
XYZ
Lately, the floss seems to be breaking
I did get this floss. You gave me a wrong one, which I had to return to you. The 5 stars is for the sample I got from my dentist.
Kels J
Only floss I use
This has become my favorite floss. I normally just buy whatever generic brand is on sale. I decided on a whim to try this one. I'm hooked and will never use generic again. It's always gentle and great around the crown that I have.
Val
Defective
I ordered a bunch of these Glides. In about half of them, the floss refused to come out. I pulled and pulled, even had my husband use a pliers, but nothing. I wound up having to open up the casing and taking out the floss, which I then had to cut with a scissor to the length I wanted. Maybe I got some duds, but I won't be taking any more chances with this brand.