Tide PODS Liquid Laundry Detergent Pacs, Spring Meadow, 42 count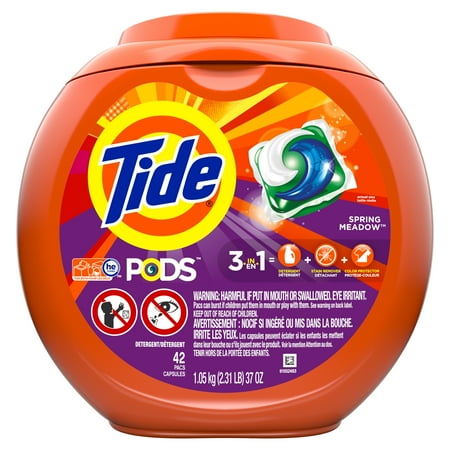 Sale :

$13.97

Sold & shipped by Walmart
Product Description

Additional Information

Reviews
Product Description
Tide Pods Laundry Detergent is a detergent, stain remover and brightener all in one that dissolves in hot or cold water to keep clothes looking their best. Each pod has multiple inner chambers to keep the ingredients separate until the pod is used. These Tide stain remover laundry detergent pods are easy to use and don't require any measuring or handling of large containers. All the ingredients are ready to go in one small package designed for a single load of wash. This product is made to work in hot or cold water and can be used on colorful or white clothing. Tide laundry detergent pods dissolve completely, leaving no stains or residues, and they can be used in standard or high efficiency washing machines. Tide pods 81 count is enough to clean 81 loads of laundry.
Additional Information
Tide PODS Liquid Laundry Detergent Pacs, Spring Meadow, 81 count:
Tide PODS consist of up to 90% active ingredients, so you can be sure that you're paying for clean not for water
10x the cleaning power* (*Stain Removal of 1 dose vs. 10X doses of the leading liquid bargain brand)
Reveal our brightest clean yet for brighter brights and whiter whites
3 in 1 technology: detergent, stain remover, color protector
Dissolves in both hot & cold water. Keep out of reach of children
Its Spring Meadow scent is infused with fresh floral notes to help keep your family's clothes smelling as great as they look
Keep out of reach of children
Reviews
Laundry2
Tide Pods
I use Tide daily as it is a brand I can trust with any of my clothes. It always leaves a nice fresh scent and gets the hard stains out.
podsguy
spring clean
i have been buying this scent since they came out toss one in and you get a great clean and fresh scent that lasts so glad I found these keep them around tide
jaynefromal
Blue and pink stained laundry
We rented a beach house for vacation and prior to leaving, we started a load of laundry with a TIde Pod in the house's top-loader washer. We were contacted by the owner afterwards that the white sheets had blue stains that wouldn't come out. We couldn't figure out how an entirely white load could get stained with blue but fortunately the owner was very nice and refunded the whole damage deposit. Mystery solved this week when we used Tide pods in our front-loader and found the seal coated in blue slime on 2 consecutive loads. We have been using TIde Pods for about 2-3 months and this is first time we've seen any blue stains. However, we have had unexplained bleached out spots on our dark T-shirts since using the Pods. I like the pre-measured concept (esp with front-loaders prone to smelling if using too much detergent) but current version of Tide Pods are unacceptable for home use. I'm going back to liquid Tide HE and P&G needs to take Tide Pods back to the product development lab.
Trakie1
They work well for me.
I first tried these when I ran out of detergent and on a quick trip this was all the store had available for front-loading/HE. So, I thought I would give it a try. I didn't expect any different results than my regular Tide w/ Bleach HE, but when I put away the clothes, I noticed that they looked nicer. They really were cleaner and brighter - even some of our older and more dingy clothes came out looking much newer. So, I have stuck with the pods through over 100 loads. I have not had any issues with the pods not dissolving, like others have had. However, I am somewhat careful about placing the pod. I put it in AFTER I load the clothes, and right in the area where the water first pours in. Of course, I also have a hubby and kids helping - who knows where they put it! For us, the pods have worked really well, and we are very pleased. If there was only a way to incorporate fabric softener, it would be 5 stars. A scent-free version would be nice, although I don't terribly mind the scents available.
Elayjay
Scent is too atrong
I won't be buying these again. The scent is overwhelming. Way stronger than just Downey alone which I use all the time.