Cushie Traveler Folding Potty Seat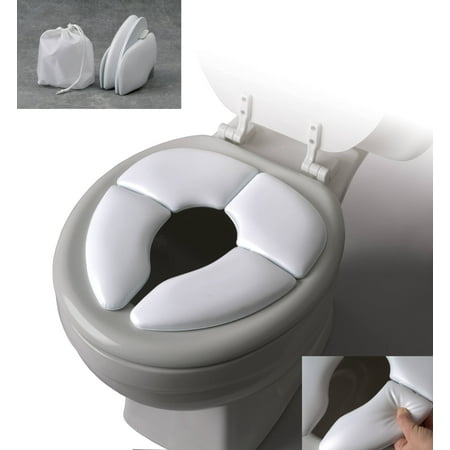 MSRP :

$43.53





Sale :

$9.98

Sold & shipped by Walmart
Product Description

Additional Information

Reviews
Product Description
FINALLY! A comfortably padded folding potty seat to take with you on short or long trips. The Cushie Traveler Folding Padded Potty Seat is compact enough to carry in your diaper bag yet still provides the comfort and familiarity of the seat that your toddler uses at home. It is also designed so that it is easy to clean with a wet wipe and features a washable carry bag. Features: No more pinched bottoms! Folds compact enough to take anywhere! Fits standard and most elongated toilet seats Underside brackets help keep seat from sliding Thickly cushioned for comfort and safety Includes washable carry bag Small enough to fit in the diaper bag! Return Note: For hygienic reasons, this product can not be returned.
Additional Information
No more pinched bottoms!Underside brackets help keep seat from sliding.Thickly cushioned for comfort and safety. Fits standard and most elongated toilet seats. Small enough to fit in the diaper bag and includes washable carry bag.
Reviews
MamaLibby
My grandson loves it!
My grandson is not afraid of the pottie anymore. It makes life much easier!
AngieV81
Not the best, but better than most
I purchased the travel potty to use while on vacation so that my 1.5 year old wouldn't have to sit on dirty public toilets. The travel potty works ok, but it doesn't fit every toilet. It shifts around or doesn't fit some of the longer/narrower toilets. On the toilets it doesn't fit, you have to keep one hand on the travel potty, which makes things quiet difficult. It is nice to have on outtings instead of having to bring an entire potty. It is small when folded up (about the size of my hand) and has it's very own carry bagy- which is nice. You can also wipe this one down. The plastic ones with stickers you can't do that or the stickers will peel off. Fits in my diaper bag/luggage perfectly. I'd would recommend it over other travel potty styles as it is made of squishy soft foam instead of plastic (which I read can pinch bottoms). I also found it on Walmart's website for $8 with free shipping. Most other travel potty brands start at $12-$14+. All in all, if you don't want your child's bottom pinched or to touch a nasty, dirty public bathrooms it's worth it!
The2Youngs
Exactly what we needed!
Our son is only 16 months and very thin, so we always need a potty seat whenever we go anywhere. Rather than dragging our one from home around in a plastic bag, we decided to purchase this one for keeping in the diaper bag. It has worked out fabulously! We've not had any major problems with it, even on elongated toilets - just slide it all the way to the back like the instructions say to and it works perfectly fine. No pinched bottoms, my son has no issues with it at all. The only potential down side is there is no guard, but for the amount of time it's being used, it's not a huge deal - we simply make sure we're aiming down! This has proved to be a great purchase for us, and at only $10, it's hard to beat!
SRippin
My child almost fell in a public toilet
I was pretty thrilled when I found this product. I always feared when my little guy had to go potty in public. Those toilets are nasty. When we were out last night he decided he needed to go number 2. I put the seat on the toilet and immediately saw that it wasn't going to hold up but I had no other choice. So I held him off of it as much as I could and it still collapsed into the toilet while he was trying to go. Luckily I caught him because I was holding him but can you imagine how nasty that could have been?! I am so disappointed. It's not like my guy weighs a lot either. He is 3 years old (just turned) and he weighs 34 pounds. Since I was holding him there couldn't have been more than 25lbs of pressure on the seat. I would not recommend this product to anyone I know. I would take it back if I still had the box. If my child had actually fallen into the toilet I cannot imagine what would have happened.
mTwoShoes
LOVE IT!!!!
We got this for our 2 year old daughter to help out with potty training in public. She was always afraid to use toilets in public either because she had to be held up by me (or my husband), or they had automatic flushers that would scare her. Now she has this convenient seat. It folds up into its own bag that our daughter loves to carry, and the bag can go over the automatic flushing sensor so that the toilet wont flush and scare her while she is still on it. I highly recommend this product for all parents that are potty training!