Cottonelle Ultra Comfort Care Toilet Paper, 36 Double Rolls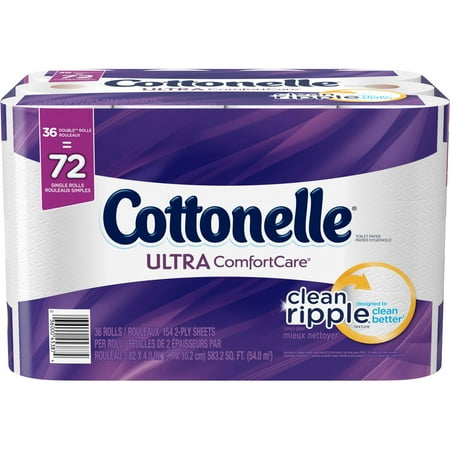 MSRP :

$19.99





Sale :

$15.98

Sold & shipped by Walmart
Product Description

Additional Information

Reviews
Product Description
Cottonelle Ultra ComfortCare Double Roll Toilet Paper is the softest, thickest, most absorbent Cottonelle bath tissue ever. Plus, it features a CleanRipple Texture that removes more, and SafeFlush Technology to help protect sewers and septic systems. Be kind to your behind with the cushiony comfort of Cottonelle Ultra ComfortCare Toilet Paper, and for the ultimate in freshness and cleansing, add Cottonelle Ultra ComfortCare Flushable Cleansing Cloths to your bathroom routine.
Additional Information
Product Features
Our softest, thickest, most absorbent Cottonelle Toilet Paper

Sewer-safe and septic-safe 2-ply bath tissue
Ultra strong and effective, with CleanRipple Texture to remove more

Fits standard toilet paper holders without the need for any attachments

Complete your bathroom routine with Cottonelle Ultra ComfortCare Flushable Cleansing Cloths

Packaging may vary from image shown
Reviews
Toronto Observer
They narrowed the roll; won't buy again
Did they really think we wouldn't notice if they made the roll narrower? Charmin is still a bit larger; I won't buy Cottonelle again.
Unhappy customer already
Why did you change from ripples to waves?
Why did you change from ripples to waves? Why change a good thing? I do not like the new texture. Can I still get the old kind? I have been to 5 stores and they all have the new stuff because they sell out all the time so no old product available.. UNHAPPY LONGTIME CUSTOMER!
Cezi
Best Quality TP
Cottonelle is the only brand of TP in our house. It's thick, soft, sturdy and for me, it doesn't cause irritation and dermatitis like other brands of toilet paper. I love the ripples because they do a great job of cleaning. I would recommend Cottonelle to anyone.
no longer a customer
only 3.82" wide now instead of 4.5"
Too thin for my use now and not a good value any more. Will be looking for a different product.
Ja9d
Going down the toilet
I have always liked Cottonelle Ultra. The two-ply has made it strong and yet it wasn't scratchy like some other brands. Over the years, the product has changed for the worse. There was the cutting 1/4 inch off each roll for the same price (like everything else, from canned goods to candybars, the companies thinking the consumers wouldn't notice). Then the product became less soft and the quilting gave way to ripples. Now, in the past month, a "new wave" design, increasing the width of the ripples has made the paper stiffer, even less soft, and definitely not the quality it had previously. I guess it could be said it is still strong, but so is newpaper! I will definitely be switching brands if they don't change it back, preferably to the original narrow cotton-soft ripple design and quality. Sadly, I can no longer recommend this product to anyone.