Kleenex Everyday Facial Tissues, 55 Sheets, Pack of 4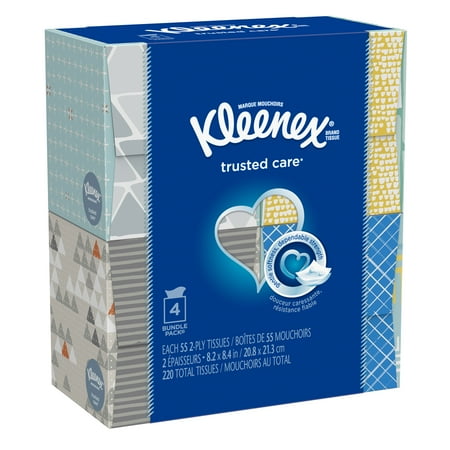 MSRP :

$10.98





Sale :

$4.75

Sold & shipped by Walmart
Product Description

Additional Information

Reviews
Product Description
One soft tissue is all it takes to show you care. Reach for gentle Kleenex Everyday Tissues for a friend, a stranger or yourself. With the perfect balance of softness and strength, Kleenex facial tissues are durable with 2-ply thickness and are absorbent to lock in moisture. Our essential Kleenex facial tissues are perfect for makeup smudges, sniffles and sneezes, children's messy faces and more. Just use and toss. Stock up on Kleenex Everyday Tissues and keep tissues on hand to care for family, company and yourself during cold and flu season, allergy season, back-to-school and holidays. And as always, Kleenex boxes come in a variety of colors and designs that blend beautifully into your home décor. Place boxes in the living room, kitchen, bathrooms, bedrooms and office. Kleenex disposable facial tissues have been there for happy tears and stuffy noses since 1924.
Additional Information
Reviews
zuzu2000
What happened?
As I suffer from allergies, it's always been necessary to have a box of Kleenex close at hand. I've been using the exact same box design for 20+ years. This last round of Kleenex purchased from Target are exceptionally rough (my husband and I both noticed this independent each other). My nose is raw and red from the roughness, as I have very sensitive skin. Unfortunately, I'm going to have to discontinue using this product I've used for my entire adult life. I also find it interesting the denial from Kleenex that there is any quality change. You may want to check your manufacturing quality control, as there most certainly has been a change. The tissues feel industrial to me now. No softness at all. Very disappointing. If you need to charge more, then charge more.
Scout
Box
Actual product fine. Hate design boxes. Crazy designs, colors patterns. Old school much more appealing. Please offer something less crazy.
Irritated
Ugly box
I have bought your brand exclusively til you got this new box. The colors are dead and you contrast them in the ends with clashing colors and obnoxious patterns. I don't like looking at them, so now I don't.
The girl next door
Need an upgrade on design
Our family has used Kleenex brand for years. We are not very happy with the 3 ply Kleenex, but prefer the 2 ply. If we want a paper towel we will use a paper towel. The three ply is about all you can find in our area. Also our family does not like the designs on the boxes or the fact that they are different on each side. We do not like these sitting around in our home. Please design something more pleasant soon.
Beeg
Kleenex Anti-Viral Tissues changed colors?
I have been buying these lovely square boxes for many years. The previous dot design was lovely and the colors were so subtle. I went to buy some more & the new ones look like they belong in a house for clowns. I would never put one of these out in my home. I am so disappointed.