Huggies Natural Care Baby Wipes, Unscented, 3 packs of 56 (168 ct)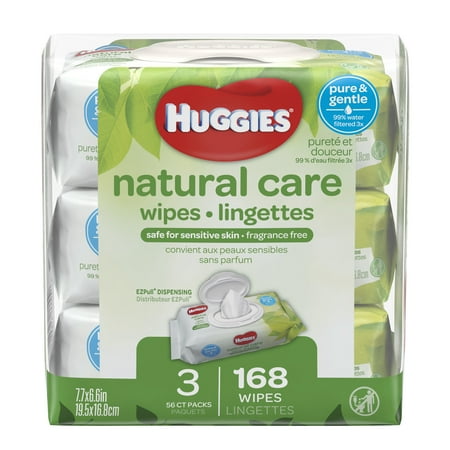 MSRP :

$7.13





Sale :

$5.44

Sold & shipped by Walmart
Product Description

Additional Information

Reviews
Product Description
Care for your baby's delicate skin from the very start with HUGGIES Natural Care Baby Wipes. Safe for sensitive skin, Natural Care Wipes contain 99% triple-filtered water for a pure, gentle clean. Plus, they are pH-balanced to help maintain your newborn's natural skin barrier and enriched with aloe and vitamin E to help keep skin healthy and conditioned. The #1 branded wipe*, HUGGIES Wipes are dermatologically tested and hypo-allergenic. In addition, Natural Care sensitive wipes are fragrance-free, alcohol-free and paraben-free, and they contain no phenoxyethanol or MIT. You can feel confident you're giving your baby a safe, gentle clean with every wipe. HUGGIES Natural Care moist wipes come in a wide variety of package sizes and styles, perfect for use at home and on the go: travel pack, flip-top pack, refill pack, reusable pop-up tub and the stylish Clutch 'N' Clean refillable travel pack. Don't get caught without wipes. Order online for convenient delivery right to your doorstep. *Based on market share in North America
Additional Information
Pure & Gentle – HUGGIES Natural Care baby wipes contain 99% water that is triple-filtered for a gentle clean. Our diaper wipes are as gentle as cotton and water.Safe for Sensitive Skin – our gentle baby wipes are hypoallergenic and dermatologically tested, and enriched with aloe and vitamin E to keep baby's skin healthypH-Balanced – to maintain your baby's natural skin barrier, these wet wipes are free of harsh chemicals. Our Natural Care baby wipes are as soft and gentle on your little one as a mother's warm hug.HUGGIES Natural Care Wipes are fragrance-free, alcohol-free, and paraben-free and do not contain phenoxyethanol or MIT.Our unscented, sensitive baby wipes are extra soft and gentle, ideal for sensitive, newborn skin. We use our simplest formula ever for these wipes, so you know you are giving baby a gentle clean.Refill bags and bulk cases are perfect for replenishing your Nursery Tub and Clutch 'N' Clean. Take your Clutch 'N' Clean on the go and use as the perfect travel wipe.HUGGIES Wipes is the #1 branded wipe (based on market share in North America).
Reviews
llamamama
Gave my toddler welps!
Bought these when mys daughter was a year old and she had some bad rash. I didn't know if these were the cause or from setting in a diaper too long. Then, nearly a hear later, I bought them again in a rush due to a dirty diaper while out. She developed whelps and a rash everywhere. She cried from it and tugged at her diaper. After bathing her well and putting on her dialer cream for the night, she woke with the whelps appearing to be like bruises. Absolutely not sensitive. Not pure. Worst wipes I have every used. Even some fragrant ones didn't givd her this level of rash. She has eczema, so she is irritant to fragrances, but this are supposed to be 99% water....
bruna
Not too soft
I prefer sensitive pampers . They are softer then huggies.
Cmartinez
Not too soft
These are the only wipes I will ever use for my babies they never cause any reactions and they are a thicker very soft material for fragile littles... Love them !
Jbenson
HORRIBLE!
This probably won't make it to the review page but I bought your "natural care" wipes and they have given my daughter a chemical burn on her bum! I will never buy your products again because they're obviously NOT "natural" or "sensitive"
grandma 8
Thickest wipes
Thickest wipes I have come across-I recemmend these to new moms and they dont tear like most do-so soft on baby-