Kleenex Cool Touch White Unscented Tissues, 50 Sheets/Box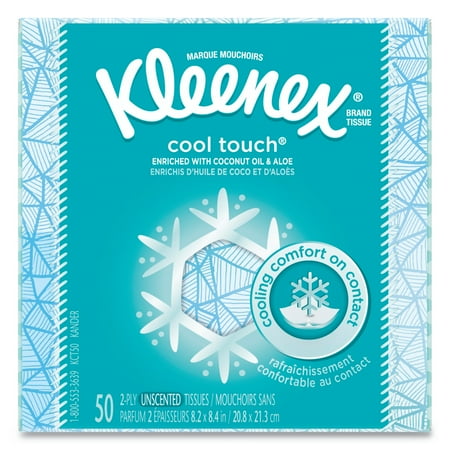 MSRP :

$143.42





Sale :

$1.58

Sold & shipped by Walmart
Product Description

Additional Information

Reviews
Product Description
Experience the plush feel of Kleenex Cool Touch Tissues. You'll appreciate the gentle texture of this product against your nostrils. This item is unscented and infused with aloe for a moisturizing effect. It also ensures a comfortable, refreshing feeling with each use. Kleenex Facial tissues are ideal for you home, the office and at school.
Additional Information

Kleenex Cool Touch Facial Tissues:
Kleenex tissues, 50-count, soothe on contact
Enriched with moisturizers and aloe
Helpful for individuals with allergies
Helps ease delicate skin during frequent use due to colds
Ideal to place in many areas at home, in the office and at school
Keep a handful with you while on the go
Kleenex facial tissue 50-sheets made of 2-ply paper
Color: white
In a convenient decorative, one-at-a-time dispensing box
Reviews
MPeoples
New changes cost Kleenex a long time consumer
I have purchased the Kleenex Cool Touch tissues for several years. My daughters, as well as I have severe allergies, and therefore we use a huge amount of tissues. We have really been a fan of the feel and the thick quality of these tissues. Recently, we noticed with the "new look" of the shiny box to the plain blue box, the tissues were not at all the product that we have been used to. They are absent the cool feel to them, and they are scratchy. One of the things that I always liked about the Cool Touch tissues, was that they are 3 ply. They are definitely more expensive than other tissues, but I don't mind paying for quality. That being said, I can get scratchy 2-ply tissues at Walmart, Target, or Dollar Tree, for much less money. I will be finding myself another brand of tissues. I won't ever buy another Kimberly Clark product. I have been a loyal customer, but when a company joins so many others, in the spirit of giving you less, for the same money, I am going to have to say goodbye.
Kristy
Loving comfort
These are my favorite! I have been using them since the first time they hit the shelves. I have a hard time finding them now.
manders2222
BIGGEST FAN
I absolutely LOVE these Kleenex, anytime someone is looking for a good Kleenex, I tell them, "Cool touch in the shiny blue box with the snowflake, there is nothing better. It will cost a little bit more, but it is worth it". I don't keep these around the house for everyday use, these are my "special" Kleenexes for when I am feeling especially sick. And when I feel a cold coming on, it is the first thing I want. However, I got a "dud" box the other day, similar to other commenters, I found this box of Cool touch was not cooling or refreshing, it was just average, but, I assumed it was a fluke, and opened my second box #from the same vendor# to the same disappointment. However, being that I am at the tail end of a 4 week cold, these boxes are sprinkled throughout my house/workplace, so I did some research and found that the GOOD Kleenexes said cool touch* in the corner, the BAD Kleenexes had a cool touchTM on the corners of the box. Otherwise the boxes were identical. Any ideas?
Cking
I'm in love
While traveling out west I found my allergies in an uproar so I stopped by a local retailer for tissues and found the cooling pack. I will never use another brand again. im in love with the cooling touch of the soft tissue! Well done Kleenex! Well done!
MzAnn
No Longer Happy with These
For the last few years I have been in love with the Cool Touch. Nothing feels as good as they do on a sore nose. When I get a cold, I hold on to the sniffles for weeks, so you can imagine my agony. This year I have gotten my first cold, and ran to the store to buy these Kleenex. Imagine my shock and disappointment when there was no cool. There was nothing any different from the competitor brand I had been using at work. I figured I must have gotten an old box or something, and then I read the reviews on here that the product must have been changed. Why? Is there a way to get the true COOL TOUCH KLEENEX product? Someone HELP, please!!!!!!