Depend Incontinence Protection with Tabs, Maximum Absorbency, S/M, 20 ct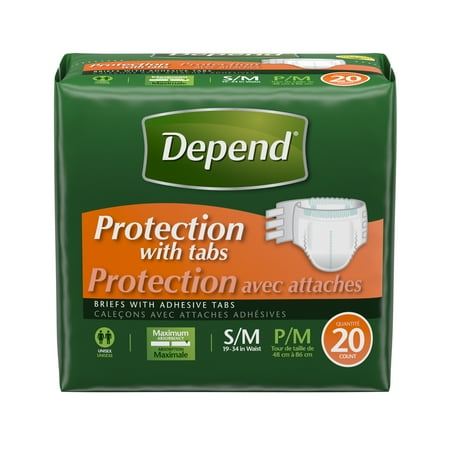 MSRP :

$84.7





Sale :

$15.89

Sold & shipped by Walmart
Product Description

Additional Information

Reviews
Product Description
Depend Protection with Tabs, Maximum Protection Briefs, S/M is designed with six EasyGrip tabs for discreet open changing. The incontinence underwear offers maximum absorbency and protection for men and women featuring a wetness indicator line so you know when it's time to change. The Depend briefs, 20 count also has built-in additional side leakage for extra protection and are latex-free and contain no lotions or fragrances. They offer a snug and comfortable customized fit for maximum protection and confidence when it comes to handling incontinence. These Depend Protection with Tabs, Maximum Protection Briefs, S/M will help you to continue to do what you love everyday, and they fit and feel more like underwear. They are made with high-quality materials are designed to meet all of your needs when you need to feel dry and secure.
Additional Information
Depend Protection with Tabs Incontinence Underwear:
Depend Protection with Tabs adjustable incontinence underwear with maximum absorbency for men or women
Six EasyGrip tabs for a custom fit
Soft, side leakage barriers to guard against leaks
Features a wetness indicator line that disappears when changing is required
Maximum absorbency incontinence protection for men and women with worry-free odor control
Available in two sizes, small/medium (19-34 in. waist) and large (35-49 in. waist)
Depend Incontinence products for men and women ship discreetly in a plain corrugated box and are FSA-eligible in the US only
Reviews
Unknown Customer
Why fix what wasn't broken?
We are so disappointed with the changes you've made. The 3 tab design provided a better fit for my tiny framed adult daughter, the 2 tabs design makes gaps. The plastic outer cover really kept leaks to a minimum. The new paper cover leaks like crazy- all over my furniture, my daughters wheelchair seat or anywhere else she sits. We have used the other briefs for years- paying out of our own pocket, because these were far superior to the other brands available that required a prescription to get insurance to pay for them. Pull up briefs are even more difficult to use- my daughter cannot stand- and because they leak we would be changing her clothing and cleaning anywhere she's been sitting several times a day. If I had known you were changing these, I would have bought as many cases of the original style that I could afford. Please please PLEASE change them back!
TripleM62
Best product for special needs and elderly.
Many Walmart stores have stopped carrying the Depends Maxium Fitted Protection "Diaper" Briefs. This is the only product that I could put on my total-care, special-needs son, that I could actually trust not to leak through, given that I wrapped it up around him properly. We live in a state with a huge retirement community and I don't understand why any store would not carry the product that leaves the shelves shortly after this product is shelved, and supply it on demand. I used to be able to buy this at Walgreens and when they stopped carrying it, I thought "at least I can "Depend" on Walmart to continue to carry it. By not stocking it in the stores your company has forced me to buy it from you online, which leaves me with the thought, " now the product that I need the most is no longer carried in your stores, why am I continuing to shop at your store where the convenience is not available to me? I probably will always continue to shop at Walmart because your prices beat everyone else, hands down. I beg you! Please make this product available in all your stores, our special needs and elderly depend on it! Thank you for listening.
Padded Deist
Needs improvement
I tried these not so long ago and there are some pluses to these. The ones I tried were plastic-backed and I generally prefer that style over the cloth back that ends up stretching too much. Absorbancy was OK for a store brand but it certainly could be improved. I bought what was my size but it still felt like I was wearing diaper "jockey shorts" A higher rise in both the front and back would be nice. The front and rear elastic are a good feature and should stay--along with the plastic backing. My biggest issue were the tapes--which in the whole bag of diapers were completely useless. I ended up having to use packing tape to secure these since at the time, they were all I had to wear--I'm incontinent and I have to wear 24/7. It is a shame that all store brand diapers appear to be sub-par and you guys are one of the most common brands out there. Please listen to those of us that have to wear and use your products. You could be heroes if you look at some of the other smaller manufacturers out there for inspiration on what the diapered community wants and needs and put those improvements into production. [This review was collected as part of a promotion.]
WHITEBOYMIC
If it isn't broken, don't fix it!!!
The new changes are awful. We've been loyal customers for years. These were the only diapers our son could use. Now he's constantly leaking everywhere. He wets the bed, his wheelchair, and our furniture. We had to buy a new living room set because he soaked our couch. These are worse than generic brands. We've tried a lot of other Depend and many other brands and these were the only ones we could use on him. Looks like we are gonna be buying generics unless you revert back to the previous design. I understand the costs of research and development but the it'll be peanuts compared to the revenue you'll lose from loyal consumers who refuse to buy an inferior product. If anything offer your new design for the people who like (which can't be many) plus keep the old design for the many people who DEPEND on them.
Boone
Dear Depend Brand Team, your ATTENTION please?
Simply stated, the new design is horrible! While it's nice to know the poor reviews are being read and responded to, please do not reply again with what your intentions were for this product. You missed the mark, it clearly isn't working, and you've removed a working product from the hands of those who truly need it. How many poor reviews must you read, only to have your replies sound almost exactly the same? It matters not that your comparison of the absorbency of the 6 tab and 4 tab designs are the same if the new design continues to fail almost everyone who uses them. I am yet another one who has been failed. People are angry! You had a loyal customer base for a reason, but now that loyalty is looking elsewhere to find a product that works for them. Smoothness, comfort, fasten ability, breathable... all are fine but useless if leakage, embarrassment, hassle, frustration, constant laundry, etc. trumps all of that! Keep the new design if you want, but bring back the old 6 tab design and I'm willing to bet that it will out sell your new design immediately! Let the people decide, after all they're the ones who use them. I understand you're not going to please all of the people all of the time, but I cant help but state that a clear majority of the people are NOT pleased with this "new design". Please help!