Kleenex Go Pack Facial Tissues, White, 10 Sheets/Box, 8 Ct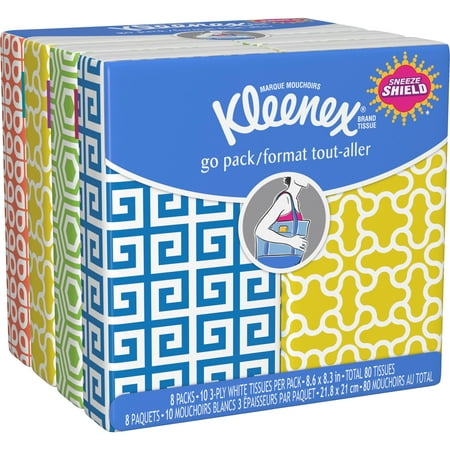 Sale :

$41.98

Sold & shipped by Walmart
Product Description

Additional Information

Reviews
Product Description
Strong, soft and absorbent, Kleenex Go Pack Everyday Tissues have been there for happy tears and stuffy noses since 1924. You can use them to carry you through a cold, to clean up messes or even to adjust your makeup. This pack of Kleenex tissues comes with an 8 count of packages that contain 10 sheets each. This way, you can always have a fresh one on hand when you need it. Each package of soft tissues is just the right size for a pocket, purse or bedside table.
Additional Information
One-the-go tissue packs make it easy to take tissues anywhere.
Durable, with 3-ply thickness and absorbent to lock in moisture.
Stylish and easily portable, packs fit in a handbag, backpack, pocket or glove compartment.
Perfect for makeup smudges, sniffles and sneezes, childrenâs messy faces and more.
Variety of colors and designs.
Trust on-the-go packs for softness and care that goes with you.
Model Number: 46651
Reviews
StacyC
UPC : 036000119749 - Kleenex Go Pack Facial Tissues, White, 10 Sheets/Box, 8 Ct - PickPanda.com
Kleenex Pocket Packs are a staple in our home and on the go. W have countless uses for them , from the usual sneeze or sniffle , to makeup , to crafting , wiping tiny faces, in the car for an emergency spill, we always have them. The tissues are soft and gentle but don't break apart easily like softer brands and they don't have dusty particles like their counterparts . I stash them in my kids backpacks and lunchboxes, in my car and purse. The packaging is strong and doesn't tear apart easily like flimsy brands . It can keep up to being tousled around with the other 20 items in my "mom brings the house everywhere" bag. The bright colors and designs makes it easy to spot and grab in the rubble of my messy purse. My kids use the tissues a lot too, the Pocket Packs are the perfect size for tiny hands and there's less wasting them compared to when they snatch them by the handful from the regular tissue box. Kleenex has been in our household ever since I was growing up and it's what i reach for in my home now too- it's like tradition. [This review was collected as part of a promotion.]
KrystinaC
UPC : 036000119749 - Kleenex Go Pack Facial Tissues, White, 10 Sheets/Box, 8 Ct - PickPanda.com
These are wonderful. I am a mom of three kids so there is always a need for tissues and you don't want to be that mom who is caught without a tissue. When we first recieved them in the mail, my 5 year stole a pack for her backpack. I was amazed that even that young she knew how important it is to have them. My daughter proceeded to tell me why she needed the pack. It's perfect for her to take and share with her friends. I shared another one with my mother in law. She was so happy and said she needed it just minutes before I handed it to her. I showed her the cool sayings. I kept one for myself and have already used it a couple times. I have only seen them sold separately at the store but would love if they sold them in large packs so everyone can get one. They came out nicely and didn't tear. They were thick and not the thin tissues. I do wish there were double packs for those of us with lots of kids so during a sick time. [This review was collected as part of a promotion.]
Nenna 66
I LOVE these slim packs.
I love these slim packs! They are just the right size for a pocket or purse. I love the fold-over design. I am an allergy sufferer and I save an empty pocket pack to dispose of my used tissue. No more spreading germs in my purse or forgetting a used one in my pocket! The designs are adorable too! Thank you.
SarahF
I LOVE these slim packs.
Kleenex pocket packs are handy regardless of your age. But, I got some so I would have the ability to give a pocket pack to each of my 4 year old nephews. First of all, it gave them the pride of having their personal little item to have ownership over. Second, I was using it to teach them about proper hygiene. They were getting over a bit of a cold and they are learning where the appropriate place to sneeze is and what to do if you have a runny nose. This is made even easier by the fact that they can have the Kleenex right there in their pocket. And I wrote a little note telling them that I (BopBop) loves them and these little boys just love reading their names on anything. There's a third pack that I gave to my mother to put in her purse for whatever needs she might have. Typically that involves cleaning up lipstick after application or in lieu of a napkin while eating her lunch in her car - she's a sales rep. I can go on and on for the uses possible. &, as with all Kleenex products - the tissues inside the pocket packs are soft, gentle, and unbeatable by other brands. Always have been a Kleenex fan. Always will be. [This review was collected as part of a promotion.]
KarenT
I LOVE these slim packs.
These Kleenex's are a lifesaver and inspiration to whom has receive these. Be nice if these Kleenex tissues would be order on the Kleenex site where we could gt personal messages written on the packs. For weddings, birthdays, for when someone is sick, someone had a baby etc. Be my luck I would give someone who is sad the wrong message one. Happy Tears are the best tears is not fitting for a funeral, because they lost a love one and it's not a happy tear moment. That's why there needs to be a way to order custom messages or pick which message we want so it would not make someone even sadder. Over these tissues are really soft and comforting. Love the messages on the tissues. Wish the colors were different on the packs too. Kinda ugly in my book. Kleenex has a heart but needs to make sure the heart is showing care for all and not making someone sad. [This review was collected as part of a promotion.]