Viva Paper Towels, Choose-A-Sheet, 6 Big Rolls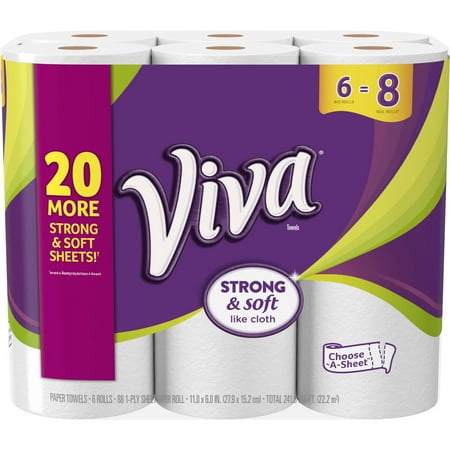 MSRP :

$7.13





Sale :

$5.98

Sold & shipped by Walmart
Product Description

Additional Information

Reviews
Product Description
Additional Information
Kleenex Viva Towels - 6 CT.
Soft and strong, absorbent household paper towels with smooth texture

VIVA Towels stay tough strong when wet to help resist ripping or tearing

Choose-A-Sheet lets you select a size for cleaning surfaces big and small (88 sheets per roll)
6 VIVA Big Rolls = 8 of the leading national brand's select-a-size regular rolls

Packaging might vary

Household paper towels are tough on messes, but soft on skin and delicate surfaces

Stock up on packs of VIVA Paper Towels and get them conveniently delivered to your doorstep

Soft and Strong Paper Towel Rolls,â For Kitchen,â Bathroom,â Office and more,â 88 Sheets per Choose-a-Sheet RollGreat scrubbing power.
Discover more at: vivatowels.com.
®Registered trademark and *trademark of Kimberly-Clark Worldwide, Inc. ©2013 KCWW.
Reviews
JenQ
Best paper towel on the market!
I have been using VIVA towels for a very long time. The durability is ridiculous. I once washed a paper towel sheet by accident and didn't notice it until I took the wash out of the dryer. Would you believe the paper towel was completely intact?! I also love that when I need to clean up spills this towel is so absorbant that I can soak the spill up, squeeze the paper towel over the sink and continue to use it like a sponge until the spill is gone. Others have mentioned lint that is left behind and that is true on some surfaces such as glass and mirrors but now we have the VIVA Vantage for those jobs. While I don't particularly like the Vantage for everyday use I keep one roll around for cleaning those objects. I'll take a little lint if I must as well over any other brand. No other paper towel even comes close to the absorbancy and durability of the VIVA towels. Words alone cannot do this paper towel justice - you have to try it for your self since seeing is believing!
Keveros
Was Great but, now just OK..?
I have used Viva Towels for as long as I can remember, especially since the Select a size and I use a lot of Paper Towels as a Bachelor... But, the past two times I have purchased Viva, the towels take two hands to separate and more often than not, the towel rips in the middle and not on the perforations... I find this unacceptable... No matter how good or how much I like a product, if I have to work three times harder to use it, I will have to find another product... Perforations shouldn't be that difficult given the sate of manufacturing technology today... I write this as a chance to have you correct a possible manufacturing issue but, in the next two purchases, if it continues to be a problem, I will have to search for another product... Attention: PLEASE do not give me a canned response, no response is better than a computer sending me the same message that it send thousands of others, I am being personl and so should you..!
Colton
It's OK
They held up much better than Bounty and Scott but didn't last very long and found them to be a bit too thin. I recommend using the Great Value generic brand - lasts longer and will save you a lot of money.
fussymom
How can a paper towel be too strong?
I visited my elderly parents in AZ last winter. During the course of my visit we went grocery shopping. While at the grocery store, I spotted a 6 pack of Viva on sale for $6.99. I got so excited about the price, that I convinced her she had to try them. She reluctantly obliged and made mention of the "other" brand that she was use to. When we got back to her townhouse, I put one of the new Viva rolls onto her towel dispenser. I just figured "the proof is in the pudding" as she would always say. A few days had past before I finally asked her how she liked the new paper towels. Her response just floored me "They're too strong, I feel like I have to put them in the washer". I absolutely rolled on the floor laughing! Mom is 87 and still drives like Cruella DeVille when she needs to get somewhere. Throughout the summer she drives a John Deer riding lawn mower weekly to mow the lawn. She still plays 9 holes of golf every Wednesday year round and has 8 kids, 23 grandchildren 9 great grandchildren. But she finally met her match, a paper towel that was stronger than her!
Charlie
Totally different towel
I have been using Viva, for years. I usually buy the packs of eight, when I was getting close to being out, I tried to buy the designer pack, they didn't have them either at Target nor Walmart. I asked about it and no one seemed to know, now I'm finding out, you can only buy the designer in packs of 2, big whoop d do and at an outrageous price. I did buy the solid white, because of the holidays coming, I needed them. They are horrible, 1) cannot get it off the role, without using both hands, 2) lint left on mirrors, 3) don't hold up like they have in the past. I could go on, I think this gives an idea of my disappointment, in your product. I won't be buying Viva towels, when I stock up again. I'm sorry that you found it necessary to ruin something which was not broken.....oh, I'm sure it's cheaper, as it is a much cheaper product, and the extra $$$$ will go into the pockets of those that are greedy.