U by Kotex Security Ultra Thin Pads, Long, Unscented, 40 Count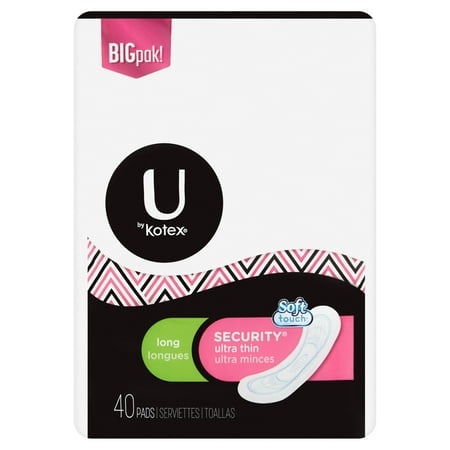 MSRP :

$10.09





Sale :

$7.19

Sold & shipped by Walmart
Product Description

Additional Information

Reviews
Product Description
Feel comfortable and dry with U by Kotex Security. They are ideal for an everyday clean feeling and can be used for light-flow days or for extra protection when wearing a tampon. Each of the feminine liners is equipped with a dual layer core that that is designed to absorb liquid quickly to keep you dry. They are unscented and have a soft outer cover that is treated with aloe and vitamin E to feel comfortable on your skin. The U by Kotex Liners are made to align with your natural pH levels and are built from a breathable material.
Additional Information
U by Kotex Security Ultra Thin Pads, Long, Unscented (
56 Count)
:
U by Kotex Security Ultra Thin Pads with moderate absorbency
Thin pads for women with a breathable design and a cottony SOFT TOUCH cover
3D Capture Core for fast absorption to help stop leaks & keep you dry all day
Deep channels to FLEX and FIT your body
U by Kotex Ultra Thin Pads are available in regular and long length
Thin sanitary pads that are latex-free, lotion-free and unscented
Trusted protection that is soft on your skin and helps keep you dry
Reviews
toyotavan
MY PERSONAL BODYGUARD
I HAVE USED THESE PADS FOR YEARS AND I HOPE THAT KOTEX DOES NOT DISCONTINUE THEM. I LIKE THEM FOR THE TOTAL COVERAGE OF POSSIBLE LEAKAGE AND THE UNFORSEEN. THE DAILY USE KEEP ME PREPARED PREVENTING EMBARRASEMENT. I AM ALSO PLEASED THAT KOTEX STANDS BEHIND THIER PRODUCT AND TRUE TO ITS WORD OF PERFORMANCE. THEY MAY BE A LITTLE MORE COSTLY THAN OTHERS BUT MORE IN THIS CASE, MEAN MORE SECURITY. A LITTLE TIP FOR US WHO HAVE SWEATY FEET AT TIMES, AND YOUR FOOT SLIDE IN YOUR SHOE. I PURCHASE THE REGULAR SIZE THIN PADS, INSERTING THEM IN MY FLATS, TENNIS SHOES AND ANY ENCLOSED DRESS SHOES. THEY ARE FOR MOISTURE ABSORPTION AND WORK WONDERFULLY. I WILL CONTINUE TO PURCHASE THESE PRODUCTS AS LONG AS THEY ARE AVAILABLE. MY OPINION IS THAT THE PADS ARE MULTI-PURPOSE. I SHARED THE IDEA WITH MY FEMALE CO-WORKERS AND THEY KINDA LOOK AT ME STRANGE BUT MY STATEMENT WAS "THEY ARE MADE FOR MOISTURE ABSORPTION PLACING VERY CLOSE TO THE BODY, SO WHAT WOULD BE THE PROBLEM PLACING THEM IN THE SHOE TO ABSORP"? THE POINT HAS BEEN WELL TAKEN AS OTHERS HAVE JOIN IN. I SAY A GREAT PRODUCT FOR MORE THAN ONE USE FOR THE SAME MONEY. KOODLES TO KOTEX.
Dest14
Adhesive doesn't stick!
I've been using this brand since I started my period when I was 13 now that I'm 19 I noticed the adhesive part of the pad is not sticking to my underwear anymore it's always moving and so uncomfortable and having to change it a lot this is my favorite brand please fix it
Mimzy6
Leaves a sticky mess and falls apart
I have used Kotex Long Ultra Thins for more years then I can remember. I am really allergic to additives, colors and perfumes. The addition of Aloe in its Natural Balance pads isn't a good idea for someone like me who has a lot of contact dermatitis. My big gripe with the pads I bought in April 2013 is that it is impossible to remove the adhesive from my underwear. I use microfiber underwears and the adhesive is so strong it leaves a layer of adhesive and plastic stuck to your underwear. I have to use rubbing alcohol to remove it. I am not an active person and I found that after a few hours that the thin top layer peels off the top of the pad which never happened before. If Kotex continues to make a defective product then I will have to look for a different brand.
Luvsmeagoodsale
AWFUL
I just tried the "U" brand and I gotta say, it doesn't hold what the regular Kotex ultra thin long ones does! If you need them for weak bladder and you sneeze and leak, forget these things! Stick to regular Kotex and not "U" brand. (of course that is IF you can find them! last time I looked, there was only U brand at Walmart and not the regular 44 or 56cnt packages!!)
KrystalB
Thank you
I have been using these pads for about 5 months now and I just have to say thank you. Every other maxi pad I have tried blisters my skin because of sensitivities and I am not sure what makes this product different, but thank you. I have an extremely heavy flow so I use these along with O.B. brand Ultra tampons to manage the mess and for the first time in 20 years I can say not only is my lady parts not blistered and miserable I haven't had a single leak, which I would normally have had even with the use of tampons in addition to the pad. This product has saved me from having to try to figure out how to haul massive cloth pads on the go. PLEASE don't ever change this! If you made a tampon that came in Ultra I would be willing to try that to I am so happy with this brand.