U by Kotex Security Ultra Thin Pads, Regular, Unscented, 44 Count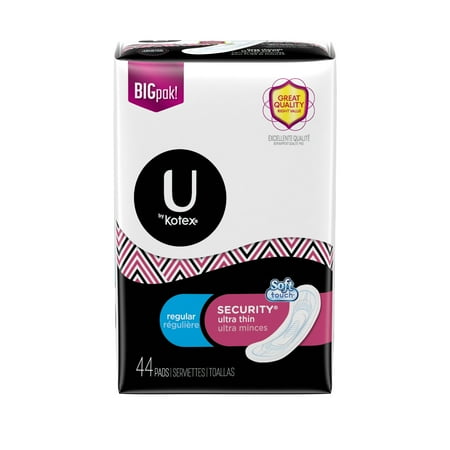 Sale :

$5.64

Sold & shipped by Walmart
Product Description

Additional Information

Reviews
Product Description
The Wrapped 60-Count U by Kotex Regular Pads are breathable with a cottony soft touch that's gentle on the skin. They feature a 3D capture core that quickly locks away wetness, and they include deep channels to flex and fit with lasting comfort. These ultra thin pads offer trusted protection in a compact size.
Additional Information

U by Kotex Security Ultra Thin Pads, Regular, Unscented (60 Count):
U by Kotex Security Ultra Thin Pads with regular absorbency

Thin pads for women with a breathable design and a cottony SOFT TOUCH cover

3D Capture Core for fast absorption to help stop leaks and keep you dry all day
Deep channels to FLEX and FIT your body

U by Kotex Ultra Thin Pads are available in regular and long length

Thin sanitary pads that are lotion-free and fragrance-free

Trusted protection that is soft on your skin and helps keep you dry
Packaging may vary from image shown

Reviews
amindapm
What's the size?
Why don't manufactures put the length and width of their pads? I don't want a pad that goes from my belly button up to my shoulder blades! Those long things are just too long! How about someone making a regular pad like the OLD Kotex pads that are about 8 inches long, thin so they don't crumple in the middle, thick enough they actually keep your underwear clean and dry, and reasonably priced so people can afford them. Women need a pad for when they go through menopause to stop the leakage of cervical thinning without having a pad from the belly button to their shoulder blades, without crumpling in the middle (because that stupid glue NEVER holds them in place), and thick enough that it's comfortable without the edges cutting the skin. Whatever person came up with the "wings" surely never had to wear them! The older Kotex pads were much better than anything on the market today!
JG
Amazing product!
Love these pads!!!! I have been using these pads and the pantiliners for over 15 years now. Love that the pad is thin yet extremely absorbent. I also love how the pad has NO wings, I personally am not a fan of them. Unlike other reviewers I have not experienced the pad sticking to my underwear or breaking apart. As a Mom to 5 daughters I hope Kotex continues to make this pad as I have already introduced it to my oldest daughter and I hope to do the same for my other daughters. Thanks Kotex for an amazing and reliable product!
DJ1105
New design...new material, as well?
I have been using Kotex for well over 7 years. I have never had any leaking problems, with either the pads or the tampons. I get full usage of the tampons, whereas with other brands I only get partial usage before they leak. However, I believe that with the new design, you also changed the material of the products. It's only been in the last year that I seem to have developed an allergy that reoccurs each month. I've seen doctors several times and the only conclusion we can come up with is that the feminine protection products are causing the severe itching and redness. It lasts the duration of my periods plus a couple of days, then goes away. I have never had this problem before, and the only correlation is it started right about the same time as your "design" change. Unfortunately, the FDA does not require ingredient labeling, so I'm not sure what's in the product that is causing my allergy. But I am now forced to start exploring other brands to ease my discomfort. I love the dependability of Kotex products, but for health reasons, can no longer use it.
Jessicuh515
Environmentally friendly
I love these, they're very absorbent and fit well. I keep them in my car for emergencies but I wonder how environmentally friendly they are? It seems like they would be since they are cotton and have very little plastic attached?? Also what about animal testing?
Xish100
Good absorbency but rips easily
My usual brand was gone so I decided to try these. They are the best pads I've used as far as absorbency. But after only a few hours the side tears and the padding falls out. Looking at the reviews it seems like several people have had this issue. I'm hoping it's just a batch defect because these pads would be amazing otherwise.