Kleenex Hand Towels, 120 count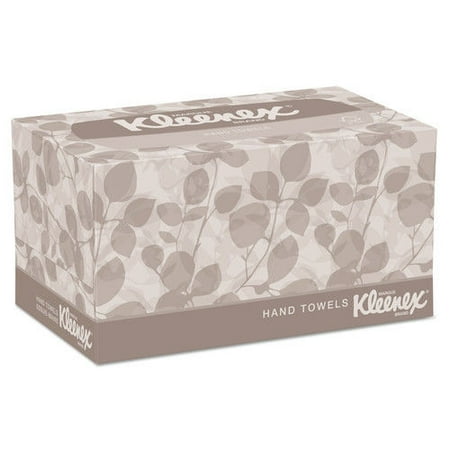 MSRP :

$20.15





Sale :

$

Sold & shipped by BEACH AUDIO
Product Description

Additional Information

Reviews
Product Description
Keep your hands clean and dry with these Kleenex Hand Towels. The box is designed to be both pleasing to the eye and to serve as suitable storage for these highly absorbent towels. Each pack includes 120 paper hand towels covered in a water-resistant coating. A poly-shield ensures you only get one towel at a time and it keeps the rest of the contents dry.
Additional Information
Kleenex Hand Towels:
No messy towel stacks on counters
Hygienic and sanitary--only touch the towel you use
Highly absorbent towels for exceptional hand-drying
Water-resistant coating and poly-shield keeps box and towels from getting wet
High capacity--Kleenex towels 120 count
Premium hand towels for a luxury-class image
Towel/wipe type: Dry wipes; application: General purpose; material(s): Cloth-like; number of plies: 1; per sheet: 9 x 10.5"
Reviews
Butch
Great product
Convenient, handy...
Juju
Great multipurpose disposable towel
I've using these paper towels for a couple of years now. They're great to have in the restrooms for especially for guest, they're great for general cleaning theyre great to use as a disposable washcloth. great to clean the dog with. They're strong and sturdy and don't rip up like a regular paper towel.
tubawife
Okay if you are used to a rougher towel
When Kleenex first came out w/the hand towels, we were hooked on them instantly! They were hard to find in our area, so we'd stock up on several boxes at a time. When we joined Sam's Club & saw they were available in a 120ct box, we jumped on it. We figured, "hey...we're basically getting two boxes in one," bc the regular boxes in the stores have 60 in them. Plus, the price was great bc we were paying $3.15 for a box of 60. Well, I agree w/a previous poster when I say they are "rougher" than the ones you get in the regular stores. Those are more "cloth-like," softer & thicker. These however remind me & my husband of the tri-fold towels you use in public bathrooms or at work. With that said, we still like them but i'm not sure how much of a value they are. I say this bc my husband has to use 3 of them to get his hands dry. He only had to use 2 of the ones available in the stores. I found myself having to use 2 of these to get my hands dry instead of one. That of course, means they get used up faster. We are going to purchase one more box & monitor it to see exactly how long they last.
Richarki
Great for the guest bathroom
This is great. No longer do guests have to use the same towel to dry their hands that others have already used in the guest bathroom.
Joules
Great for the guest bathroom
The product was stiff and rough not soft cloth like I had expected. Nevertheless, it works just like it should and does the job I needed it for. I would repurchase again if I need them.