Kotex Lightdays Pantiliners, Regular, Unscented, 22 Count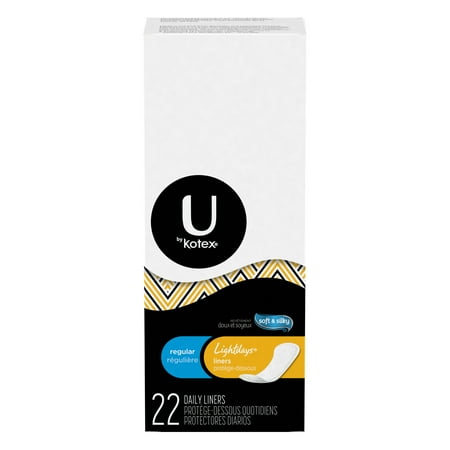 MSRP :

$4.07





Sale :

$4.02

Sold & shipped by Evers Direct
Product Description

Additional Information

Reviews
Product Description
We got you covered from your light days to your "oops" moments with U by Kotex Lightdays Liners. These light absorbency panty liners give you the ideal period protection for every occasion and are more absorbent than Lightdays Thin Liners. Enjoy a fresh feeling daily with a liner that is so soft, it feels just like your underwear. Each regular length liner features a breathable cover with a soft and silky touch and comfortably flexes with your body for perfect period protection. This box contains flat, unwrapped latex-free, lotion-free and fragrance-free regular absorbency panty liners. For a more absorbent option, choose U by Kotex Lightdays Liners Extra Coverage. Lightdays Liners are also available in long length.
Additional Information
Reviews
Tabbycatso
Don't buy unless you want to pick adhesive!
These are notorious for separating from the adhesive making it a mess and ruining your clothing! Too many great options to choose from than spend your day picking adhesive off your clothes or getting it all over the rest of your clothing in the wash. Not as absorbent as other options as well.
PiperRose
Agree with Tabbycatso...
I bought 2 boxes of these and the other reviewer is right about picking adhesive off your clothes. I've never had this issue, to this degree, with any other product I've purchased. Unfortunately I can't afford to throw them out, so I'll have to suffer thru the ones I have. But I'll opt for any other kind next time.
JennJenn80
Great for between periods
I use them for between heavy and light flow periods. Awesome!
NoLongerLoyal21
Goodbye Kotex Liners
I used to love this product, used it for many, many years and did not even mind paying a few more dollars because the quality was much better than the store brands. I was so disappointed when I bought a new box recently and realized they were different because they weren't as sticky as they used to be. It is obvious they were made cheaper! I put my liners before I put on my underwear, and I have had quite a few liners that ended up on the floor when I slipped on my underwear though I pressed the liners hard on the fabric. I got very frustrated I just threw away the whole box! I have never bought another box ever since because now, the cheaper store brands are actually better! I do not usually leave feedback on products but I went and searched for this site because I have never been so disappointed. I loved Kotex pantiliners, but it's too bad that they have lost me as a regular customer and I don't see myself buying their product ever again.
capenba
Liners separate from adhesive
I've been using these liners for probably a decade. If not for the recent inconsistency, I would've given them 5 stars. I've seen the liners more easily separate from the adhesive before, but it was usually a bum box and it wasn't that bad (maybe a small piece got stuck). These past 2 boxes both separated from adhesive for the entire layer and it's so bad that I'm running it under water in order to fully peel the separated adhesive off. (It also ruins delicate fabrics.) I ended up switching brands since it seems like Kotex has made a change or I somehow got unlucky twice. From a couple of reviews, looks like others have experienced something similar yet the reply is that there was no change made... I was hoping to return to using these again.