Kotex Lightdays Pantiliners, Regular, Unscented, 22 Count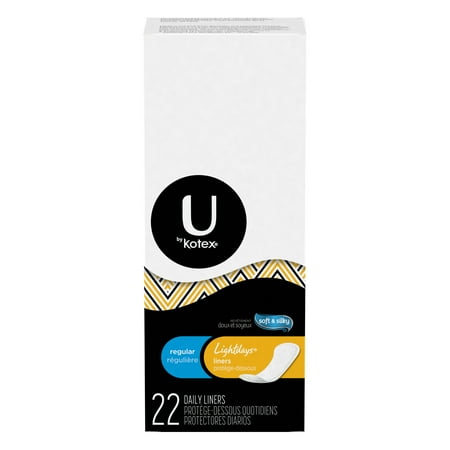 MSRP :

$4.07





Sale :

$5.98

Sold & shipped by DopTop
Product Description

Additional Information

Reviews
Product Description
We got you covered from your light days to your "oops" moments with U by Kotex Lightdays Liners. These light absorbency panty liners give you the ideal period protection for every occasion and are more absorbent than Lightdays Thin Liners. Enjoy a fresh feeling daily with a liner that is so soft, it feels just like your underwear. Each regular length liner features a breathable cover with a soft and silky touch and comfortably flexes with your body for perfect period protection. This box contains flat, unwrapped latex-free, lotion-free and fragrance-free regular absorbency panty liners. For a more absorbent option, choose U by Kotex Lightdays Liners Extra Coverage. Lightdays Liners are also available in long length.
Additional Information
Reviews
JanT
Have You Changed the Adhesive?
I have used Lightdays Liners Regular for years and loved how effective and convenient they were for my daily use. Unfortunately the adhesive used on the liners of my most recent purchase seems to have changed. I used to be able to easily remove the liner from my under wear, fold and discard without incident. Lately when trying to remove the liner the cotton portion of the liner separates from the the adhesive leaving most of the sticky portion of the liner on my under wear. Oftentimes it is so messy I literally have to scrap the adhesive off using my fingernail. I am assuming the adhesive formula has changed so I am requesting you go back to producing the original liner that I used to love!
toooldfortween
Super disappointed
Bought a box of 64 because I normally love U by Kotex products so much, and I couldn't find the tween liners that are usually my go-to (they're notoriously hard to find in stores :/ ). They have essentially NO adhesive and constantly become unstuck and the adhesive layer even sometimes peels off from the absorbent layer so I'm left with plastic stuck to my underwear and a sheet of cotton I can't roll up and dispose of neatly. Now I'm stuck with a bunch of liners that are less than dollar-store quality :/
Upstategal
Adhesive isn't good
I bought these because my doctor recommended I use this brand instead of the Always liners I had been using, which were not good for my yeast infection. My doctor said Kotex doesn't have as much unnatural 'stuff' in their liners so it's better for health. Well that may be, but the adhesive is not good. When I try to remove these liners, the top half of the liner rips off into my hand and the bottom half stays glued into the underwear. I have to pick off the adhesive, as other reviewers have noted. And it almost ruins my underwear. I will have to ask my doctor for another liner recommendation because I just can't keep using these. Kotex— I love your tampons, but please address and fix this adhesive issue! Otherwise you would have a perfectly good product.
Tess25
Awesome adhesive!
I use liners mostly for light period days and tampon leaks. (Discharge doesn't bother me) I used this every day of my period, and it was amazing. I'm so surprised how strong the adhesive was, because most liners I used always shifted, and were uncomfortable. They weren't the best for light period days, but I'll try the longer ones next time.
NoLongerLoyal21
Goodbye Kotex Liners
I used to love this product, used it for many, many years and did not even mind paying a few more dollars because the quality was much better than the store brands. I was so disappointed when I bought a new box recently and realized they were different because they weren't as sticky as they used to be. It is obvious they were made cheaper! I put my liners before I put on my underwear, and I have had quite a few liners that ended up on the floor when I slipped on my underwear though I pressed the liners hard on the fabric. I got very frustrated I just threw away the whole box! I have never bought another box ever since because now, the cheaper store brands are actually better! I do not usually leave feedback on products but I went and searched for this site because I have never been so disappointed. I loved Kotex pantiliners, but it's too bad that they have lost me as a regular customer and I don't see myself buying their product ever again.