U by Kotex Security Maxi Overnight Pads, Regular, 28 Ct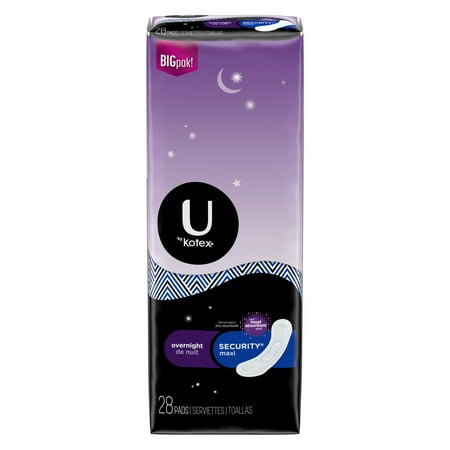 Sale :

$13.32

Sold & shipped by Pharmapacks
Product Description

Additional Information

Reviews
Product Description
While we can't guarantee a good night's sleep, U by Kotex Security
Additional Information

U by Kotex Security Maxi Overnight Pads (40 Count):

Our most absorbent period pad for overnight protection
A super-absorbent core with deep channels to FLEX and FIT your body
Breathable design with a cottony SOFT TOUCH cover
Pads for women available in regular length
Latex-free, lotion- free and unscented pads
Trusted protection that is soft on your skin and helps keep you dry
Reviews
Janae
Super Pad
I have been using these pads for years! They provide the comfort and protection I need. I have only experienced a pad coming apart a few years ago, and since that time they have been fine for me. I would suggest if at this point a pad is coming apart, to try different panties. The material in the panty will make a big difference as to how the pad sticks to it. Please don't stop making these pads.
Melliemel
Go back to original
I have been using this brand for years and I have noticed recently that the pad is thinner and does not offer the protection that it use to. It appears the company has cut cost and it is showing in the product. The overnight pad use to be thicker and would absorbed more. I wake up every month during my heavy days with leakage. Please go back to the original pad. I am looking for other alternatives at this point.
reginageorge
maxis
i cant help that i have a heavy flow and a wide set v%$#$a. perfect
sydney77765
these rock.
I refuse to use anything other than these for my period needs.
Princess11
SO DISAPPOINTED IN THE NEW QUALITY
I have been using this product for years and never had a complaint. They have always held up great and offered great protection. Now over the last month or so maybe two I have noticed that the break down of the pad itself is horrible. They protecting outerlayer tears and leaves cotton everywhere including in places that it should not be. How embarrassing to use a public restroom and when you pull your drawers down it goes everywhere all over the floor and your clothes and under the stall to the neighbors! GROSS! Not to mention the mess at home it leaves and you have to sweep every time you use the restroom. THIS should not be this way! They have never been this way before! What changed and WHY?? PLEASE PLEASE PLEASE bring the old ones back. I am 45 years old and have experienced with many diff brands and thought I finally had found the right one for me and now I am at a loss and back to experimenting with other companies. Please review what you changed and change it back. Thank you!