Channellock 94 Piece Mechanics Tool Set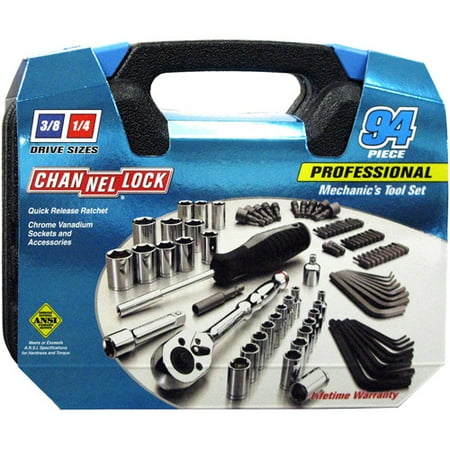 MSRP :

$88.58





Sale :

$32.5

Sold & shipped by Walmart
Product Description

Additional Information

Reviews
Product Description
This 94-Piece Channellock Mechanic Tool Set is a vital collection for general and maintenance repairs on automobiles. The Channellock Tool Set features 94 of the most frequently used tools in auto repair shops, so you can have everything you need on hand in one convenient location. This automotive tool set comes with 11 six-point sockets, a quick-release ratchet, 18 hex keys, nut drivers, 16 six-point sockets, driver bits, and more. These tools can help you install, remove or tighten a variety of engine components including nuts, Allen and regular screws, bolts, fasteners and more. This Channellock Tool Set is made out of chrome vanadium that will last for many years, and it includes a durable plastic carrying case that provides portability and efficient storage. The 94-Piece Channellock Mechanic Tool Set is versatile enough to be used professionally or at home.
Additional Information
94 Piece Mechanic's Tool Wrench Set
Reviews
Secretariat
Good Light Duty Mechanics Tool Set
I've used this set for the last 6 months. This is a good tool set to carry in the trunk. It's light weight (around 5 lbs.), and if you can get it at Walmart (or Walmart.com) for less than $35 you'll be getting a great deal. It fits very well in to the McGuire-Nicholas 12" single wall tool bag also sold at Walmart.com Pros: The ratchet is extremely comfortable in the hand (great ergonomics). The bit driver and included bits have been very solid so far and have not rounded off. The sockets go up from 1/4 drive to 3/8 drive sockets without repeating any sizes (which is nice to save space). The tools all stay snug in their spots in the tool box. You can actually turn it upside down (carefully) and nothing falls out. Cons: No universal joint (3/8 would have been handy). No deep well sockets. I use deep well more often than standard when working on my car. Had to grease the ratchet, but almost nobody sends ratchets with much (if any) grease or oil in them anymore. Before greasing I covered the oil holes with clear tape so the grease would stay in the ratchet and not drip out (look carefully at the photo of the ratchet and you can see the tape). The other photo shows the size markings compared to the Pittsburgh Pro socket (yes... Harbor Freight) on the right. You better have good light or young eyes to see the Channellock markings. But the sockets are strong and should last for non-professional use. If you add a universal joint and some deep well sockets to your carry-along tool bag, then this set should do great for an emergency repair. The ratchet is so good I called Channellock to ask about buying the 1/4 and 1/2 ratchets separately. The ones included in the 171 piece set are NOT sold separately :( Too bad, I think they would sell plenty of them if they were. The packaging lists the contents on the bottom (not shown in the online Walmart photos) and also lists where the set is made (Taiwan). Very good quality set.
Cruzn2blues
Navy Good
I purchased the Channellock tool set for a young man who is is a technician aboard a USN destroyer He has reported to me that because of the quantity and quality of the Channellock set his job has been made easier. He also said he now has bragging rights where tools are concerned. If Channellock is good enough for the USN, I'm sure the general public will be pleased. Thank you Walmart and Cnannellock for helping me make a difference in the life of a U.S. member.
Kevinswine
Excellent
Just what I wanted for my grandson to use to tinkerontheir cars!
Dmbe
Perfect to put in your trunk
Case is durable, and tons of pieces to work on pretty much anything! Haven't used them yet, so not for sure how well these were made! Fingers crossed.
Cheetobreath1
This item is a Christmas Gift
This item is a Christmas Gift. It looks good but I don't know that much about tools.