Muscle Rack 48"W x 24"D x 72"H 5-Shelf Steel Shelving, Black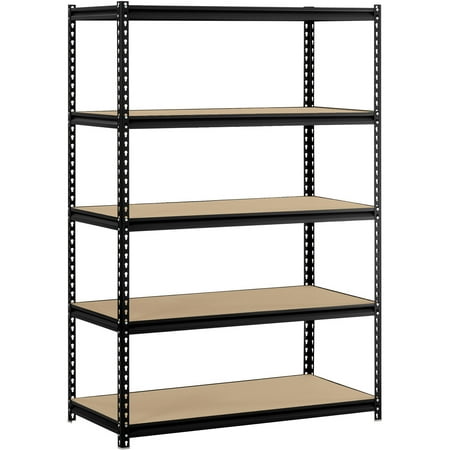 MSRP :

$89.99





Sale :

$54.97

Sold & shipped by Walmart
Product Description

Additional Information

Reviews
Product Description
Store almost anything with industrial strength Edsal 5 Shelf Steel Shelving. These rugged shelves are designed for high capacity, excellent stability and long life in almost any environment. Edsel steel shelving is ideal for everything from large, heavy boxes in a warehouse to tool and gadget storage in a garage or basement. The combination of steel and manufactured wood makes the shelves both lightweight and solid. Each shelf features Z beam construction that gives the particle board shelves additional strength and stability. The black steel shelving unit has a weight capacity of up to 4,000 lbs, when the weight is evenly distributed on all five shelves. The shelves are fully adjustable with a simple, sleek black finish. The black steel shelving can be easily assembles in only minutes without the use of nuts or bolts. Additional shelving units can be added to increase storage capacity; each unit is sold separately. The shelves are ideal for home, workshop or industrial use.
Additional Information
Muscle Rack 48"W x 24"D x 72"H 5-Shelf Steel Shelving, Black:
Z beam construction for strength and rigidity
Assembles in minutes with just a hammer (no nuts or bolts required)
Weight capacity: up to 4000 lbs distributed evenly over the entire unit
5 particle board shelves support loads
Shelves adjust every 1-1/2" and have a durable black finish
Model# UR245L-BLK
Reviews
crazygeckolady1
Great quality except..
This rack shipped very quick and it high quality. It is easy to assemble. The reason I gave it 4 out of 5 stars is because I hate the corners of this thing. You have to have a shelf right in the middle of this rack and it ruined my plans for where I wanted to put a shelf. The corner posts come in two separate pieces so it requires beams right in the middle to hold it together, it's kind of a pain. If the corner posts were one solid piece and I could put my shelves where I wanted, I would have given it 5 stars. Overall, good quality and easy to assemble.
TGP57
Shelfs
I love these, not only are they huge but very sturdy, as you can see in the pictures they hold lots of stuff...and also excellent price on the roll backs.
Alfresco5
Do not buy!
This is not a "heavy duty" shelf. It would be if the MDF shelves were thicker, but they are so thin that they bow in the center w/ very little on them. The company claims that each shelf can hold up to 800lb, for a total of 4000lb. That number is way beyond bogus! My shelves started bowing in the center as soon as I installed them, and looked like they were going to break appart w/ only 50lb on them! The connector brackets were also missing from the box, so I was only able to build 1/2 a shelf. I called the company's customer service and spoke to a lady that seemed like she dealt with this problem a lot, and said that they would send me out the brackets and "shelf supports". If they already have shelf supports designed to deal w/ this problem, why don't they come w/ the shelf?! They expect ppl to call them and complain first? So, 2 weeks later, I still hadn't received the missing parts. I called, and the lady claimed that they had "just come in", and would be shipped out right away. She sounded like she had just forgotten. The brackets arrived, and although the connector pieces are the correct ones, the "supports" are just random metal brackets, that don't fit the shelf at all! They are too short to span the shelf, and are configured in a way that they wouldn't work even if they did. They sent me a bunch of metal pieces that I can't use, and I still have 2 shelving units that can't hold more than lightweight office supplies, when I bought them to hold heavy product inventory!!!
theRareReviewer
VERY disappointed
I ordered five of these shelves. Every single one of the boxes that were delivered was damaged and open upon arrival, with parts falling out of two of them. One of the boxes was apparently so badly damaged that Federal Express did not even leave it at my house; they returned it to Walmart, of their own accord. All the particle board shelving was damaged on the corners due to the boxes being open. Overall, it was not a complete loss, considering the price paid, but I was most definitely very disappointed in the condition that the merchandise arrived. (see pictures) PS. I tried at least 8 times to upload photos, but was only able to upload successfully one photo. Keep getting a Gateway timed out error - 504. So, disappointed in this review site also. :/
JamieLuLu
Big & Sturdy
Thought it was too good to be true for such a great product at such an inexpensive cost. It arrived on time - the box corners/edges a bit mangled due to the heavy weight. This concerned us and after opening, some corners on the board shelves had broken off. We considered returning it, but after assembly, the shelves still fit perfectly and we couldn't see the missing corners. All-around, this is a cosmetically and durably sound product. Very quick and easy assembly. The dimensions were spot-on and our two shelving units fit perfectly in the garage space. It's tall, it's deep, and it's beautiful (see photo). Definitely buying more! Way to go Walmart!!