Poly-Fil Premium Polyester Fiberfill - 10 Pound Box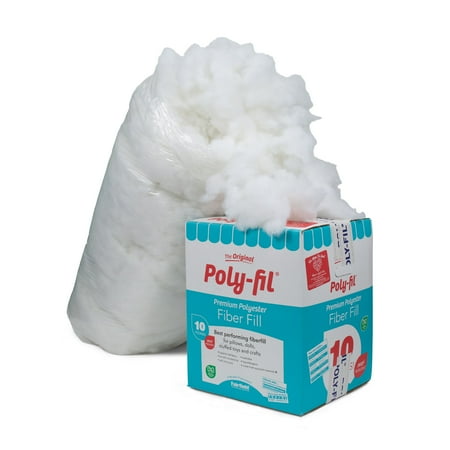 MSRP :

$49.99





Sale :

$24.56

Sold & shipped by Walmart
Product Description

Additional Information

Reviews
Product Description
Crafter's have made Poly-Fil® the best selling polyester fiberfill in America. A unique process explodes the special blend of 100% polyester fiber creating an extraordinary resilience that maintains its integrity through laundering. One box contains 10 pounds of Poly-Fil®. Use for all types of craft and home décor projects. Poly-Fil® has superior resiliency, smooth consistency, is hypo-allergenic, and unconditionally guaranteed. Poly-Fil® can be used as cloud scapes in the classroom, arts and crafts with the kids as well as holiday decor and play scenery. Care: Machine wash on gentle with warm water. Air dry or tumble dry on air or low heat setting. Fiber may shift during laundering, gently massage the project with fingertips to move the fiber back into place.
Additional Information
Ideal fill for stuffing animals and decorative pillows to give it that squishy and comfortable feeling

Wonderful fill for hand-made dolls and toys

Contains 10 Pounds of Poly-Fil®

No added chemicals or flame retardants

100% Polyester fiberfill

Reviews
Melody
Bought 30boxes/missing several pounds of product!
The shipping wait was short and welcomed! But the product is faulty. We ordered 30boxes of polyfill, 10lbs each box, and each box was missing 1-2lbs of stuffing. If it were just a few boxes missing some stuffing that wouldn't be too bad but in total we are missing about 20% of our product! This outcome is upsetting, we have ordered this item before and on the order before this one we bought 20boxes and about 5lbs was missing which we could accept as a human mistake but for this recent 30boxes order? No, it's too much. Most people that are happy with this product must not be the type that use this item in bulk and hence don't realize when it's missing some of its product. I would like to speak to someone from Walmart to resolve this issue, thank you.
me
Bought 30boxes/missing several pounds of product!
pliable for stuffing
Grandmalynn
Super Stuffer
One 10lb Poly-fit reshaped all my cushions on the sofa and love seat. See before and after pictures. Great product and very easy to use.
Confused
Buyer be aware...
I purchase two ten pound boxes of what is suppose to be poly-fil premium polyester fiber. I weighed the contents of each box and found thar both were not ten pounds (one weighed 9.63lbs., the other weighed 8.98lbs.) No biggie for the price. I started using some of the poly-fil and found several chunks of styrofoam throughout the poly-fil. Not good walmart/fairfield and whomever else is responsible. This will not happen to me again. I added a picture of some of the styofoam we removed from tangled in the poly-fil. We had a hard time removing the styrofoam, after an hour or so we were able to stuff some 18" square throw pillows we made. Seems to be okay but notbten pounds and extra material should not be mixed in the poly-fil.
esmith10
My 8 year old sofa is back!
I thought I needed a new sectional sofa, but not after a 10 pound $20 box of Poly-fil brought it back to life! Check out my photos. My only issue (that's not really an issue) is that I did not know how many boxes I needed. So I bought five boxes. But I only used half of one box. I did not remove the old stuffing, I just added the new stuffing. I returned the four extra boxes, hassle free (because Tanya is the greatest). Makes more sense to have too much fiberfill than not enough.