Poly-Fil Premium Polyester Fiberfill - 10 Pound Box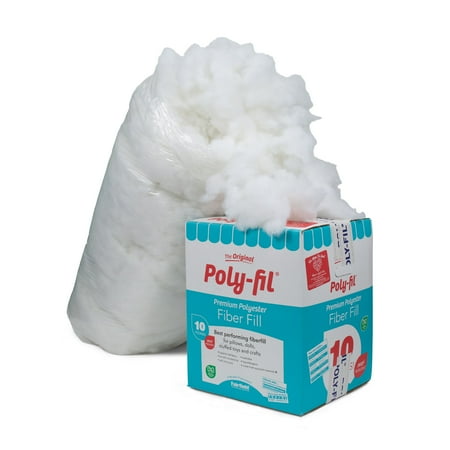 MSRP :

$49.99





Sale :

$28.49

Sold & shipped by Walmart
Product Description

Additional Information

Reviews
Product Description
Crafter's have made Poly-Fil® the best selling polyester fiberfill in America. A unique process explodes the special blend of 100% polyester fiber creating an extraordinary resilience that maintains its integrity through laundering. One box contains 10 pounds of Poly-Fil®. Use for all types of craft and home décor projects. Poly-Fil® has superior resiliency, smooth consistency, is hypo-allergenic, and unconditionally guaranteed. Poly-Fil® can be used as cloud scapes in the classroom, arts and crafts with the kids as well as holiday decor and play scenery. Care: Machine wash on gentle with warm water. Air dry or tumble dry on air or low heat setting. Fiber may shift during laundering, gently massage the project with fingertips to move the fiber back into place.
Additional Information
Ideal fill for stuffing animals and decorative pillows to give it that squishy and comfortable feeling

Wonderful fill for hand-made dolls and toys

Contains 10 Pounds of Poly-Fil®

No added chemicals or flame retardants

100% Polyester fiberfill

Reviews
Vicki
Great Stuff ... Polyester fiber-fill
I was very pleased with the product. I have been using it to make dog beds. The 10 lb. box goes a long way. So far I have made 8 large dog beds for my mediums sized dogs. They love the softness and it envelops them when they sleep in their beds, keeping them warm and cozy on the cold fall nights. I also made a seat cushion and I still have half of a box left. I would definitely recommend this product.
Melody
Bought 30boxes/missing several pounds of product!
The shipping wait was short and welcomed! But the product is faulty. We ordered 30boxes of polyfill, 10lbs each box, and each box was missing 1-2lbs of stuffing. If it were just a few boxes missing some stuffing that wouldn't be too bad but in total we are missing about 20% of our product! This outcome is upsetting, we have ordered this item before and on the order before this one we bought 20boxes and about 5lbs was missing which we could accept as a human mistake but for this recent 30boxes order? No, it's too much. Most people that are happy with this product must not be the type that use this item in bulk and hence don't realize when it's missing some of its product. I would like to speak to someone from Walmart to resolve this issue, thank you.
me
Bought 30boxes/missing several pounds of product!
pliable for stuffing
SheilaSewing
Packs tight
This is great fiberfill for the memory bears I make for people. It stuffs in nice and tight which helps maintain the shape of the bear's head and keeps the neck stable so the head doesn't flop around. I will always use this fiberfill.
Grandmalynn
Super Stuffer
One 10lb Poly-fit reshaped all my cushions on the sofa and love seat. See before and after pictures. Great product and very easy to use.