Poopsie slime surprise unicorn: Dazzle Darling or Whoopsie Doodle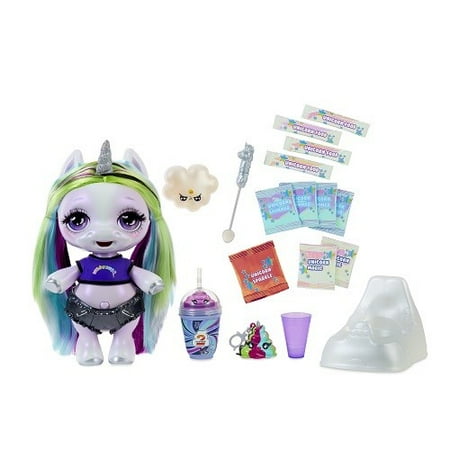 Sale :

$88.21

Sold & shipped by Dirtcheapsellerms
Product Description

Additional Information

Reviews
Product Description
Make magical unicorn poop (slime) with Poopsie Slime Surprise™! With a little unicorn magic and sparkle, you can customize unicorn poop and transform it multiple times! When you gotta go, store the poop for magical fun anytime! Poopsie Surprise Unicorn magically poop slime! Each time you feed your surprise unicorn and sit her on her glitter potty, she creates surprise, collectible unicorn poop (slime)! Transform your unicorn poop over and over again with Unicorn Magic! Over 20 magic surprises included with each Surprise Unicorns! Four unicorns to collect! Will you unroll Dazzle Darling or Whoopsie Doodle?
Additional Information
Poopsie Surprise Unicorn includes one Surprise Unicorn (Dazzle Darling or Whoopsie Doodle)

One glitter potty.

Four Unicorn Food packets (slime powder), four Unicorn Magic packets, one Unicorn Sparkle packet,

One exclusive bottle and one exclusive character keychain,

One unicorn shirt & diaper, spoon, hair brush, cleaning tool, and measuring cup.

Reviews
BrittO
Cutest unicorn ever!
These unicorns are so cute we love them. My daughter plays with them all the time and treats them like her babies. A added bonus is the poopsie slime it's super fun and adding the glitter is so pretty.
Lncsma
New it toy of 2018
This is so far the best toy I have ever seen! My kids absolutely adore the unicorn! It was so exciting to open and see all the surprise bags in it and all the fun little accessories it came with! Everything about it is simply adorable including the part where she goes to the bathroom"!! The kids had a blast feeding the unicorn and giving her her drink to see her potty! They got so excited to see it turn into slime then be able to change the color and add sparkles to it! The unicorn is made very durable so I don't think she will break anytime soon and all the detail are so creative I believe this is going to be the new it toy for the 2018 holiday season!! Amazing idea and I look forward to it being on Santa's list I had fun with the kids playing with her and exploring a new way to make slime that is not half as messy as the normal way!! [This review was collected as part of a promotion.]
momof4
An interesting idea!
So I got this knowing that I have 4 boys. They are not into unicorns but do love slime so I thought it would be fun to try! The whole idea of playing with unicorn poopsie as slime is a hard concept for me to wrap my mind around. Still not sure I like the idea. Maybe it has something to do with the magic of unicorns? The packaging is very attractive and the boys couldn't wait to try it. It comes with a lot of accessories which is nice.a comb, bottle, spoon, etc... The unicorn was Rainbow Brite and her hair was beautiful. The hair is a little long and tends to get in the way when trying to make the slime. It would have been nice to have a ponytail to hold it back. The instructions are pretty clear but it helped me to open the unicorns back and look inside so I knew how everything worked so there was no confusion. You feed her food and water and then a bottle. She then sits on her potty and goes to the bathroom. You take that and let it sit for a few minutes and then add the sparkle and other stuff. It does make a very good slime which the boys enjoyed playing with. It fits inside a cute container. It is a very unique toy and would be fun for some kids. Overall I can see it being a fun toy for kids who love unicorns and feeding and playing with babies.I probably wouldn't buy it again. Maybe some boy unicorns would be fun! I did enjoy the creativity and new experience! [This review was collected as part of a promotion.]
Annie
messy but cute
we got the rainbow brightstar unicorn which was perfect for our little girl who loves unicorns and rainbows so was very excited to give this a try right away. The concept is a great idea but this definitely is not a product you can just give a child and let them have at it. The directions are really complicated and confusing at times also if you dont mix things exactly correct the slime is nothing but a huge mess. We never did quite figure out the perfect way to make the unicorn slime so would recommend parents closely supervise or make the slime themselves because you will have huge mess otherwise. Our little girl still loves the unicorn so we will be skipping out on any future slime and let her just play [This review was collected as part of a promotion.]
Jmassaway
Fun but messy
My girls were very excited to find out which one we got inside. We got Oopsie Starlight. Unboxing was the fun part! Each item was in a separate package labeled with what was inside. There was unicorn food,a magic dust (glitter), a measuring cup, shirt, diaper, keychain, a brush, a cup, a spoon to feed with, and of course the toilet. The directions are very clear and easy to follow. We learned the hard way the first time, do not press the tummy until you are done. If the belly button is sunk in open the back up and pop it back In or you will have a huge mess. After you feed it, you shake it up and then sit it on the toilet. When we moved the legs I pushed the belly slightly and it started to leak a small amount. Let the unicorn sit on the toilet and push the button. This is how it goes on the toilet. Make sure the unicorns hair is not in the toilet where slime can reach it. We had some slime in the hair when we moved it after it set. It easily came out but was an extra step of clean up. For clean up it was pretty easy but some small spots in the doll have a few pink spots I didn't quite get out. I gave this 4 stars because even though we love it the slime part is a huge mess (to be expected honestly), but it is super sticky slime and didn't set like I figured it would. Definitely do this on a surface where you can easily wipe stuff down, especially because the slime is red. It still is a super fun toy and my girls all love playing with it even when without the slime aka "unicorn food" [This review was collected as part of a promotion.]