Poopsie Slime Surprise Unicorn: Dazzle Darling or Whoopsie Doodle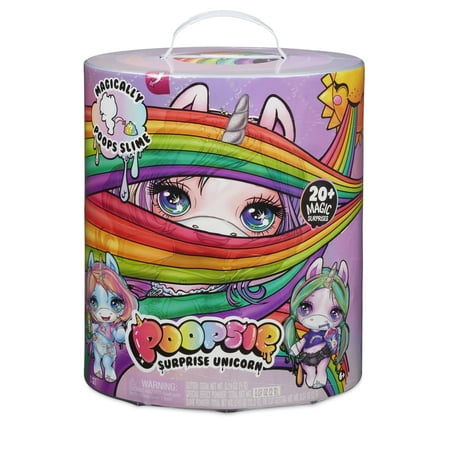 Sale :

$49.99

Sold & shipped by Walmart
Product Description

Additional Information

Reviews
Product Description
Make magical unicorn poop (slime) with Poopsie Slime Surprise! With a little unicorn magic and sparkle, you can customize unicorn poop and transform it multiple times! When you gotta go, store the poop for magical fun anytime! Poopsie Surprise Unicorn magically poop slime! Each time you feed your surprise unicorn and sit her on her glitter potty, she creates surprise, collectible unicorn poop (slime)! Transform your unicorn poop over and over again with Unicorn Magic! Over 20 magic surprises included with each Surprise Unicorn! Four unicorns to collect! Will you unroll Dazzle Darling or Whoopsie Doodle?
Additional Information
Poopsie Surprise Unicorn includes one Surprise Unicorn (Dazzle Darling or Whoopsie Doodle)

One glitter potty.

Four Unicorn Food packets (slime powder), four Unicorn Magic packets, one Unicorn Sparkle packet,

One exclusive bottle and one exclusive character keychain,

One unicorn shirt & diaper, spoon, hair brush, cleaning tool, and measuring cup.

Reviews
BrittO
Cutest unicorn ever!
These unicorns are so cute we love them. My daughter plays with them all the time and treats them like her babies. A added bonus is the poopsie slime it's super fun and adding the glitter is so pretty.
jess
Cutest unicorn ever!
the only thing this unicorn is good for is being a baby doll and $80 is way way to much for this doll it does not make slime the slime that comes out is way to sticky you can't even play with it with out it getting every were and when you mix the food with water in the bottle the top does not shut good at all so when you shake it it pours out the sides of the lid then your suppose to squeeze the bottle in her mouth the stuff does not come out the the straw and when you squeeze it comes out the sides were the lid screws on and the slime gets thick right away so we could never get it to come out the doll into the little toilet and the slime is all over the doll it takes for ever to clean every thing up inside and out I wish I could take this back and get my money back I would not recommend buying this doll unless you just want it for the unicorn doll itself.
Nope
Cutest unicorn ever!
The unicorn is cute and the slime is good quality, but... you're paying $50 for slime that doesn't poop out of the unicorn. My daughter was not impressed at all.
aldaffodil
Cutest unicorn ever!
This is such a garbage piece of $50 plastic. Since my 5 year old cant read the instructions. I read them and followed all the steps. The results were less than stellar. The slime didnt come out when this ridiculous toy tried to poop - it had come out of the inside container and hardened all on the insides of the unicorn. If it's so difficult a grown person can't do it right, it doesn't make a good toy. I really wish I hadn't wasted money on this.
Washout
Expensive Poopsie products cheaply made
I purchased this for my granddaughter's Christmas present. When she used it, it was damaged and leaked. I mailed it back and I have yet to receive a replacement. Total disappointment.