Georgie Interactive Plush Electronic Puppy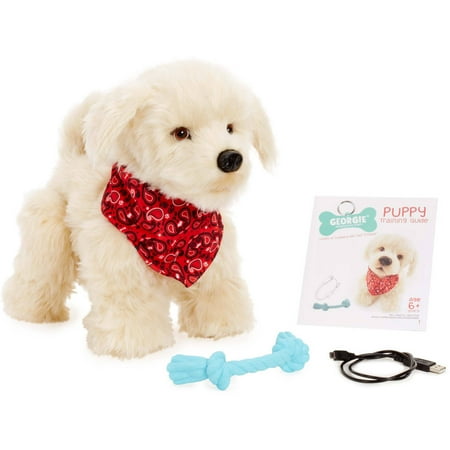 MSRP :

$93.99





Sale :

$78.9

Sold & shipped by Walmart
Product Description

Additional Information

Reviews
Product Description
Get a new best friend to love and cuddle when you adopt the Georgie Interactive Plush Electronic Puppy. He looks and act real and is super soft. The Georgie toy responds to your voice with 12 commands and over 100 interactions. He can high five, dance, sit, stay, and more. This electronic puppy toy also comes with a rope toy for tug-o-war, a neck bandana, and a training guide so you can get the most use from your new friend. The battery is rechargeable and the packaging doubles as a carrier. You can also use the hang tag as a collar and ID tag. Whether he wants to cuddle or get in trouble, Georgie is the pet for you.
Additional Information
Georgie Interactive Plush Electronic Puppy:
Georgie looks and acts so real, just like a real puppy
He's super soft, perfect for cuddling time
Georgie toy responds to kids by 12 voice commands and over 100 interactions of random puppy behavior
Behavior includes:

High Five
Let's Dance
Sit Down, Stay, Stand up
Tug-O-War
Selfie
And more

Includes 1 Golden Retriever interactive puppy, rope toy, neck bandana, puppy training guide
Packaging doubles as carrier and hang tag can be repurposed as a collar and ID tag for Georgie
Georgie's size: 12"W x 7"D x 12"H
Rechargeable battery and cord
Ages: 6+ years
Loves to cuddle and get into trouble
Reviews
Momtoamendedheart
Cute toy
my 10 yo has this. Sale price was very good. I wouldn't let her pay full price since the original cost seemed very high. It isn't cuter than I expected. I think it picks up background noise, making it harder to hear the commands. I hear her say, hey Georgie, a lot. I tell her to turn off the TV or move to a quieter room. Usually it works well though. I think you need to speak clearly to it for it to respond. So far she likes it. Not sure when the novelty will wear off but it was her money, not mine, so I am not worried about that.
Kathryn
Georgie needs obedience lessons
When Georgie arrived in the mail, my 4 kids were ecstatic. We got him out and immediately started playing with him. When we would say "Hey, Georgie!" he would respond, but he wouldn't respond to any of the other commands except tug of war when we put the rope in his mouth (which was pretty cute). So, I figured he wasn't listening because he needed to be charged, so we hooked him up and waited until the light turned green and tried again. He still wasn't listening to any commands and just wanted to do Tug of War even though the rope wasn't in his mouth. I tried pressing the button in his mouth to release that command and that finally stopped the tug of war but he still wouldn't do the other commands most of the time. We got him to do a few other commands but it was rare and hard to do. I tried different voices (high/low pitch, fast/slow) and had all 4 of my kids try. He did seem to respond best to my 5 yr olds voice but even then, he listened to only about 1 in every 8 or so commands. For the price of this toy, I expected way better of a response.
SaintChristopher
Nice - but don't let my grandkids read this!
Worked unexpectedly WELL! Great price compared to other dealers. Merry Christmas!
SRS1463
Cute Toy for Lots of Fun
I have a 5 year old and a 9 year old that have both played with Georgie. it came in a nice package that made my children really excited, The dog itself looks adorable and moves around like a living stuffed animal. My 9 year old was able to work with it better than my 5 year old because she speaks clearer. Although my 5 year old had a hard time having Georgie listening to it, he loved playing with the toy. In comparison to other interactive toys like Zoomer which we have had, it looks 100% better and more appealing. However, Zoomer seemed to do a little more. My niece who is 8 also has played with the toy & she loves it. She's been asking for us to get her one too. This is a cute toy, a little pricey, and would make a great gift for a young child between 5-10 years old. It would be better if the price would be a little cheaper, but I assume it is to cover the cost of manufacturing a nice looking toy.