Bell Sports AirStomper 200 Bicycle Foot Pump with Pressure Gauge, Black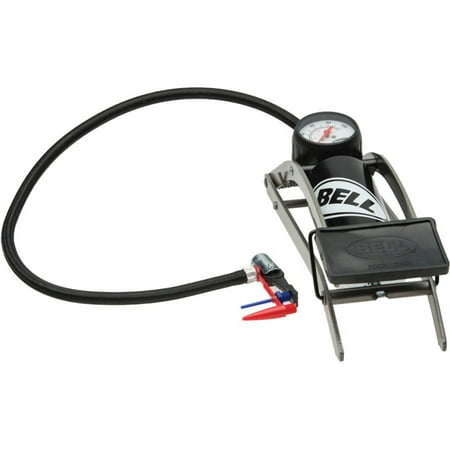 MSRP :

$21.23





Sale :

$9.71

Sold & shipped by Walmart
Product Description

Additional Information

Reviews
Product Description
The Airstomp 200 is compact, portable and easy on the back for inflating tires. Made of steel construction for years of reliability. It fits Schrader valves. Includes ball needle and inflation cone.
Additional Information
Bell Airstomper 200 Foot Pump:
Steel construction for years of reliable service
Fits Schrader valves
Includes ball needle and inflation cone
Bicycle foot pump has a 100 PSI max
Reviews
deec0314
great
use all the time. my 5 yeast olds likes to blow up balloons with it. my 12 year old for bike tires, footballs
JasonP
Absolute garbage
I usually don't even review stuff, so you know it's bad. This thing is incredibly cheap, and by that I mean cheaply made. I believe the frame originally bent within two or three weeks of buying it. I kept bending it back so I could continue to use it, but last night was the final straw. It would not stay unbent long enough for me to use it, so I finally gave up and threw it in the trash. Not only that, but it's incredibly difficult to use. Even before it bent, it would always tend to fall over after one or two pumps. Save your money and buy a quality floor pump.
Winston
small, can break, so use with control
Pros: It's small, so fits easily in a car trunk. Its air cylinder is larger than the MVP Super Line P707B foot pump, and needs only 25-30 pumps for 1 PSI of car tire pressure compared to 50 or so for the MVP pump. Cons: Because it's small, it takes a lot more pumps than a full-size hand pump would take. Can break if used carelessly. When the first one I bought broke, I bought another one, so yes, I'd recommend it to others if small size matters. If you have room for a full-size pump, they're about the same price and would pump faster. Footballs, basketballs: Mine came with the usual metal needle attachment. I'm not sure what the plastic piece would be used for (balloons?). WARNING: Maybe it has one, but I found NO WARRANTY OF ANY KIND on the tag attached to the one I just purchased. What broke on mine: the steel bar midway along the lever arm that holds the air cylinder in place. It might be replaceable with a steel bolt and nut, but I think the bar is curved enough to prevent that solution. How it broke: I was pumping quickly and not being careful to pump straight downward. Stomping downward but significantly to the right (not intentionally) is what bent the lever arm enough to break the bolt. If the air pressure dial pointer comes loose (say, because the pump gets banged hard, such as being hit repeatedly with a hammer while trying to bend the bolt holding the air cylinder) (the pointer never came loose in normal use), the pastic dial cover comes off easily, allowing one to reattach the pointer. Helpful hint: hold the back of the Airstomper in place with the tip of the toe of the shoe on your non-stomping foot. Done right, the toe won't be hit as you pump.
posty
Junk
I am a little woman, 72 years of age and when I tried to use this piece of junk, the frame bent. The rubber cover for the petal fell off and it would not stay on. This is a total waste of my hard earned money.
Disappointed
Poor construction
Worked fine for few times then the pressure gauge got loose and popped when I was pumping. Couldn't get it back as the gauge thread is made of plastic.