Colgate Total Advanced Fresh + Whitening Gel Toothpaste - 5.8 oz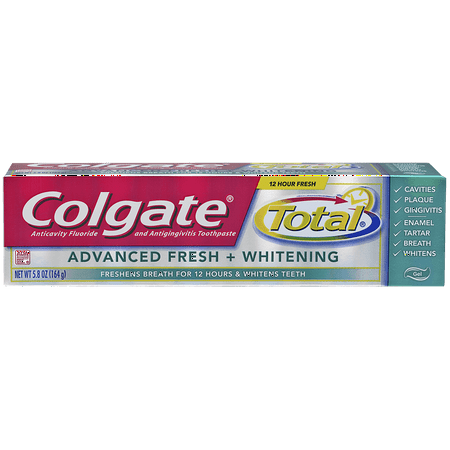 MSRP :

$6.1





Sale :

$6.1

Sold & shipped by Pharmapacks
Product Description

Additional Information

Reviews
Product Description
Enjoy a fresh and clean mouth with Colgate Total Advanced Fresh + Whitening Gel toothpaste. This innovative toothpaste formula helps reduce over 80% more bad breath germs plus whitens teeth (vs. regular, fluoride toothpaste). This whitening gel toothpaste even contains added flavor, helps keep breath ultra-fresh for up to 12 hours and fights germs for 12 hours. With regular use, it will help to prevent against cavities, gingivitis, and plaque and tartar build-up while freshening your breath and brightening your smile.
Additional Information
Toothpaste, Anticavity Fluoride and Antigingivitis, Advanced Fresh + Whitening, Gel Misc: Freshens breath for 12 hours & whitens teeth. 12 hour fresh. ADA Accepted: American Dental Association. Cavities. Plaque. Gingivitis. Enamel. Tartar. Breath. Whitens. Questions or comments? Call Toll-Free: 1-800-468-6502. www.colgatetotal.com. Freshens breath for 12 hours. Whitens teeth with an advanced whitening ingredient that gently removes surface stains. Colgate Total is Uniquely Formulated to: help prevent cavities; help prevent gingivitis; help prevent plaque buildup. And also: Fight tartar buildup; Fight bad breath. ADA Accepted - American Dental Association: The ADA Council on Scientific Affairs\xef\xbf\xbd\xef\xbf\xbd Acceptance of Colgate Total Advanced Fresh + Whitening toothpaste is based on its finding that the product is effective in helping to prevent and reduce tooth decay, gingivitis and plaque above the gumline and bad breath, and to whiten teeth by removing surface stains, when used as directed. Save Water: Turning off your water while brushing your teeth can save up to 4 gallons of water each time you brush!
Reviews
Smiley
Loving My Smile
This toothpaste is great, it is great tasting, leaves mouth feeling fresh for hours and whitens beautifully..it works great for me, I will definitely recommend this toothpaste to all my friends and family.
CrysLd
the best toothpaste on the market
I'm in love with this toothpaste, it's the best toothpaste I've ever used. I've been using this for the past 12 years, at least, and sometimes I would use the travel size toothpaste from the dentist thats a different brand, but nothing even comes close to working as well as this does. this leaves my teeth feeling extremely clean and it works all day to help keep them feeling clean, as advertised. the flavor isn't my favorite but it's not completely disgusting & it works so well, I deal with it. I love that it's a nice thick gel. if you don't use this toothpaste for a while or if you're trying it for the first time, it will burn, badly, and it's made my eyes water before, too, but, as you keep using it and get used to it, it doesn't burn. I suggested this to my mom, who was using a different toothpaste and she said that she noticed an improvement and now prefers this over her old toothpaste. I highly recommend this and as long as Colgate never stops selling it, I will never stop buying it.
Cali-fornia Dreaming
New Colgate fan!
Always been a Crest user until my aunt gave me this bottle to use (shes an extreme couponer and gives us a ton of free goods all the time) anyways, i'm now a Colgate fan. I can't say anything regarding the whitening because I've only used it a couple of times but each time I use it, my mouth feels minty fresh even after I drink after water. With my previous toothpaste that minty feeling would only last as long as the toothpaste was in your mouth. This stuff doesn't rinse as well as Crest does and i feel like there is a bit of a residue on my teeth even after I rinse but it goes away within a minute or two after you rinse. and my teeth feel really clean. OVerall this is a good toothpaste.
Ella
I will ONLY buy from Colgate!
I use this product daily. I have become almost obsessed with making sure my teeth are perfect. From the positioning of my teeth, to my breath. This product helps tremendously on whitening (over time with everyday use) and protecting my teeth by keeping them healthy away from germs, etc. The absolute ONLY down fall of many tooth paste products including this one is the mess left behind. I hate screwing on caps, but with this product I hate that the lid never shuts. Every morning and night I notice that in that period of time I wasn't watching my toothpaste, it leaked almost as if it melted. No, the tooth paste was not near anything hot! [This review was collected as part of a promotion.]
Ella
I will ONLY buy from Colgate!
I use this product daily. I have become almost obsessed with making sure my teeth are perfect. From the positioning of my teeth, to my breath. This product helps tremendously on whitening (over time with everyday use) and protecting my teeth by keeping them healthy away from germs, etc. The absolute ONLY down fall of many tooth paste products including this one is the mess left behind. I hate screwing on caps, but with this product I hate that the lid never shuts. Every morning and night I notice that in that period of time I wasn't watching my toothpaste, it leaked almost as if it melted. No, the tooth paste was not near anything hot! [This review was collected as part of a promotion.]