Colgate 360 Adult Full Head Soft Toothbrush - 4 Count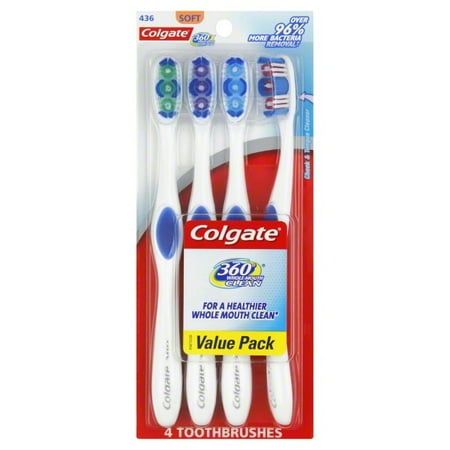 MSRP :

$27





Sale :

$8.97

Sold & shipped by Walmart
Product Description

Additional Information

Reviews
Product Description
The Colgate 360⁰ adult full head toothbrush is designed with soft cleaning bristles and polishing cups that help remove more plaque and stains than an ordinary flat-trim toothbrush. This manual toothbrush has an ergonomic handle design and the unique cheek & tongue cleaner that helps reduce 151% more bacteria that causes bad breath versus brushing teeth alone with an ordinary flat-trim toothbrush.
Additional Information
Product FeaturesCheek & tongue cleanerTurning off your water while brushing your teeth can save up to 4 gallons of water each time you brush!www.colgate360.comUSP 6,658,688; 6,820,300; 7,069,615
Reviews
PostingPower
"THE" best toothbrush EVER!!
I have to admit, I never used to like to brush my teeth. The experience just wasn't pleasant. Either the toothbrush just didn't feel right, or the toothpase was SO minty, that it actually felt like it burned my mouth. While going through MANY toothbrushes, I found that many of them felt awkward or the brush head was so tiny that I was working forever just to get my teeth clean. However, I finally found my "go to" - this brush is FABULOUS! The brush head is really large, so it actually wraps around your teeth. You feel like you're truly getting a great cleaning. I chose "soft" bristles, and they are as they claim to be...soft. It doesn't feel as if you're stripping off a coat of paint. The tongue cleaner is awesome! I LITERALLY brush my teeth two to four times a day now. - On a side note, to compliment this toothbrush, I also found my "go to" toothpaste. Please try Arm and Hammer "PEROXICARE". It's not too "minty" and not too strong. it doesn't burn your mouth and the baking soda and perixide make it really "foamy". The taste of this toothpaste is one of a kind. And, although it is not Colgate toothpaste, the marriage between this brush and this toothpaste makes my brushing experience wonderful.
Felipe S
I would buy again.
Very soft toothbrush.
Augustus B
Great Brush
Good brushes right price
WorldPassport
Good cleaning
Seemed to clean the best. My dental visit is a pleasant one now.
Lizmattie
A Hardworking Toothbrush
Totally satisfied with this product. Bought 2 packages at same time. Can really, really keep your teeth, tongue and everything feeling clean and fresh. Would recommend this to product to everybody.