Colgate Sensitive Maximum Strength Whitening Toothpaste, 6 Oz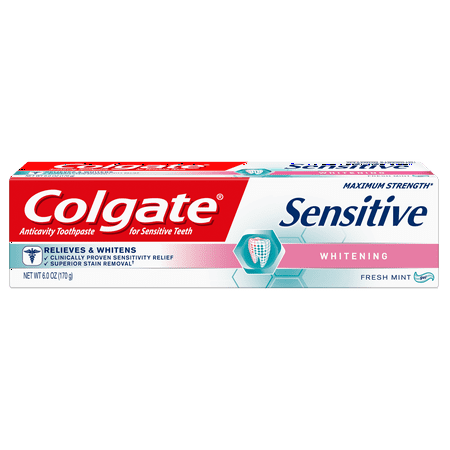 MSRP :

$6.39





Sale :

$3.78

Sold & shipped by Walmart
Product Description

Additional Information

Reviews
Product Description
Colgate Maximum Strength Sensitive Whitening Toothpaste contains potassium nitrate, is clinically proven to soothe the nerves in exposed dentin, provides fast relief within two weeks, builds increasing protection against sudden shocks of painful sensitivity, provides long-term relief with regular use, contains fluoride for cavity protection and has a great-tasting flavor.
Additional Information
Builds increasing protection against painful sensitivity of the teeth due to cold, heat, acids, sweets, or contact
Sensitive toothpaste helps protect against cavities
Contains potassium nitrate to soothe the nerves in exposed dentin
Provides fast relief within 2 weeks
Offers long-term relief with regular use
Has fluoride for cavity protection
Comes with 2 sensitive toothpaste tubes
Reviews
Bonnice53
Colgate Sensitive Toothpaste is great
I have always used Colgate toothpaste, ever since childhood when recommended by my dentist. I started having issues with sensitivity to cold drinks about a year ago, and had to try a different product (Sensodyne) but I didn't care for it. I thought I would just have to deal with it until I found out that Colgate had developed a new product to not only help sensitivity, but also whiten your teeth at the same time. I wasn't a bit skeptical, Colgate has never let me down. The flavor is amazing, unlike other "so called" toothpastes for sensitive teeth. It has helped me tremendously, does a great job of cleaning my teeth ( of course ) and whitening them. It leaves my breathe fresh, as well. It has a nice minty flavor and no gritty abrasives. It has helped the issue with sensitivity and now I can drink cold drinks and eat ice cream without pain. The cost is much lower than Sensodyne and you can buy it in a three pack, which is a great deal. Colgate always comes through with outstanding new products. It works and I recommend it. You have nothing to lose but much to gain. [This review was collected as part of a promotion.]
Rachel
Great Sensitive Toothpaste
I rarely am brand loyal when it comes to toothpaste! I simply choose based upon what I have a coupon for and can get at a great price (which is all brands!)! The tube I was using before this one was actually Colgate also but another variety! My first thought of this one was, "WOW, I love this taste"! It was fresh and minty but not overpowering and painful! The taste was fresh and clean! I love it. I prefer this taste over my last tube of Colgate! How fun they all have a different flavor! I have never tried a sensitive toothpaste because I thought it wouldn't work, BUT after trying this one I can truly tell a difference! I drink freezing cold water all day long and typically after I brush my teeth it will "stun" my teeth when I get a drink before bed. It doesn't hurt with this toothpaste! I'm impressed! I would definitely recommend it to my friends who have sensitivities! [This review was collected as part of a promotion.]
sunnyinNC
This really takes the jolt out of drinking cold beverages!
For anyone with sensitive teeth, sensitivity toothpaste is a must! There is nothing worse than reaching for that ice cold beverage on a hot day only to have that dreaded jolt of pain hit you when you take a sip! The Colgate Sensitive Whitening Toothpaste was such a welcome relief. I can now enjoy ALL types of food and beverages without any discomfort. Even if you don't have sensitive teeth, this type of toothpaste is great to use for a week or two before a dentist appointment. I find that it really reduces a lot of the discomfort that you might feel during a routine cleaning! I have shared this tip with several friends & family members and all of them agreed that it made their cleanings a lot more comfortable. Overall, I was quite pleased with the performance of this toothpaste. It had a nice, minty flavor that wasn't overpowering. I didn't really notice any whitening benefits but to be perfectly honest, I never really notice whitening effects from ANY toothpaste product! My mouth felt clean and my breath smelled minty fresh. This is something that I would definitely buy and recommend. Great product! [This review was collected as part of a promotion.]
Chrstn
Great for Sensitive Teeth
I've had problems with sensitive teeth for years and after trying to whiten them made it worse I gave up on whitening strips and whitening toothpastes in favor of ones for sensitive teeth. The Colgate Sensitive whitening toothpaste is as effective as any of the others I've tried for sensitivity and I like the not-too-strong mint flavor as well. As far as whitening goes it did not seen remove old staining but it does do a good job for everyday whitening in preventing new stains. As someone who drinks coffee everyday and tea and red wine regularly it is great to find something that helps prevent staining issues from getting worse. I plan to continue to purchase Colgate Sensitive Whitening as my everyday toothpase [This review was collected as part of a promotion.]
Jennifer S
Great toothpaste
I received a tube of Colgate sensitive whitening toothpaste through the viewpoints sampling program! I have previously seen this product in store but have not ever tried this product. I have tried other sensitive toothpastes but none that have offered whitening element so this one has a great advantage over those other toothpastes. I brushed my teeth twice daily with this toothpaste. It worked well; my teeth felt super clean afterwards and it made my breath fresh. The huge plus with this product is the sensitivity relief. As I get older my teeth are more sensitive and this helped relieve a lot of the discomfort I felt prior to using this toothpaste. I feel like regular toothpaste is becoming a little too harsh on my teeth. I would highly recommend this toothpaste and will be purchasing it again in the future! It is the best sensitive toothpaste I have found thus far! [This review was collected as part of a promotion.]