Ajax Ultra Triple Action Dishwashing Liquid Dish Soap, Orange - 90 fl oz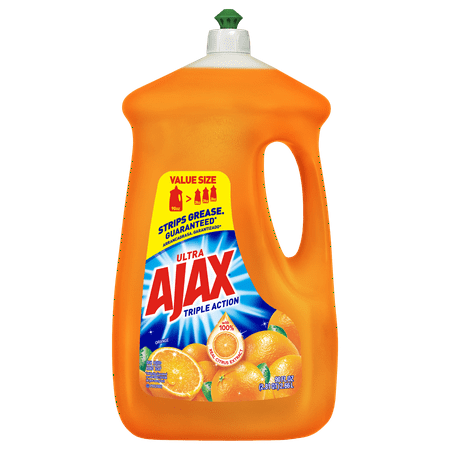 MSRP :

$32.14





Sale :

$6.11

Sold & shipped by Walmart
Product Description

Additional Information

Reviews
Product Description
Ajax Dish Soap, Triple Action Orange, fights odors on dishes and washes away dirt and bacteria from hands. This Ajax Liquid Dish Soap, 90 oz, is a liquid soap that also cuts grease, leaving your hands feeling fresh and dishes clean. Phosphate-free, this orange hand soap can be used by nearly everyone for many different purposes. In a convenient 90 oz size, this Ajax Dish Soap, Triple Action Orange, can also be used in your home or office.
Additional Information
Ajax Ultra Triple Action Dishwashing Liquid Dish Soap, Orange - 90 fl oz
Reviews
GetWrappedPCB
Misleading Title Description
The item is described to be a case of 20 bottles of Ajax. However, you will only receive one bottle NOT 20! I paid over $5 for one small bottle of dish soap. The soap itself probably deserves a higher rating, but my purchase deserved the 1 star. I was able to return my soap for a full refund.
mrblueu
No oily ducks in my house
I think it depends on what your intended use is in regards to dish liquid. When it gets right down to it, most all dish liquid will clean and get the job done for regular dish washing. However, if you tend to have a lot of very deeply greasy hard on foods in rough pans, you might want to choose a higher dollar dish liquid in which you would use less. In other words, Ajax dish liquid will in fact clean as well as any other brand, but you may find yourself using a bit more and allowing soak time. I like Ajax because it works and I don't have to feel like I need to be stingy with it. I keep a small dish liquid bottle at my sink and fill it Ajax with this product. I do have a dishwasher but with just two people, I tend to hand wash more often than not. Also, I some times wonder why we feel like we need to have the strongest harshest products man can make?!? It is truly and totally not necessary, unless maybe you are washing oil off a duck.
cold41
A way to juice up your life!
This dish detergent is definitely unusually useful. It may have an orange flavor, but it is secretly designed to get your dishes cleaner and smelling better! This dish detergent is far along the way to creating a new way of life. I have to say after using this dish detergent once, it has made me a regular buyer. The new scent and design has made me addicted. I don't usually get addicted to anything. This is the only product that has made my grocery list every two weeks for the last year. I have to say this product is worth the purchase. You will not regret the results you will receive. I never leave the grocery store without it. I'm sure after trying this dish detergent it will change the way you feel about regular dish detergents. Yes, I have to admit this is a winner! The way your skin feels squeaky clean after using it has me coming back for more. So what are you waiting for? Purchase this product today and feel like royalty!
JKT1832
Economical
I buy mostly Ajax or Sun, because they seem to consistently cost less than even the Great Value brand (oddly). I am not loyal to any certain brand when it comes to dish soap for me it really is just price. I think they all work pretty much the same. If one does work a little better, the difference is not worth the extra dollars in my book. I have a dishwasher so I don't hand wash dishes that much, but I still don't want to pay a lot of money. I use this soap to wash a lot of other items that can't go in a dishwasher.
LiltheGriller
Great product, greater value...
I use this for EVERYthing! I use it for dishes, I put it in my pump dispensers at each water station for handwashing and I use it for clothes washing, too. Yes, clothes washing! A good squirt is all it takes for a full load and the scent is super nice. I use it to wash my walls, my floors, etc. easy to wipe/rinse off, too. The size and uber-concentration is the best value of all DW detergeants in my opinion. One bottle usually lasts me more than three months even doing all that it does. Would not be home without it!